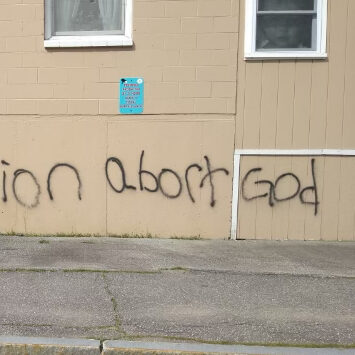 Since the U.S. Supreme Court ruling overturning Roe v. Wade was leaked in early May, there have been dozens of attacks against pregnancy clinics offering counseling and care to women considering alternatives to abortion. On Tuesday, that trend came to New Hampshire when the Pathways Pregnancy Care Center was vandalized.
According to Littleton Police Chief Paul Smith, volunteers at the center found graffiti on the side of the building reading "Fund Abortion, Abort God." Pathways is a faith-based ministry devoted to helping pregnant women renting space from the Elevate Church.
Police in Littleton say it is too early to tell if the vandalism counts as a hate crime.  "It could be determined as the facts develop that this is a hate crime," Smith said.
Shannon McGinley of Cornerstone Action, however, says there is no doubt. "This is a hate crime."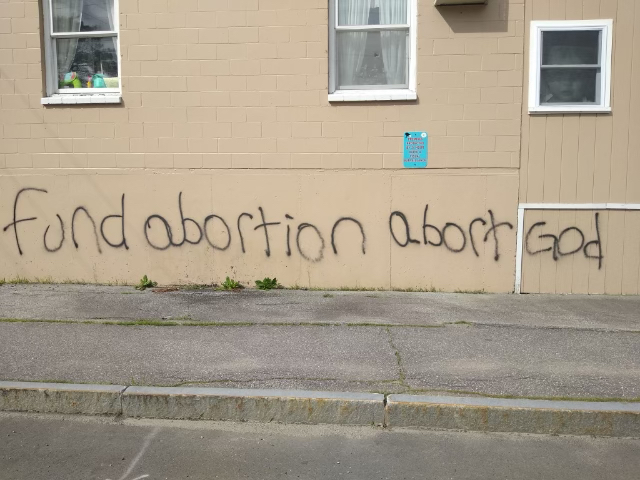 The FBI is investigating more than 40 violent attacks on pregnancy centers and churches in the wake of the Supreme Court leak. Some centers have been firebombed, and others have had significant damage from vandalism. The Dobbs decision overturned Roe v. Wade and sent the authority to regulate abortion back to the states.
Smith said his investigators are working on the case, and they have already contacted the New Hampshire Attorney General's Office about the possibility this could end up charged as a hate crime.
Michael Garrity, director of communications at the New Hampshire Department of Justice, said the state Attorney General's Office is watching for Littleton's results.
"At this point, our office is aware of an incident at the center. The Littleton Police Department alerted our Civil Rights Unit, flagging the incident as one of concern," Garrity said. "We are now closely monitoring an active, ongoing investigation being carried out by Littleton Police investigators. Our Civil Rights Unit will ultimately look at how the facts and circumstances of the case develop."
Under New Hampshire law, a person who commits a crime "motivated … because of hostility towards the victim's religion, race, creed, sexual orientation, national origin or sex," could face enhanced penalties. Smith said the alleged crime might be charged as misdemeanor criminal mischief if there is no hate crime component found during the investigation. Misdemeanors rarely result in jail time.
Pathways offers free ultrasounds, pregnancy tests, parenting classes, baby supplies, as well as help with getting social assistance, among other services.
"There are three times as many Pregnancy Care Centers (PCC) in New Hampshire as there are abortion facilities. We are even blessed with two maternity homes," McGinley said. "Every client is treated with compassion and respect – regardless of the decision they choose for their pregnancy. Empowering women to make informed decisions is a top priority," McGinley said.
Pro-abortion activists, however, have attacked these facilities for years, raising their profile as a possible target. An abortion extremist group, Jane's Revenge, has taken credit for some of the recent attacks, including smashing the doors and windows of a Michigan clinic.
Their message: "If abortion isn't safe, neither are you."
Last week, Kayla Montgomery, vice president of Public Affairs for Planned Parenthood of Northern New England, took to the airwaves to attack the facilities in New Hampshire.
"I want to be clear; crisis pregnancy centers are not based in science or in medicine," Montgomery told WMUR. "If people need care, they should call their local Planned Parenthood of New Hampshire abortion provider who will provide honest, compassionate, non-judgmental care and explain the full range of options."
Montgomery did not respond to a request for comment about the vandalism in Littleton.
And Sen. Maggie Hassan (D-N.H.) has also been critical of these facilities in the past, accusing them of offering "fake health" in order to trick women into keeping their babies.
"In New Hampshire – and at more than 2,700 locations across our nation – women are walking into fake women's health centers, misleadingly called 'crisis pregnancy centers,' believing that they are receiving medically sound, neutral advice about pregnancy. But these centers really exist to serve one purpose: preventing women from accessing abortion," Hassan wrote in 2018.
Hassan, who has kept a steady stream of public comments about abortion rights over the past two months, has been silent on both the spike in attacks on pregnancy centers and the threats targeting Supreme Court justices — including a failed assassination — since the Alito opinion leaked.
McGinley says there is a clear double standard.
"These kinds of attacks underscore the cynical nature of arguments that pro-life people do not offer enough material assistance to women in need. When abortion advocates—from arsonist groups to Elizabeth Warren—threaten pregnancy care centers, they are saying that assistance to women is immoral unless it specifically promotes abortion," McGinley said. "Their goal is not helping the vulnerable. Their goal is to spread abortion like a religion—and they don't care if that means taking services away from women in need."
Executive Director of Pathways Pregnancy Care Center Angel Marshall said their mission will continue.
Pathways will not allow a hate crime to hinder the much-needed support we provide.  This has not and will not deter us from serving our community," Marshall said. "Empowering men, women, and teens to make informed decisions is a top priority. I am working closely with the Littleton Police Department in this investigation. We are taking all necessary steps to ensure the safety of the center's staff, volunteers, and clients."
Smith said the volunteers at Pathways are responding to the vandalism by organizing more help to provide security at the center. He's asking anyone with information to contact Littleton Police at 603 444 7711.