The latest Granite State Poll, conducted by the University of New Hampshire Survey Center, shows Sen. Maggie Hassan has completely lost her lead over her likely GOP opponents, despite their low name ID.
According to the survey, 34 percent of respondents said they didn't know enough about retired Gen. Don Bolduc to have an opinion. For state Senate President Chuck Morse, that number was 54 percent, and for former Londonderry Town Manager Kevin Smith, it's a stunning 73 percent.
And yet, with 99 percent name ID, Hassan leads Smith by just one point, 45-44 percent. She's leading Bolduc 47-46 percent, and she's actually losing to Morse 44-46 percent.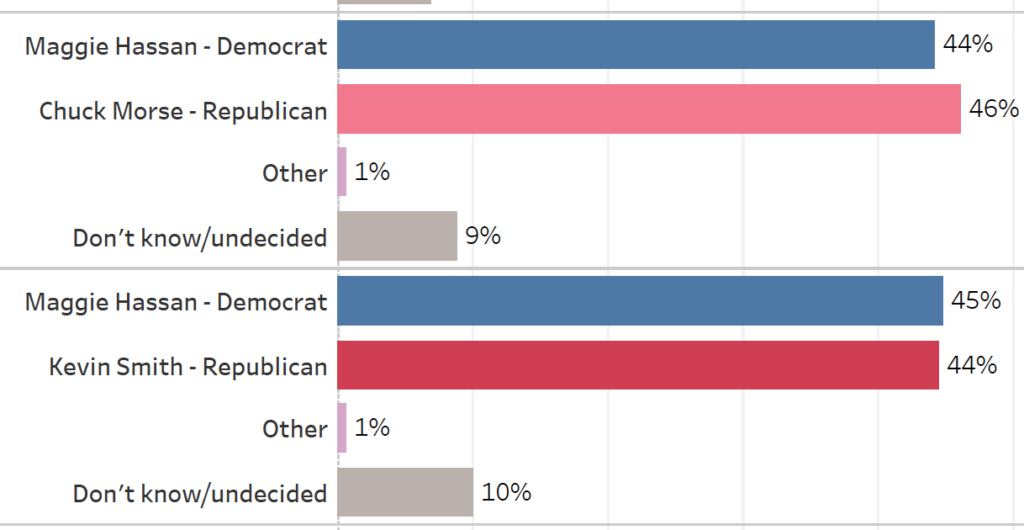 Or to put it another way, about half of Granite Staters would rather vote for someone they've never heard of than vote for their current U.S. Senator.
New Hampshire Democratic Party chair Ray Buckley released a statement mocking the GOP candidates as "B-tier candidates" who are "tripping all over themselves."
And Hassan is tied with them.
For a former two-term governor and incumbent U.S. Senator who's had more than $10 million spent on her behalf since last summer, what "tier" is that, Republicans ask.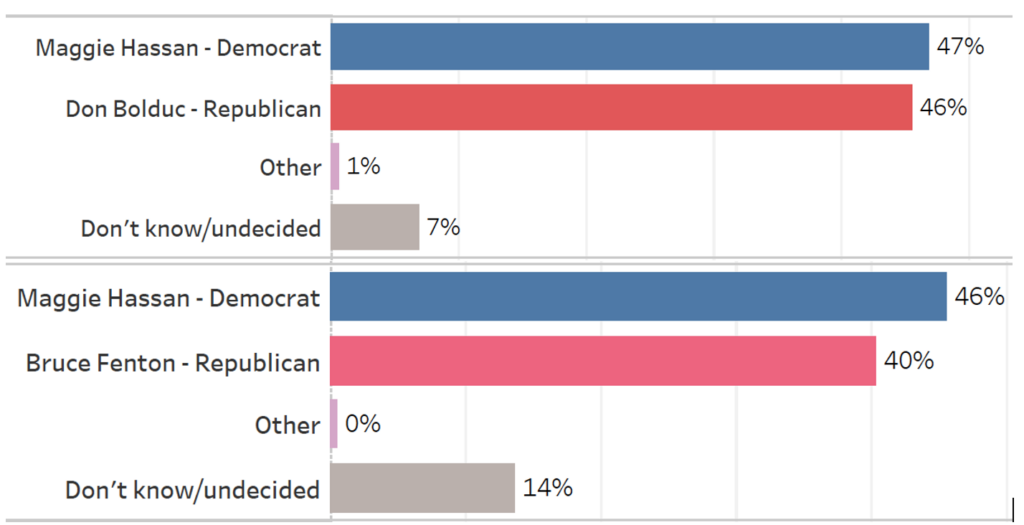 Hassan's campaign declined to respond to questions about the poll results or her fading support. Her potential opponents were not so reticent.
"Just one more piece of data showing the dismal outlook for Hassan's ability to hold on to her job," said Morse advisor Dave Carney. "Combined with Biden's numbers, Sununu's numbers and the inflation forecast for the rest of this year, she might want to book her Uhaul in D.C. early to save on the last-minute rush to book them in November."
Bolduc's campaign pointed to his performance in the poll of the primary candidates, where he has 33 percent of the vote compared to Smith (4 percent) and Morse (2 percent).
"These poll numbers show General Bolduc leading the Republican field by nearly 30 points," said campaign spokesperson Jimmy Thompson. "His wide lead is an indicator that the electorate is ready to remove career politicians on both sides of the aisle and bring in hard working political outsiders. With 51 percent of New Hampshire residents viewing Senator Hassan unfavorably, she is vulnerable in November, but only if Republicans nominate an outsider like General Bolduc."
Bitcoin millionaire Bruce Fenton and Vikram Mansharamani, an investor, entrepreneur and academic, have both recently entered the race.
Democrats insist they aren't worried. "Polls in the Senate race at this point are virtually meaningless," says longtime Democratic strategist Terry Shumaker. And there are many critics of the UNH poll and its methodology. But one data point that's hard to dispute is the trend:
Ignoring the monthly zigzags and looking at the trend since mid-2018, Hassan's approval has been trending steadily downward while her disapproval is on the rise. The net result is that she's -16 with the voters (35-51 percent favorable), a number that's in line with previous polling by St. Anselm and NHJournal.
And that dismal decline has happened before the Republican National Senatorial Committee spends a penny reminding voters of the unpopular parts of her voting record. This is before progressives upset by her sudden support for Trump administration policies on immigration and energy production begin to abandon ship.
And, as UNH professor Dante Scala notes, "it is a bit startling to see that 30 percent of her fellow Democrats don't look upon her favorably. Or that her re-elect number among Democrats in head-to-head matchups is only in the 80s."
Given the political issues that are front and center in this midterm election — Inflation, gas prices, crime, parental rights and ending over-reaching COVID restrictions — how likely is it that Hassan's future polling will look better?
And, it should be remembered, Hassan will not be at the top of the ticket. While Biden's name won't actually appear, every midterm in the modern era has been a referendum on the incumbent president.
According to UNH, Biden's at 47 percent approve, 53 percent disapprove. On the economy, he's at 42-56 percent, or -14 points. That's close to the 42-55 percent Biden got in the new NHJournal poll.
That's yet another problem for Hassan.
"Granted, Hassan has all sorts of material resources to throw at this problem," says Scala. "But if Republicans can frame this general election as a simple 'fire or re-hire' the incumbent, Hassan obviously has issues."
Given the history of midterms, the voters may do that framing for them.
"Maggie Hassan's time in the Senate will be marked by a long list of bad votes and a final campaign full of bad decisions," said NRSC spokesmanT.W. Arrighi. " Today's polling shows that Maggie Hassan is headed for defeat, and she alone is to blame."