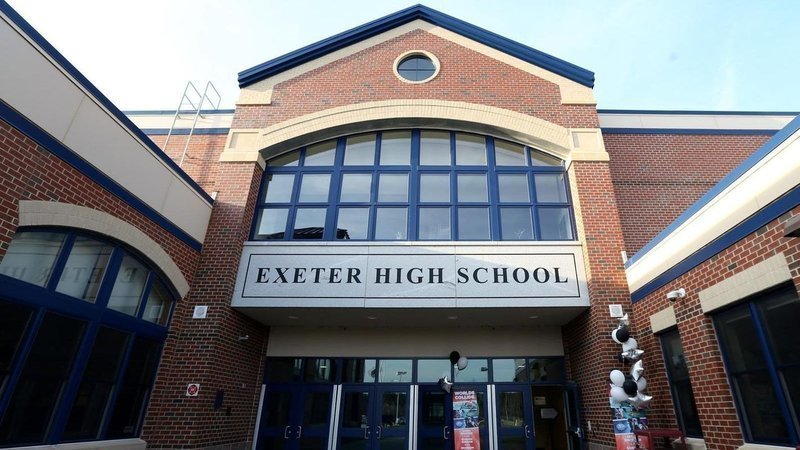 A Superior Court judge has ordered mediation in the lawsuit brought after Exeter High School officials punished a Catholic student for saying there are two genders.
However, Ian Huyett, the attorney for the student and his family, says a settlement is unlikely given Exeter's current stance, expressed in a recent letter to the school community.
"Given the contents of the letter that (Superintendent) David Ryan sent out on Wednesday, I don't anticipate that they'll have any interest in doing that," Huyett said. 
Ryan sent the letter last week, doubling down on the district's stated embrace of diversity after Judge David Ruoff issued the scheduling order, which stipulates the two sides attempt to settle the case through an Alternative Dispute Resolution.
"Despite our best intentions to create a safe and welcoming environment for all in our community, we have members in our community who continue to experience feelings of hate and disrespect," Ryan wrote. "We are a community of acceptance. This means we welcome you with all of your uniqueness, no matter your race, religion/spiritual beliefs, sex, age, national origin, sexual orientation, gender identity, ability/disability, or family structure."
The student, known in the lawsuit as M.P., claims he was disciplined for expressing his views, informed by his Catholic faith, that there are only two genders. M.P. claims he expressed these views outside of school and off the football field.
Exeter High School and SAU 16 officials struck back saying M.P. was disciplined for being a bully, not for expressing his religious views. The district's attorney, Michel Eaton claims M.P. is not the victim of religious discrimination. Instead, he was benched for one game by his coach for violating the team's code of conduct. The benching had nothing to do with the school's transgender discrimination policies, according to Eaton.
"M.P.'s coach did not decide to bench M.P. based upon M.P.'s opinion that there are only two genders, nor would he. Rather, M.P. was benched for using crude, inappropriate, and disrespectful language while communicating with Student Doe. This behavior was consistent with M.P.'s documented history of bullying and inappropriate behavior, including such behavior on the school bus and such behavior targeted at Student Doe specifically," Eaton wrote in the district's response to the lawsuit.
Student Doe, who is not transgendered, is the student with whom M.P. had a reportedly heated conversation about gender and sexuality while on the school bus. This conversation later continued via text messaging, according to court records. Student Doe, in turn, reported the conversation to M.P.'s coach, Eaton wrote.
"M.P.'s coach took what he believed to be an appropriate and limited remedial measure to teach and ensure the respect that is expected of all student athletes," Eaton wrote.
Huyett claims in the lawsuit that M.P. was punished for expressing his opinion, not for violating any rule.
"M. P. did not harass or demean any student, but simply expressed his views on a contentious cultural issue," Huyett said in a statement.
Huyett is an attorney with Cornerstone, a conservative Christian organization. While Cornerstone is defending M.P.'s First Amendment rights in this case, the state's ACLU has been silent. Instead, New Hampshire's ACLU is part of a federal lawsuit, along with Exeter's Andres Mejia, against the state over the so-called "banned concepts" law. Mejia is the director of Diversity, Equity, Inclusion, and Justice for the Exeter Region Cooperative School District, and a board member of the Black Lives Matter Seacoast organization.
The anti-discrimination law challenged by the ACLU and Mejia, signed by Gov. Chris Sununu as part of the state budget, prohibits students from being taught that "a person, because of their membership in one or more identified group(s), is inherently either: (1) racist, sexist, or oppressive, consciously or unconsciously or (2) superior or inferior to people of another identified group."