Sen. Maggie Hassan rarely holds press conferences, so it was significant that she called one on Wednesday.
The choice of topic was significant as well. Not abortion or inflation, but election denial.
Joined by state Reps. Connie Lane (D-Concord) and Paul Bergeron (D-Nashua), both from the House Election Law Committee, Hassan attacked her GOP opponent retired Gen. Don Bolduc's repeated comments calling into question the results of the 2020 election.
"His record indicates his continued belief or assertion that the 2020 election was stolen," Hassan said. "He has stoked that big lie for over a year and even after trying to conceal it, he keeps saying things that indicate it's what he really believes."
And, she added, Bolduc "continues to sow doubt about the integrity of the 2022 election."
Bergeron, who served for 16 years as Nashua city clerk, defended the Granite State's elections from claims of election conspiracies, pointing out that the state's system makes any such scheme extremely unlikely. "Our elections are conducted locally in each town and in each city ward. They are not run by centralized county boards of elections or by the Secretary of State's office."
But the reference to "county boards" was a bit unfortunate, however. Just last month, the state Attorney General's Office slapped the New Hampshire Democratic Party (NHDP) with a cease and desist order over mailers containing false and misleading voter information, including a reference to a non-existent "Rockingham Board of Elections."
It was one of several high-profile incidents of illegal or unethical campaign behavior by New Hampshire Democrats in recent weeks.
On Tuesday, NHJournal first reported the story of the Attorney General's Office reprimanding former Portsmouth Mayor Steve Marchand over a fake — and intentionally deceptive — website he created to mislead Seacoast voters during the 2021 municipal elections. Marchand then lied about his involvement to investigators, including his part in the distribution of anonymous websites, fliers, and robotexts with false and misleading claims.
Marchand, a progressive Democrat who once sought his party's nomination for governor, avoided criminal charges, receiving a letter of warning instead.
The Attorney General's Office is also still investigating illegal mailers sent by Democrats to Republican primary voters in the Second Congressional District boosting the candidacy of self-described "MAGA Republican" Bob Burns. Burns narrowly defeated Keene Mayor George Hansel by less than 2,000 votes.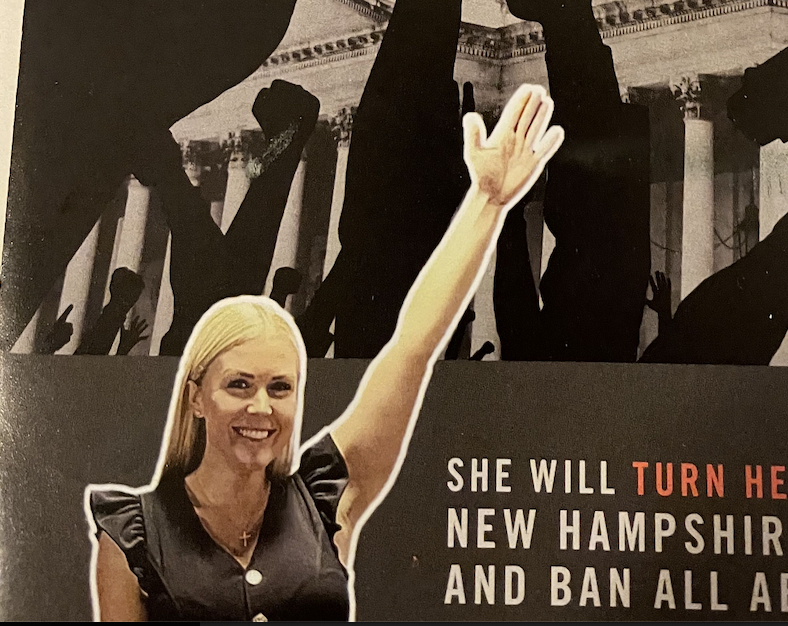 And while it is not illegal, members of New Hampshire's Jewish community objected to an NHDP mailer on behalf of U.S. Rep. Chris Pappas featuring a photoshop attempting to falsely present his GOP opponent Karoline Leavitt giving the "Nazi salute." A second mailer featuring the same faked image appeared in mailboxes on Wednesday.
In her press conference, Hassan aggressively criticized Bolduc Wednesday as an "extreme" and "dangerous" candidate, she refused to criticize her fellow Democrats for spending more than $3 million in the GOP primary helping the "extremist" become the nominee. "I can't control what outside groups do," she said at the time.
Hassan called out several statements by Bolduc directly declaring the 2020 election had been stolen from former President Donald Trump. Bolduc has acknowledged he made those statements — indeed, he doubled down on them during the GOP primary. But he has since recanted. Just hours before Hassan's press conference, he addressed the issue during an 'empty chair' debate on iHeartRadio that Hassan refused to participate in.
"The 2020 election was decided by the electoral process on 6 January, and President Biden is President of the United States," he told host Chris Ryan. "End of statement. We don't need to dwell on that anymore."
Hassan argued Bolduc's behavior extends beyond questioning on election's outcome to spreading unfounded conspiracy theories about the election process. But Hassan has her own conspiracy theories.
When she took to the floor of the U.S. Senate in support of the 'Right to Vote Act,' she warned that, if it did not pass, New Hampshire faced an electoral dystopia.
"We'll wake up in New Hampshire, cast our vote, drop our kids at school, go to work. We'll tune back in at the end of the day to see the election results – only to learn that the vote tally is being ignored… We'll learn that our legislatures are going to throw out the results and pick their own winner."
"New Hampshire will see an election day that is a charade – just like in countries where democracy doesn't exist."
The 'Right to Vote Act' did not pass, and yet early voting in the upcoming midterm elections is setting records across the country.
Asked by NHJournal how her prediction that he votes in next month's election won't be honestly or accurately counted is different from Bolduc's rhetoric, Hassan said she meant if election deniers take over the election process.
"My concern is when election deniers…. when partisans can overturn the results — and there was at least one bill filed in the New Hampshire legislature by election deniers that would have given them the power to overturn election results. If partisans can overturn New Hampshire voters' votes, then we are going to have a state we don't recognize."
From a political standpoint, the biggest news from Hassan's news conference may have been the fact that she held one at all. She has not held an open press event in three years, and she tried to block NHJournal from covering Wednesday's event.
Republicans were also puzzled by her choice of topic. Is the election denial issue really top of mind for Granite State voters, or is it yet another attempt by Hassan to motivate the Democratic base to show up next month?
Hassan and Bolduc are scheduled to face-off on in an NHPR debate Thursday.