A campaign mailer targeting Rep. Chris Pappas' GOP opponent with a photoshopped 'Hitler Salute' image has outraged Republicans and raised questions about just how worried the two-term incumbent is as Election Day approaches.
A new AARP poll puts Pappas in a neck-and-neck race with his GOP challenger, 25-year-old St. Anslem grad and political newcomer Karoline Leavitt. And national political ranking organizations like the nonpartisan Cook Political Report continue listing the race as a toss-up.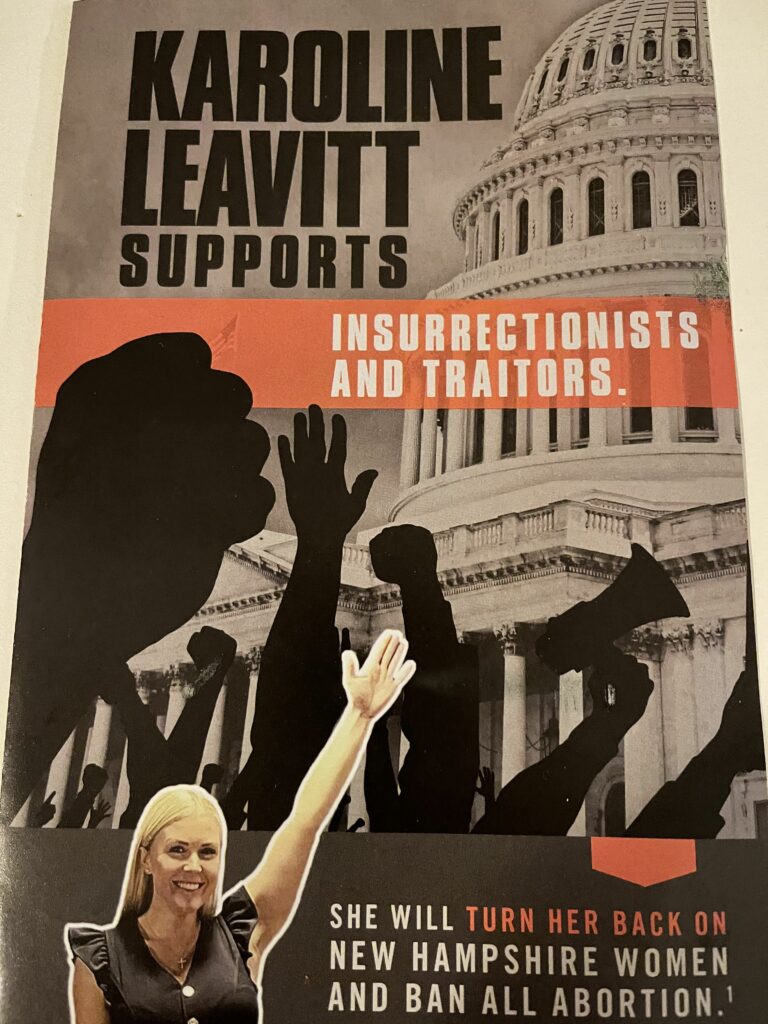 Pappas and the state Democratic Party have filled the airwaves — and First Congressional District mailboxes — with negative messages about Leavitt, mostly centering on her pro-life politics. Leavitt and the GOP have returned fire, hitting Pappas on his support for the trillions in spending economists say contributed to soaring inflation.
But the latest pro-Pappas flier, paid for by the New Hampshire Democratic Party, kicks up the rhetoric. Headlined "Karoline Leavitt Supports Insurrectionists and Traitors," the front cover features a photo of Leavitt waving her arm in a setting to make it resemble a "Nazi salute."
Republican state Sen. Regina Birdsell called the mailer outrageous.
"It's very ugly," she said, "and if a Republican sent out a mailer presenting a Democratic woman candidate that way, it would be all over the news."
Members of New Hampshire's Jewish community also expressed dismay over the Democrats' decision to use this imagery.
"This is one more example of the current political environment that breaches respectability and violates the principles on which our country was founded," said Alan Glassman, a longtime GOP activist.
In addition to attacking Leavitt's "loyalty to MAGA extremists," the mailer promotes Pappas' support for unrestricted abortion and his endorsement by the Planned Parenthood Action Fund.
"New Hampshire Democrats are as eager to proclaim themselves the party of female empowerment as they are to disenfranchise women candidates with slander and demeaning ads," said New Hampshire GOP Vice Chair Pam Tucker. "They are soon to see New Hampshire voters are smarter than these distasteful tactics, and no amount of political pivoting will lessen the financial pain Democrat-driven policies have placed on Granite Staters"
Neither the New Hampshire Democratic Party nor Pappas responded to requests for comment.
"New Hampshire Democrats can't stand to see a strong Republican woman quickly gain support from Granite Staters who are sick of lying Chris Pappas," said state GOP communications director Mackenzie Rohde. "Karoline Leavitt is a powerhouse, and Democrats have turned to lying because they're scared.
"We've seen the Democrats go after Republicans in tasteless ways before, but this mailer is downright disgusting—even for them."
It was not just the state GOP suggesting the new attack was a sign the Pappas campaign is worried. The mailer dropped the same day as a new New York Times-Siena College poll giving Republicans a 4-point advantage on the generic ballot among likely voters (49-45 percent). In September, Democrats had a one-point advantage on the same question. And a new Harvard-Harris poll gave Republicans a six-point edge (53- 47 percent).
"It's pretty desperate for the Democrats to send out something like this. To do this, they must be concerned about the seat," said Birdsell.
And UNH political science professor Dante Scala says you don't need to open your mailbox to see that Democrats regard Leavitt as a legitimate threat. Just look at their paid advertising.
"They're acting like he's an endangered incumbent in a marginal district," Scala said.
Asked for a reaction to the mailer, Leavitt texted a one-word reply.
"Desperation."