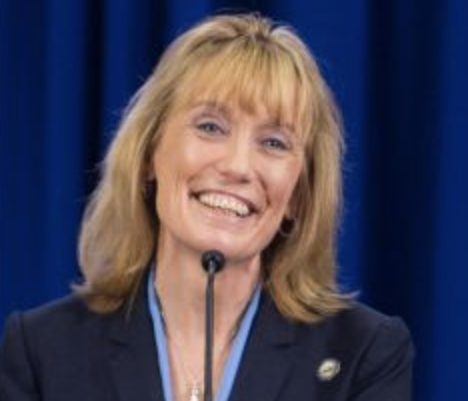 Democrats are celebrating the latest Granite State Poll, conducted by the University of New Hampshire Survey Center, which found Gov. Chris Sununu's approval rating continues to decline.
"Passing an unpopular abortion ban and failing to lead during COVID is coming back to haunt Gov. Chris Sununu," the NH. Democratic Party tweeted. "Lowest approval since taking office. 1st time since 2003 that voters think NH is moving in the wrong direction. Record low approval of his handling of COVID."
And it's true Sununu's numbers have been slumping for months — though he's still got a 52-47 percent job approval.
The more fascinating finding is the change in Sen. Maggie Hassan's standing over the past two months. Simply put, her numbers have soared.
In October, Hassan's approval/disapproval was a dismal 33 percent approve, 51 percent disapprove, leaving her underwater by -18 points. Two months later, that number in the UNH Survey is +3 points, at 43/40. That's a dramatic, 21-point swing.
So, what happened?
The new poll was taken before Hassan announced she was abandoning the filibuster in order to back a new federal election law. That was by far the most high-profile political move she had made in months.
And while millions of dollars have been spent promoting Hassan and her support for Biden's spending packages, a similar amount has been spent attacking her on issues like rising inflation and deficit spending.
What makes the Sununu v Hassan divide interesting isn't the net number, but the trends. Sununu's seem to make sense. Hassan's don't.
The story of Sununu is the story of COVID-19. He was one of the country's most popular governors, according to polling, before the pandemic hit. Then, as he dealt with the public health emergency, his numbers shot through the roof. From April 2020 until February 2021, he was essentially at 70 percent job approval or higher in the UNH Survey. In May 2020, he hit a jaw-dropping 82 percent approval rating.
But COVID-19 has lingered. The economy has been a troubling mix of rising inflation, disappearing workers, and an unsteady supply chain. Despite having one of the lowest rates of unvaccinated citizens, the state hit the number one spot for COVID-19 cases. And then there are the millions of dollars in attack ads accusing him of banning abortions in New Hampshire (only abortions after six months are prohibited).
Put all that together and the steady decline of Sununu's polls is hardly a surprise. When the state's COVID-19 numbers improve, it is likely Sununu's will, too.
But Hassan? For months, her approval has hovered in the low to mid-30s. Her current 43 percent approval is the highest it has been since February 2020. There is no storyline, just a sudden surge. Why?
Some veteran New Hampshire politicos refused to discuss the UNH numbers, rejecting the "panel" system Dr. Andrew Smith and the UNH Survey Center use as unreliable.
However, its findings are wildly off from the recent Trafalgar Group poll — one of the most accurate pollsters since 2016 — which showed a 46-40 percent Hassan lead in a match-up against Gen. Don Bolduc. And an October St. Anselm Survey Center poll put her at 44 percent approve, 50 percent disapprove, not too far from the UNH Survey number that month.
One theory several strategists suggested to NHJournal is Democrats are rallying around Hassan as their party's fortunes appear to be fading.
"Partisanship is back," said GOP strategist Dave Carney. "The [political] team jerseys are back down from the attic. They might have been under the Christmas decorations."
It may seem an odd time for a Democrat's poll numbers to rise. The party has been plagued by in-fighting for months over the Build Back Better bill. There is a split between the progressives and the rest of the party. And the issues Americans say are their top priorities — inflation, spending, jobs, even COVID — aren't breaking their way. Plus, President Joe Biden's approval dropped to a new record low of 41 percent just last week.
That partisanship gets Hassan to the mid-40s. If there's not a third-party candidate splitting the anti-Hassan vote (in 2016 there were two), that's not enough to win.
More bad news: According to the UNH survey, she is underwater with independent voters 26 to 49 percent. In the St. A's poll in October, that number was 27 to 64 percent.
There aren't enough Democrats to make up that gap, particularly in a "red wave" midterm election when, it appears, Republicans are likely to be highly motivated voters.
Still, the poll is a reminder that the Democratic Party is very strong in New Hampshire. It is no coincidence the entire delegation is Democratic, or that Republicans have only won the presidential election here once since 1988.
The UNH Survey adds more evidence to back up the theory that Hassan is viewed by the public as "Generic Democrat," and her fortunes will closely follow those of her party.