Gov. Chris Sununu had harsh words for the UNH students who gathered on campus Thursday to chant "From the river to the sea, Palestine shall be free" — just a month after the Oct. 7 Hamas attack that killed 1,400 innocent people in Israel.
"This is nothing short of requesting another Holocaust," Sununu told NHJournal Thursday night. Sununu made his remarks after appearing at a town hall with GOP presidential hopeful former New Jersey Gov. Chris Christie in Merrimack, where the topic of U.S. policy toward Israel was a major part of the discussion.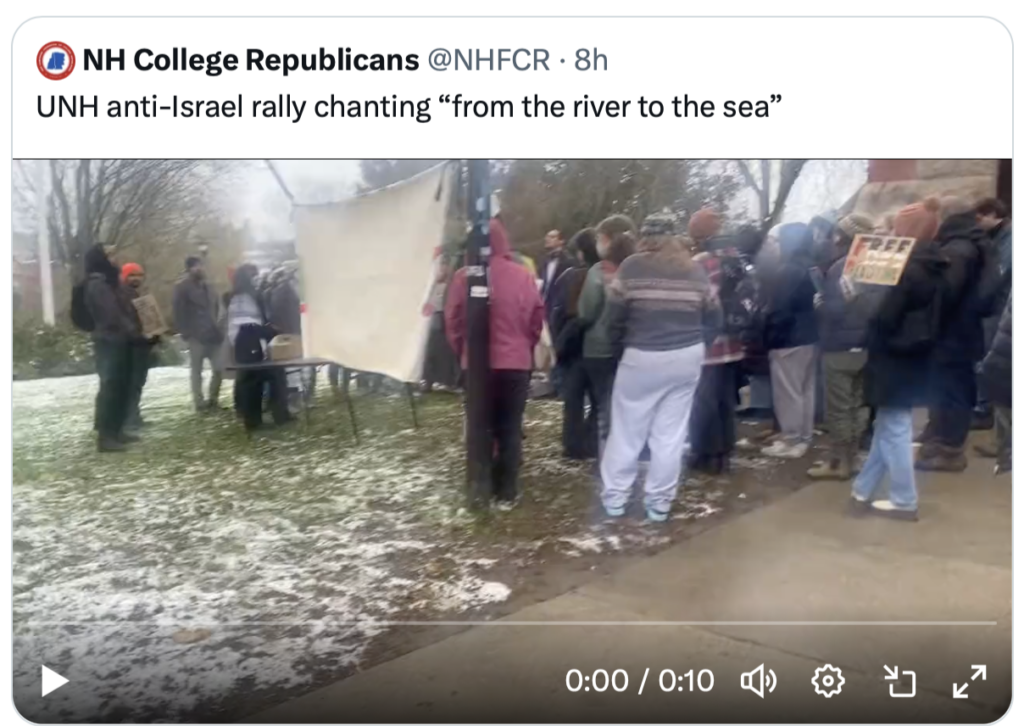 "As Gov. Christie said, this isn't about a territorial dispute. It isn't about the freedom of individuals. This is simply about wiping out and eradicating Jews," Sununu said. "These students don't even know what they're talking about. I would hope that the leadership over at UNH was swift and firm to condemn this language."
Not quite.
"The university is proud of its record of protecting free speech on campus, including speech that may be objectionable," UNH said in a statement. "The individuals in the video participated in an assembly to speak out on an issue, as is their right. We understand the phrase used in the video has deep and hurtful meaning to many. Neither these individuals, nor anyone exercising their free speech rights on campus, speak on behalf of the University of New Hampshire."
The chants rang out at a "Speak Out for Palestine" event organized by the far-left New Hampshire Youth Movement. Several members of the UNH College Republicans attended the event, took photos, and recorded video — including video of the anti-Israel protesters' chants of "From the river to the sea…"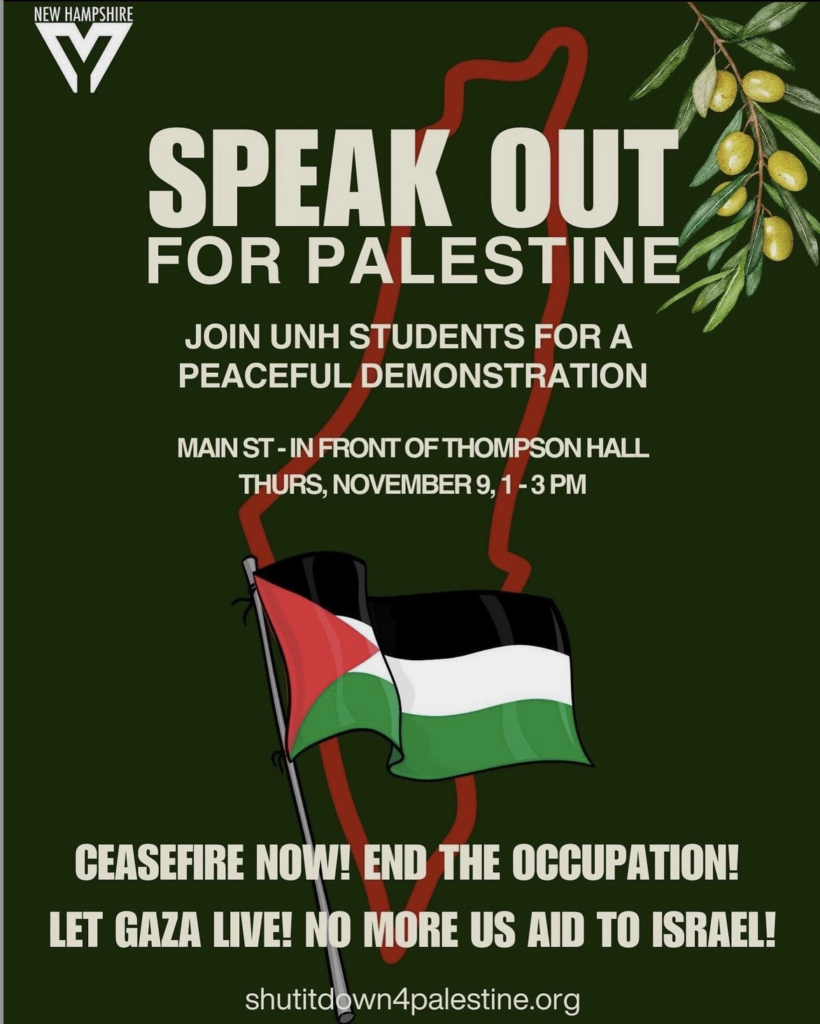 "There were about 50 people there when we arrived," said UNH College Republican Vice Chair Jessica Sternberg, a graduate student. "They didn't really say much, except for the chanting." Some participants handed out fliers attacking Israel and supporting the Palestinians, Sternberg said. Others waved signs condemning Israel as an "apartheid" state and accusing the Jewish state of committing "genocide."
Asked about the mood on the Durham campus, Sternberg said, "UNH as a whole feels very pro-Palestine."
Soon after the Oct. 7 attack, the UNH College Republicans teamed up with a local Jewish organization for an on-campus vigil to remember the victims of the Hamas violence.
"We invited the College Democrats to join us in condemning terrorism," Sternberg said. "We never heard back."
Sununu also expressed his frustration with what appears to be fading support for Israel in its war against Hamas so soon after the deadliest day for Jews since the Holocaust.
"To have more than a thousand terrorists walk into your country and butcher and murder 1,400 people in broad daylight, in cold blood. And just a month later, folks are saying to Israel, 'Y'all need to back off?' Can you imagine if someone came to the United States and less than a month after 9/11 they told us, 'Hey, back off! Slow down. You're not looking at the other side of the issue.'"
During the town hall, Christie announced he is traveling to Israel on Friday "because I want to see it for myself because I don't think you can try to be president of the United States and be afraid to go and see what's happening on the ground."
The issue of Israel continues to create controversy, particularly among Democrats and their progressive allies.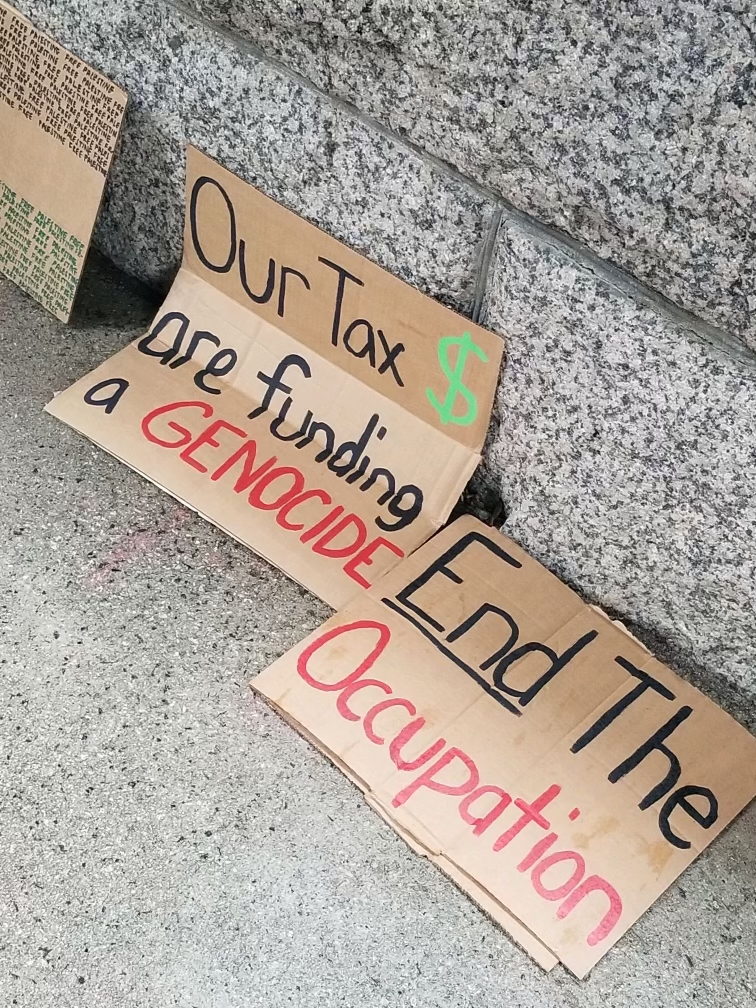 This week, Rep. Annie Kuster (D-N.H.) broke with fellow Granite State Democrat Rep. Chris Pappas, refusing to vote to censure anti-Israel Rep. Rashida Tlaib (D-Mich.) for her eliminationist rhetoric toward the Jews of Israel. Kuster also declined to join some 70 of her fellow House Democrats in a letter condemning the "From the river to the sea" language.
After Jewish Federation of New Hampshire Chairwoman Tracy Richmond publicly called her out, Kuster posted a mea culpa on social media — but she still refuses to condemn her longtime ally Tlaib.
And on Fox News Thursday night, Israeli Prime Minister Benjamin Netanyahu was asked what the "River to the sea" phrase meant to him.
"'From the river to the sea' means there's no Israel," Netanyahu said. "From the Jordan River to the Mediterranean — which is a tiny area by the way — means there is no Israel. [They're calling for] homicide and genocide, the elimination of the one and only Jewish state of the Jewish people."
Sununu signed an executive order banning the state from doing business with vendors who participate in anti-Israel BDS (Boycott/Divest/Sanction) efforts targeting Israel. And he noted Thursday night that he signed into law a state education mandate requiring the teaching of the Holocaust in Granite State schools.
"We don't force a whole lot of curriculum into our schools; we like local control," Sununu said. "But we forced schools to make sure that every student has to be taught about the Holocaust. We passed that law; it was absolutely the right thing to do.
"I'm not saying this law is a difference maker, but we champion it; we are talking about it," Sununu said. "And as an Arab-American, I'm standing here today telling you that if you don't support Israel 110 percent, you're not just on the wrong side of history; you're on the wrong side of humanity."