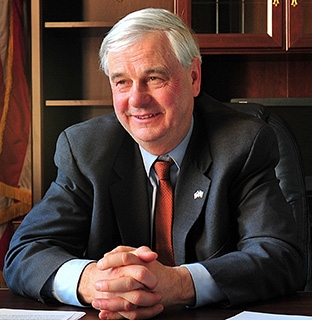 The state's new Senate president has a message to the teachers union activists hoping the courts will shut down the state's popular Education Freedom Accounts.
Good luck with that.
The lawsuit claiming the EFA program is unconstitutional was filed last week by the president of the New Hampshire American Federation of Teachers (AFT) Deb Howes, "as a citizen taxpayer," according to an AFT press release, not by the union itself. Senate President Jeb Bradley (R-Wolfeboro) told NH Journal podcast he's not too worried.
"Good luck with the lawsuit. I don't think it's going very far. I don't expect that the AFT is going to win," Bradley said on the NHJournal podcast.
The premise of Howes' lawsuit is that lottery revenue must go to public schools and, she argues, cannot be used to fund EFAs, which allows the state's share of education funding to follow the student to any school they choose: Public, private, or homeschool. But Bradley dismissed that argument
"I think (the EFA program) is carefully designed to meet the constitutional test," Bradley said.
Bradley is not alone in his view of the lawsuit, as the conservative nonprofit Institute for Justice has announced it plans to fight Howes in court.
"Halfway through the school year, opponents of Education Freedom Accounts are trying to take away parents' educational options," said IJ Educational Choice attorney David Hodges. "The New Hampshire legislature's mechanism for funding the accounts is constitutional and the Institute for Justice is ready to defend it."
The Institute for Justice has been part of the fight for school choice nationwide. Hodges said the organization has successfully argued for school choice before the U.S. Supreme Court.
The Institute for Justice will represent real New Hampshire families in court who are currently using the EFA program to send their children to private schools. Karl and Ellen Jackson of Pembroke are already set to be part of the fight in court.
"Without the Education Freedom Account our children would be forced to leave the schools they attend right now," said Karl Jackson. "We are eager to defend our children's access to a good education and also stand up for other families."
More than 3,000 New Hampshire students are taking advantage of the EFA program. It awards need-based grants that families can use toward tuition or homeschool supplies. Bradley, who sent one of his four children to a private school, said the program is needed because not every child succeeds in a public school environment. Before the EFA program, only families with the financial means to send their children to private schools had any real choice, he said.
"Now the AFT is targeting lower-income students and their parents to try and end the opportunity and choices their parents feel are important for them."
Of the 3,025 students who enrolled in the EFA program this year, more than 1,500 come from low-income households eligible for free or reduced lunch. And 187 of the participants are special education students, according to Commissioner of Education Frank Edelblut.
"Half of the children enrolled are living below the poverty level. These families are seeking a nontraditional instructional model for their children who may not have found educational success," said Edelblut.
The AFT is not a direct party to the lawsuit, as Howes filed it as an individual under New Hampshire's law that allows citizens to sue the government. However, her legal fight has the backing of AFT's national president Randi Weingarten.
"Any scheme to divert public funds into a voucher program without fully funding public schools first is an insult to the students, teachers, and families of New Hampshire, not to mention a violation of the law," Weingarten said. Her suggestion that EFAs are undermining public school funding is a common complaint among its opponents. 
And according to Bradley, it is completely false.
"In the last two budgets we've increased funding on public education by over a quarter billion dollars," Bradley said. And the increased spending comes as enrollment in public schools dropped by about 10,000 students.