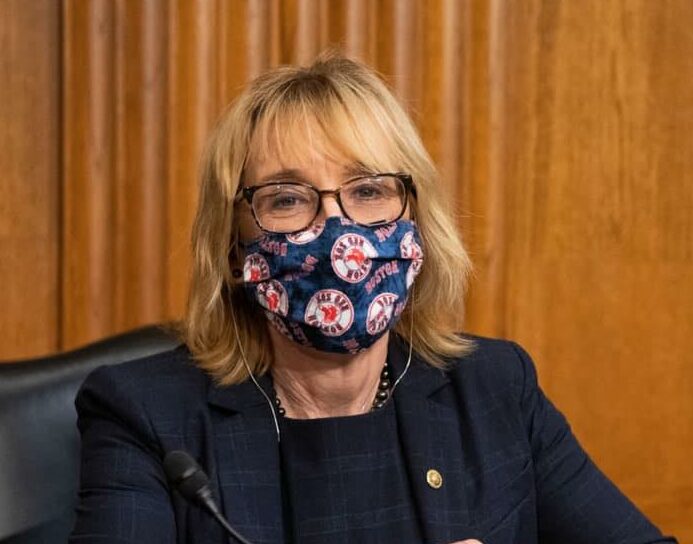 "It's time for Americans to get back to work and fill our great downtowns again. People working from home can feel safe to begin to return to the office."
Those are President Joe Biden's words from State of the Union three weeks ago, but the message apparently has not reached U.S. Sen. Maggie Hassan (D-N.H.) She is one of a handful of senators still keeping her Washington, D.C. office closed to the public.
The Granite State junior senator's closed doors were first spotted by the Washington Free Beacon, which posted a photo of Hassan's locked office in the Hart Senate Office Building.
"A Washington Free Beacon investigation after Biden's speech found that many Democratic offices completely closed and unstaffed, with several displaying signs that they were not returning to work due to COVID-19," it reported.
On Tuesday a New Hampshire Journal reporter called Hassan's office and asked if the office was open. The person who answered the phone could not answer the question and had to consult a co-worker before confirming the office is closed to the general public. Visitors are allowed with an appointment only.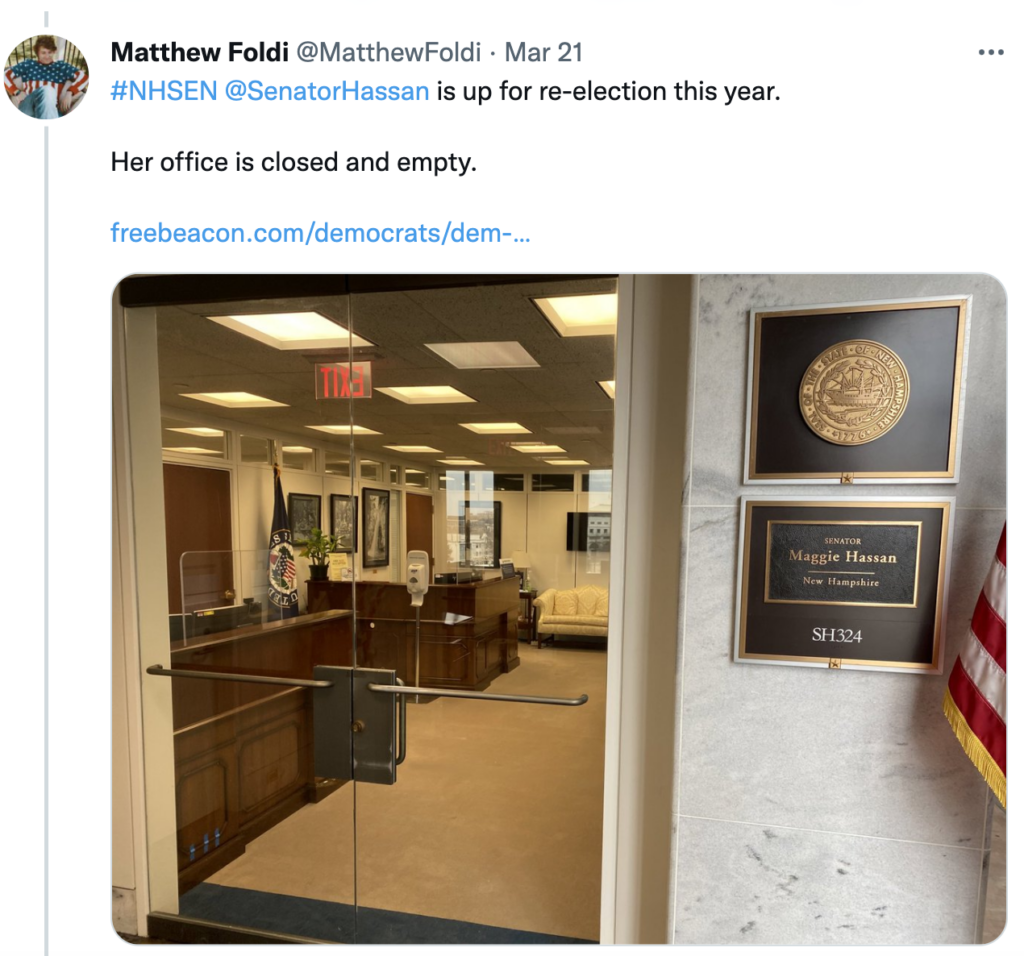 When asked why the staffer was unable to answer. "Those are just the office policies that we have, I don't have answers as to why."
The reporter was transferred to a staffer who only identified herself as "Emily" and refused to answer why Hassan's office is still closed to the public.
"The policy is that you need an appointment," Emily said. When asked why, she replied, "Because we only accept appointments."
That is a very different policy from Sen. Lindsey Graham (R-S.C.) where, according to Communications Director Kevin Bishop, "Our offices in D.C. and South Carolina are open. We are all here. We meet with constituents every day."
And the Free Beacon reporter Matthew Foldi, who walked through legislative office buildings said he had no problem walking the halls and taking camera photos of congressional office doors. "The Hart Building was open. Joe Manchin's office, for example, was fully staffed when I walked by."
While Hassan's staffers refused to answer the question, her fellow Democrats who are also keeping their offices closed to the public say it is in response to fears of COVID.
Senate Minority Leader Chuck Schumer (D-N.Y.) has his desk unstaffed and office closed, and Sen. Bernie Sanders (I-Vt.) has a sign outside his shuttered office saying it is closed because of the pandemic, according to the Free Beacon.
"In an effort to prevent the spread of germs and bacteria, Sen. Sanders' foot office is closed to the public," the sign reads.
Hassan keeps several offices in New Hampshire, in Manchester, Nashua, Concord, Portsmouth, and Berlin. None of these offices have public hours listed, and the phone numbers go straight to the same voicemail. Hassan's press team did not respond to an email asking questions about the New Hampshire offices.
Thanks to Biden's plummeting poll numbers, Hassan is facing a tough re-election environment next year. The closed offices and refusal to respond to basic media requests could feed her opponents' narrative that she is an absentee U.S. Senator who avoids difficult questions.
"Hidin' Hassan," tweeted an RNC spokesperson in response to the Free Beacon story.
GOP challenger Kevin Smith is already raising the issue.
"As (Londonderry) town manager, I ordered all employees back and re-opened town hall in June 2020," Smith said. "As your next U.S. Senator, this office will be open again to serve the people."
Another Republican candidate, state Sen. Chuck Morse (R-Salem), said Hassan's decision to close shop shows she is unable to fight for New Hampshire.
"Maggie Hassan's continued decision to keep her Senate office closed highlights her inability to fight for New Hampshire and our 603 Way," Morse said. "Make no mistake – when I'm in the United States Senate we will keep our office open, and I'll never stop serving my constituents."
And retired Gen. Don Bolduc, also running for U.S. Senate, said: "If leftists like Maggie Hassan had their way, we would be locked down forever. It's long past time we all learned to live with the pandemic and get back to life as normal, especially politicians who are paid by taxpayer money. If Senator Hassan doesn't want to show up and do her job, the people of New Hampshire will replace her with someone who will."
Smith previously accused Hassan of being an "absent senator," claiming she was not available when Londonderry navigated the pandemic.
"We heard many times from Sen. Jeanne Shaheen. We didn't hear once from Maggie Hassan in two years, asking about how Londonderry was doing during the pandemic," Smith said.
Hassan disputes that, telling WMUR she was in frequent contact with people all over the state, including some in Londonderry.
"I had roundtables and was in constant contact with municipal leaders, mayors, and town managers across the state. Sometimes those roundtables included people from Londonderry," she said.
But not, apparently, in her office.