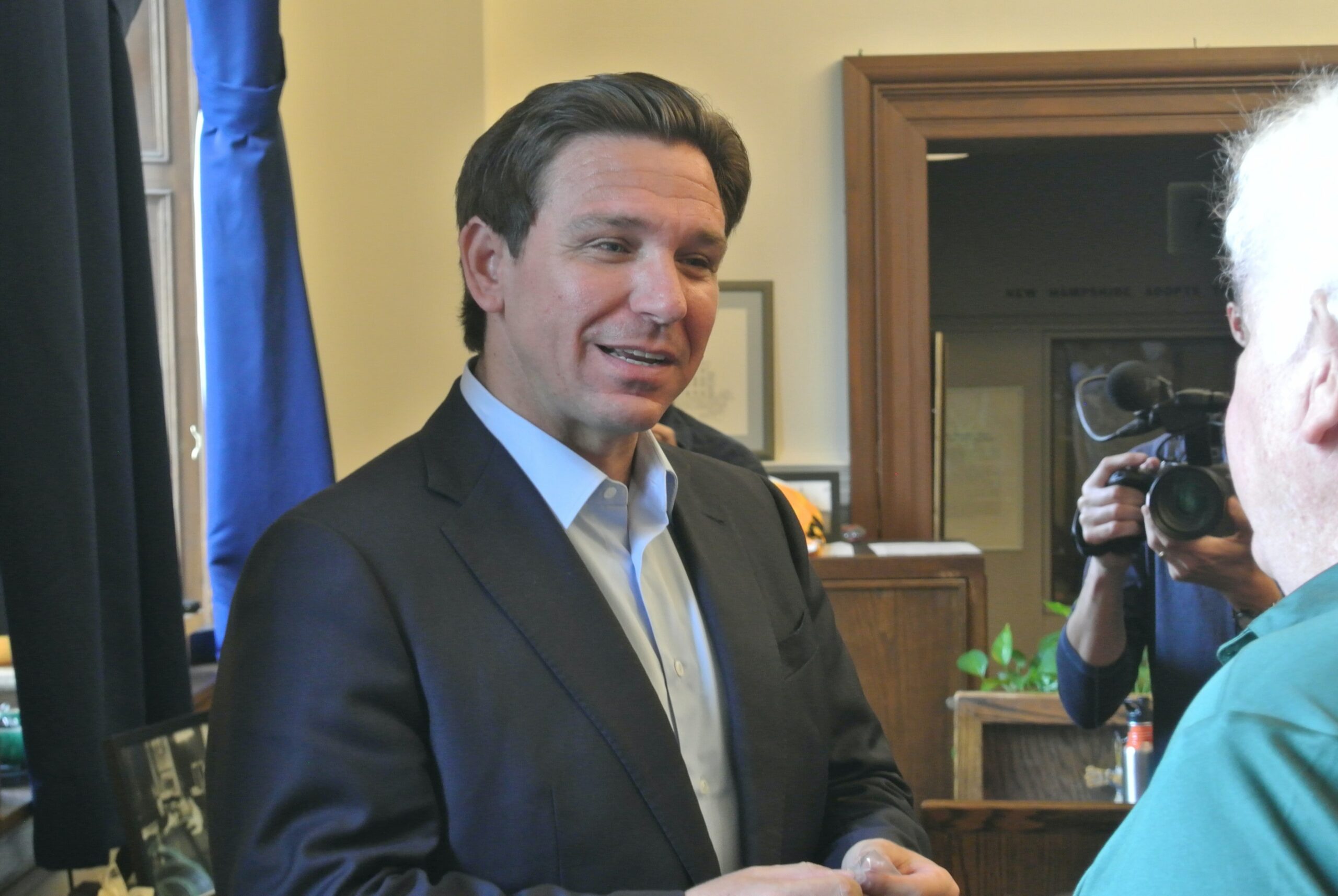 Florida Gov. Ron DeSantis is running hard into the New Hampshire GOP presidential primary, saying he will compete in the First-in-the-Nation state while also running an all-out campaign in Iowa.
"We're all-in on all the early states," DeSantis said Thursday.
And, the Florida governor demonstrated he is also all-in when it comes to taking on Trump directly, hammering the former president over his praise for Hezbollah in the wake of attacks on Israel.
 DeSantis took shots at Trump's criticism of Israeli Prime Minister Benjamin Netanyahu — and praise for the terrorist group Hezbollah —  in the wake of the Hamas terrorist attack. 
"Now is not the time to do what Donald Trump did by attacking Prime Minister Bibi Netanyahu, attacking Israel's defense minister, saying that somehow Hezbollah were very smart. Now's not the time to air personal grievances about an Israeli prime minister; now's the time to support their right to defend themselves to the hilt," DeSantis told reporters Thursday.
And, DeSantis added, in a time of international crisis, he is ready to lead — unlike President Joe Biden. "You've got to take that 2 a.m. phone call; you can't be sleeping like this president did," he said.
Biden's administration is mistaken in thinking it can deal with Iran, which has been using Hamas and Hezbollah as proxies to wage war on Israel, DeSantis said. America needs to support Israel's efforts to eliminate Hamas, starting by cutting funds for Iran.
"(Israel) needs to uproot and eliminate the entire Hamas network and Hamas members," he said.
Hundreds of supporters and dozens of media members packed into Secretary of State David Scanlan's office to watch DeSantis file his nomination papers and gladhand with State House staff afterward. 
DeSantis sat with New Hampshire reporters to make his case for the nomination after filing. In a crowded Republican field, DeSantis said he is the only candidate ready to be president on day one.
"If you want a change from Trump, I think I'm the best leader, and I give you the best chance to do well," he said. "I've delivered  more for Republicans, conservative ideas, America First principles than anybody running."
Trump is facing multiple criminal indictments and, because of that, is unable to focus on the job, DeSantis said. Trump would also be a lame-duck president, only able to serve one term if he were to get reelected.
"I don't know how, as a lame duck president, with all the stuff he's dealing with, he can get done what we need to get done.
"A Trump nomination guarantees the next election will be all about Trump, his court cases, his grievances, and his controversies. This sets up Democrats for an easy campaign," DeSantis said.
"It wouldn't be about the issues people are concerned about, and it would give the Democrats a huge advantage," DeSantis added.
While he consistently comes up short of Trump in polling data, usually in second or third place, DeSantis said he is confident he will pick up support closer to the primary. Polls don't capture the whole picture of the race, he said.
"If you look at the favorability ratings I've had, I'm one of the most well-liked Republicans in the country," DeSantis said.
DeSantis was an early favorite for many Republicans who want to turn the page on Trump, and as a result, he has taken heat from Democrats, Republicans, and the media. 
"I've been attacked more than all the other candidates," DeSantis said.
Minds will start to change once voters can see him up close and learn about his record as governor, he said. He said how he dealt with the COVID crisis, hurricanes, Black Lives Matter protests, and other events showed he is ready and able to lead.
"We showed our mettle when it was called for," he said.