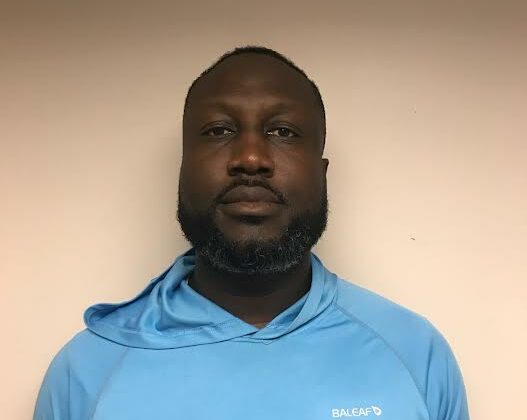 According to New Hampshire Attorney General John Formella, Strafford County Sheriff Mark Brave used taxpayer money to subsidize his love life and lied about it to a grand jury.
"The decision to charge an elected constitutional officer was not made lightly," Formella said. "However, no person is above the law, and the evidence in this case required action. It is my hope that the public will be reassured that there will be equal justice under the law for every person in this state – including public officials."
Brave denied any wrongdoing Thursday morning when he turned himself in to state police. He has blamed his downfall on county politics, not his multiple affairs.
"I will go in civilian clothing, no weapons, and bring my $40 for the bail commissioner," Brave told Foster's Daily Democrat prior to his arrest. "I expect I will be photographed and fingerprinted. What I want is to get ahead of this situation and to get a trial date.
"I will fight this all the way. If I had done anything wrong, I'd own it. But I, 100 percent, did nothing wrong."
Brave also blamed racism by county officials for the investigation that resulted in criminal charges. Formella said Thursday saw no evidence that racism played a part.
"That is unsubstantiated," Formella said.
Brave allegedly stole $19,000 from Strafford County taxpayers through a scheme in which he submitted fake receipts for expenses related to his affairs, according to Formella. He also repeatedly lied about his actions, at one point roping U.S. Rep. Chris Pappas (D-Manchester) into his fabrications.
He is charged with one count of theft by deception, two counts of falsifying physical evidence, and five counts of perjury. If convicted on all counts, Brave would face a 31-to-64-year prison sentence.
According to Formella, Brave tried to hide the fact his spending was connected to his affairs by falsifying one receipt to remove the identity of a female companion, and by submitting numerous false justifications for reimbursement. They included attending conferences and meetings that he did not attend or did not occur, or for organizations that did not exist. 
Formella said that county officials became suspicious about Brave's spending and alerted the state in April. Once the Attorney General's Office began to investigate, Brave lied to investigators and a grand jury, Formella said.
The first perjury charge involved a female employee who traveled with Brave to Florida. The woman told investigators she did not stay in the same hotel room as Brave. Instead, she claimed, she stayed with family.
The woman later admitted to the grand jury that she did stay in the same hotel room as Brave. But the sheriff is alleged to have repeated her earlier version of events.
The second perjury charge concerned allegations that Brave stated he attended events for a fictitious law enforcement organization. 
The third perjury charge related to a trip Brave took to Maryland. Brave told the grand jury he was scheduled to meet with Pappas, but that the congressman had to cancel the meeting and gave Brave a flag that flew over the U.S. Capitol as an apology. 
"Records from the congressman's office indicate that no such meeting was ever scheduled, and no such gift of a flag as an apology ever took place. Rather, based on investigation, Sheriff Brave is alleged to have actually met a paramour who lived in the area," Formella said.
The fourth and fifth perjury charges concerned a dinner cruise and hotel stay for Brave in Boston. He told the grand jury he purchased the tickets in advance so he and a male deputy could attend a charity fundraiser. But the investigation found Brave bought the tickets on the same day as the cruise for himself and another paramour to attend the event together – which was on the paramour's birthday.  
Brave is further alleged to have alternatively claimed in his testimony that he did not remember the trip, that no one stayed with him at his hotel, and that he did not recall if his paramour spent the night with him. After hotel surveillance video showed he was lying, Brave then admitted the paramour spent the night with him at the hotel for romantic and sexual purposes, according to Formella.
Brave is still the head of the Strafford County Sheriff's Department. Formella said his office does not have the legal ability to remove Brave from office.
"There's a process to remove him, but that will be up to county officials," Formella said.
County Administrator Ray Bower did not respond to a request for comment. 
Brave, a Democrat, became the state's first elected Black sheriff in 2020. During his campaign, he aligned himself with the Black Lives Matter movement, promising to get police officers out of schools. However, he contracted with a local school department to have a deputy assigned to schools once elected.
Brave has been considered a rising star in the Democratic Party, and he still has some powerful political allies. He is represented by the influential and well-connected Democratic law firm of Shaheen and Gordon — the "Shaheen" being Billy Shaheen, husband of U.S. Sen. Jeanne Shaheen.
In July, when news of the investigation broke, Executive Councilor Cinde Warmington continued to list Brave on the endorsements page of her Warmington for Governor website.
After Brave's arrest, his name was removed from the list of endorsements.
New Hampshire GOP state chair Chris Ager released a statement after Brave's arrest.
"Sheriff Brave's corrupt acts are yet another example of Democrats' brazen lack of consideration for the communities they serve," said Ager
"While hard-working Granite Staters struggle to make ends meet, Democrat Sheriff Mark Brave thought it was okay to defraud taxpayers for his personal gain, and then lie about it under oath."
"Contrary to what Brave clearly believes, Democrats are not above the law."