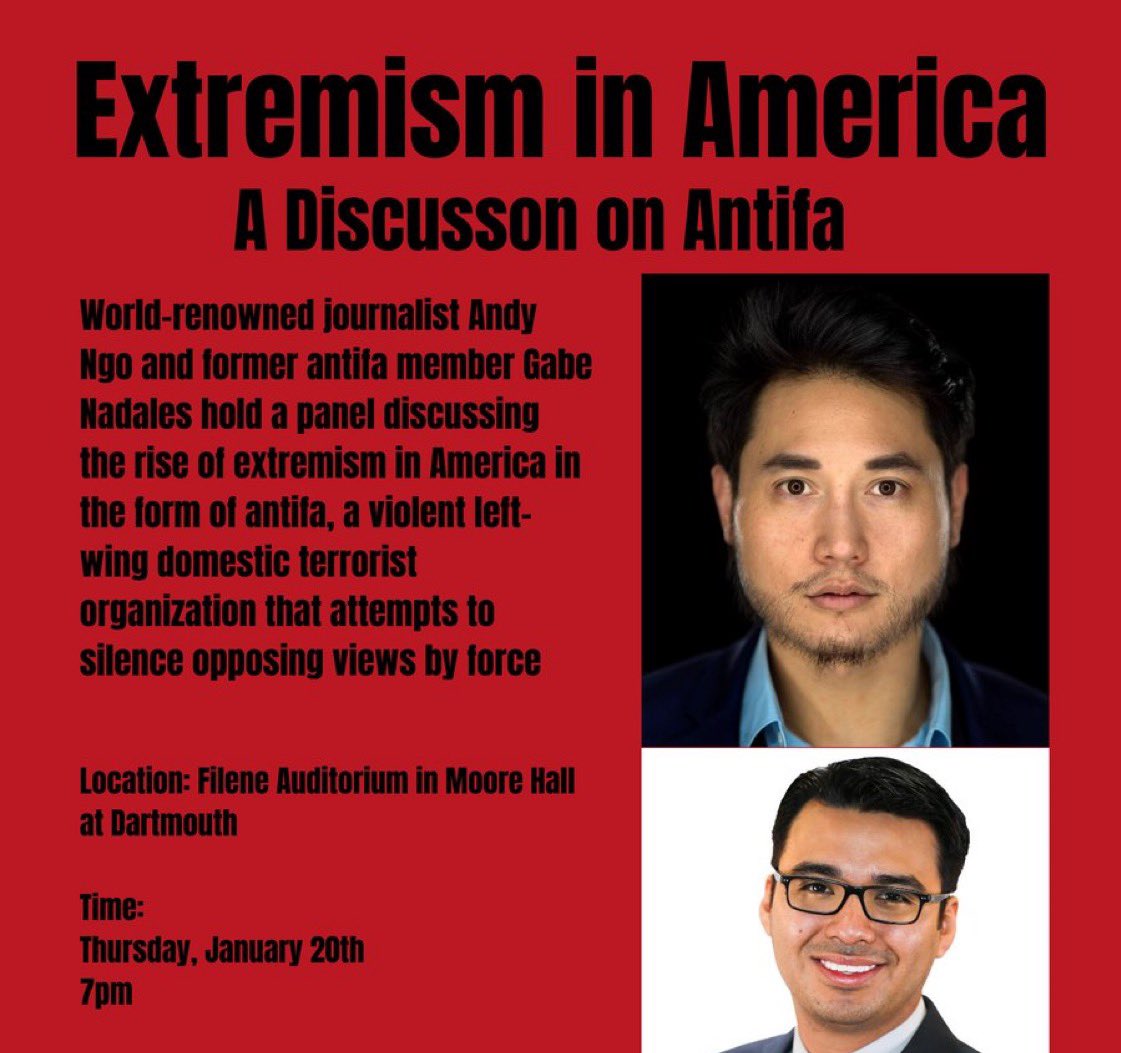 Members of New England-based Antifa groups are planning to stop right-wing provocateur Andy Ngo from speaking Thursday night at Dartmouth College, with some threatening violent action.
"The people trying to agitate opposition to the speaking event with dog whistles to the far-left for violence are those who want to silence me & my work," Ngo wrote on Twitter.
Ngo is appearing at the college for an event sponsored by conservative organization Turning Point USA and the Dartmouth College Republicans. Ngo has made a career reporting on the violent excesses of leftist extremists like Antifa. He has also been accused of providing public relations for right-wing extremists like the Proud Boys.
Ngo is set to speak Thursday night along with Gabe Nadales, a reputed former member of Antifa. News of the appearance got members of Antifa organized into planning a counterprotest, with some making threats to stop Ngo.
"When you enter our home you play by our rules, not yours," the Northeast Antifa social media account posted. "New England is anti-fascists, and we will hold that line till death."
Some of the groups discussing the event online are encouraging people to wear black and cover their faces to be protected from later prosecution. The Green Mountain John Brown Gun Club stated online it "called up reserves" to be on hand for the event. A member of a Portland, Ore. Antifa group, Jonathan Dylan Chase, is offering money for anyone who managed to assault Ngo during his Dartmouth appearance.
Dartmouth College's Associate Vice President for Communication Diane Lawrence said Wednesday the school is prepared for the event.
"We have made all necessary preparations to facilitate this event in a safe manner. We will continue to evaluate any information we might receive," Lawrence said.
Dartmouth, once a bastion of free speech, has evolved like many progressive campuses into hostile territory for speakers from the Right. Last year's appearance by Rep. Madison Cawthorn (R-N.C.) drew a crowd from the Democratic Socialist Club at Dartmouth, and liberals on campus reportedly engaged in vandalism of the posters for the event.
The Democratic Socialist Club protest itself descended into obscene anti-police chants directed at the sole Hanover police officer observing the proceedings, though there was no reported violence at the event.
The Foundation for Individual Rights in Education (FIRE) ranks Dartmouth 63rd in the nation for its campus culture supporting free speech.
Antifa, a decentralized organization of people who claim to be anti-fascists, has been at the heart of violent street protests for years, clashing with both innocent political protestors and aggressive white supremacists along the way. Members of Antifa have been engaged in regular violent protests in Portland, Ore. for the past few years. 
Ngo gained fame covering the violent clashes between Portland's Antifa and violent white supremacists like the Proud Boys. Ngo has been accused of serving as a propagandist for the Proud Boys in exchange for protection at the protests, something he has denied. Ngo was violently assaulted by Antifa protesters in 2019.