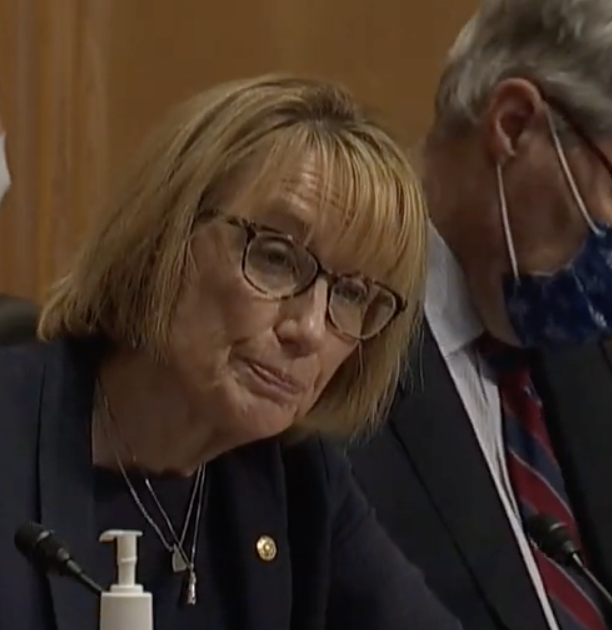 Sen. Maggie Hassan has touted her leadership on the newly-passed $1.2 trillion infrastructure spending package. But a new radio ad is calling her out for the fact her state came in 'dead last' in funding from the bill.
"In a split 50-50 U.S. Senate, Joe Biden needed every Democrat vote to pass his infrastructure plan. Maggie Hassan had the power to change the plan, but didn't. She allowed it to pass with New Hampshire coming in dead last in total funding," the ad's narrator said. "New Hampshire got the least amount of money for projects like roads bridges, and high-speed internet."
Listen to the new radio ad targeting Sen. Maggie Hassan here.
It is a complaint Gov. Chris Sununu has made repeatedly since President Biden signed the spending plan. "We're 50th in the country for roads and bridges, and they're coming to New Hampshire to tout roads and bridges," Sununu asked when Biden came to New Hampshire last month to talk up the infrastructure spending. "And our federal delegation is taking a victory lap?"
Hassan, on the other hand, is bragging about the role she played in crafting this spending bill.
"I helped lead negotiations around this bill to make sure it responds to the pressing infrastructure needs of small and rural states like New Hampshire," she said in a statement.
And Biden gave her a big shoutout during his visit to Woodstock, N.H.
"Maggie, you did one hell of a job because, folks, you should know that Maggie was a key player in every aspect of this law," Biden said. "She was always making sure New Hampshire's roads and bridges, like the one we're standing on today, were safe, and this one is not."
Patrick Hynes with the Independent Leadership for New Hampshire PAC running the ad says these claims are not accomplishments, they're indictments.
"Sen. Hassan says she negotiated the infrastructure bill. She drove a hard bargain … for states like New York, California, and Massachusetts where she gets most of her money. But she left New Hampshire out in the cold. The Granite State ranks dead last in infrastructure dollars," Hynes said. "It's disappointing that after all the blind loyalty Hassan has shown to Joe Biden and Chuck Schumer, New Hampshire still finished dead last in infrastructure dollars. It shows where we are on her priority list."
New polling shows America's priority is fighting inflation, named the top concern of voters in a new Yahoo News/YouGov poll. And a Fed analysis found the Biden administration's spending has directly added to inflation pressures. That may explain why a majority (57 percent) of voters — including 28 percent of Democrats — blame Biden.
Hynes, a GOP communications adviser, notes 85 percent of Hassan's campaign contributions come from out of state, much of it from New York City, Washington, D.C., and Los Angeles.
And the ad makes a point that is all-but-certain to be echoed by Republican messaging in next year's election: Because these bills can only pass with the support of every Democrat, Hassan is the "50th vote" on every dollar spent and every policy put in place. It will be very difficult for her to distance herself from the massive pricetags on these spending packages or individual policies like billions for EV charging stations when she literally could have killed anything she objected to with a single vote.
"Maggie Hassen could've gotten us more infrastructure dollars," the ad concludes, "but she allowed us to be dead last."