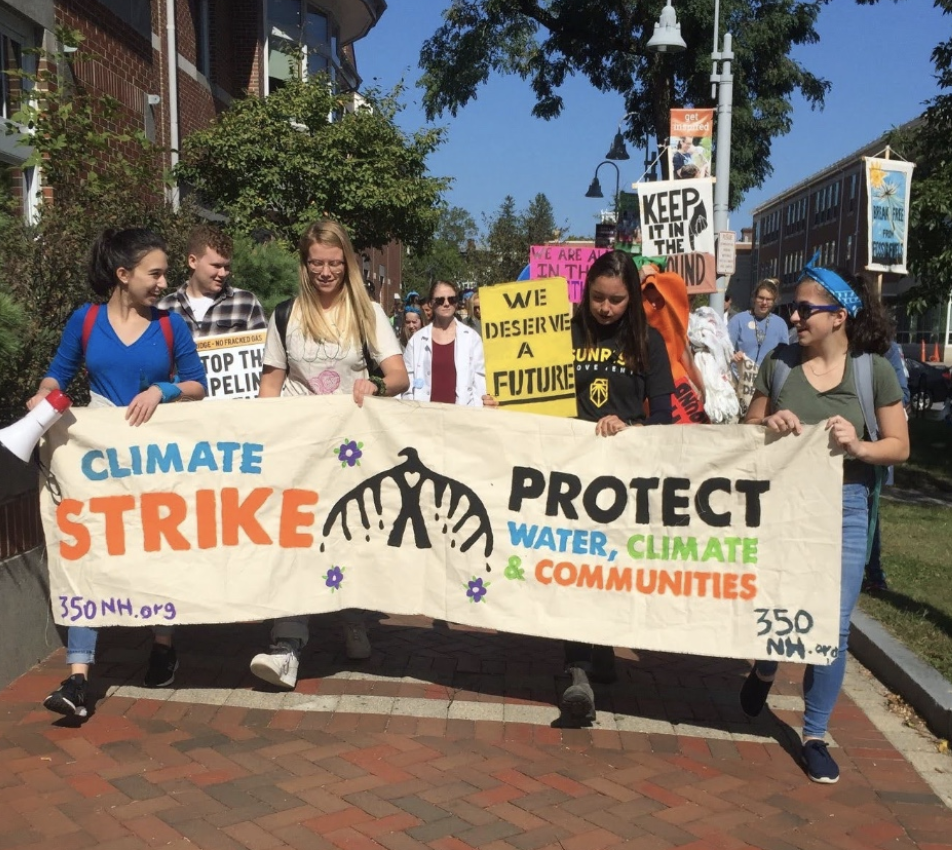 New Hampshire's 350 Action organization hosted a "Rally for Renewables" on Sunday. The climate-change activism group wasn't expecting Sen. Maggie Hassan or Rep. Chris Pappas to make an appearance, and neither did.
"Sen. David Watters (D-Dover) will be speaking, and I imagine we might have some more state representatives, but the state's federal delegation are not expected to be there," said 350 NH's Rebecca Beaulieu ahead of the event.
And now that Hassan and Pappas have become vocal proponents of more oil and gas drilling, the question is whether they would have been welcome.
In the past, both incumbent Democrats were longtime supporters of restrictions on oil and gas production and
higher taxes on U.S. companies producing fossil fuels. Both have declared climate change an "existential threat." But now they face a hostile political climate and, as the costs of gasoline and home heating products have soared in the Granite State, they've abandoned their climate-change policies and embraced increased a new position on fossil fuels: higher production and lower taxes.
Hassan has repeatedly called for energy companies to pump more oil and gas. "We've got to stand up to Big Oil and really tell them that they need to start increasing production," Hassan said last week.
She also signed a letter to the White House urging the Biden administration to use its leverage to push for more oil and gas in the marketplace. "We should insist that our international partners do more to increase production and stabilize prices," Hassan wrote.
Pappas has followed the same path from climate-change advocacy to promoting oil production. Pappas had been a supporter of the Biden administration's energy policies, including shutting down the Keystone XL pipeline on its first day in the White House and issuing restrictions on new energy production.
But now?
"Developing more domestic energy is an important step forward. We should be looking to maximize our production, 'all of the above,'" Pappas said last week.
He added that one way to help make America less vulnerable to the international gas and oil markets is "making sure all the [oil and gas] leases are fully utilized today."
All this increased oil production will impact global warming and represents a step back for climate activists like 350 Action, though Beaulieu declined to call anyone out by name. Beaulieu said all political leaders need to work on moving from fossil fuels to green renewables.
"Democrats and Republicans alike should support a just transition to renewable energy and pass policies (including the Build Back Better package) that get us off of oil. Everyone deserves clean air, clean water, affordable transportation, and a livable climate," Beaulieu said.
On Sunday, Watters and green energy activist Dan Weeks, co-owner at ReVision Energy, spoke out against expanded fossil fuel production and in favor of more renewable energy generation. Neither mentioned their fellow Democrats who have taken a different stance.
Hassan and Pappas can't seem to lose support among environmental groups, no matter what they do. Hassan recently snagged the New Hampshire Sierra Club's endorsement. Pappas has avoided public criticism for taking campaign cash from the lobbyist for Russian gas compel Gazprom despite signing a pledge against such donations.
Pappas and Hassan are in line with the Democratic Party when it comes to disappointing climate activists. Biden deflated hopes last year when his administration held the largest auction in history for oil and gas leases in the Gulf of Mexico, representing potentially 600 million more tons of greenhouse gases released into the environment.
Activists this week told the Washington Post they are afraid for the future, thanks to Biden and the Democrats.
"I'm really scared about it," said Varshini Prakash, the executive director of the Sunrise Movement told the Post's Dave Weigel. "Talking to young people, there's a lot of fear about our inability to pass climate policy at the federal level."
Climate activists are hostage to the Democratic Party, supporting Democrats despite their inability to pass policies like the Green New Deal. Some of that, according to Weigel, may just be a political reality.
"There's no political appetite for that, much to the chagrin of people in the climate movement," Danielle Deiseroth, the lead climate strategist at the left-wing polling and advocacy group Data for Progress, told the Post. "We couldn't just shut it all off tomorrow, and we're realizing that more than ever." 
As New Hampshire's green activists gather in Concord, the question is whether they will choose to speak out against policies they oppose, even when the politicians supporting them are traditional liberal allies like Hassan and Pappas.
When NHJournal recently speculated 350NH would continue to endorse Hassan, Pappas, and other Democrats regardless of what energy policy they embraced, the organization responded with a tweet:
"Where is our endorsement?"