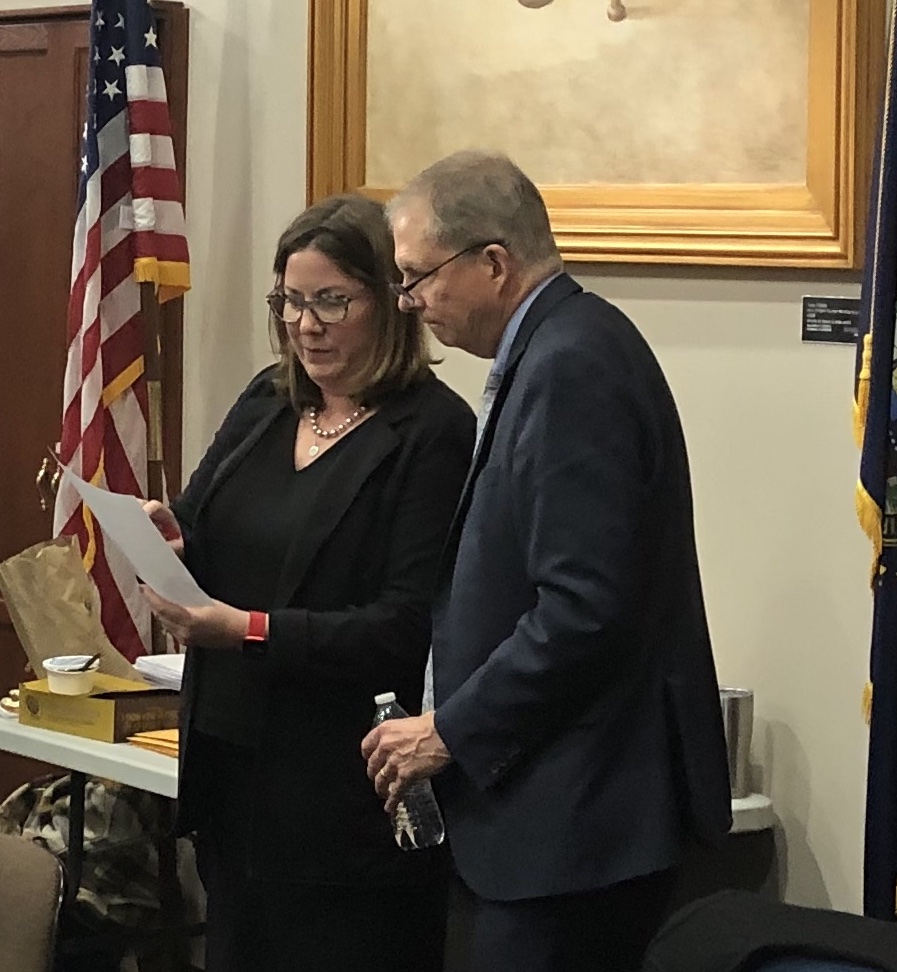 With control of the State House down to a razor-thin margin, Secretary of State Dave Scanlan announced Thursday he plans to look again at one of the already recounted races, potentially returning a seat to the GOP.
On Monday, Democratic hopes of winning control of the House of Representatives were boosted when a recount of Hillsborough District 16, Manchester's Ward 6, appeared to show incumbent Republican Larry Gagne lost 22 votes, handing a one-vote victory to challenger Maxine Mosley.
Almost immediately, however, Republicans suspected an error had occurred. Vote changes of more than a handful of ballots are rare. Rarer still are candidates losing votes in a recount. Scanlan, a veteran of many recounts, also took note of the unusual numbers.
"It's unusual if it changes by more than 10 or 11 votes," he told NHJournal.
Thanks to an audit of the district, it became clear that some 20 to 25 ballots were missed during Monday's recount, bringing into question the results. Scanlan released a letter Thursday explaining the situation.
"Ballot counting will be continued in Hillsborough County state representative District 16 recount. The routine reconciliation process indicated that reconciliation and recount number were not equivalent," the statement read. "The total number of ballots cast and counted for the office of governor in this district is greater than the total accounted for so far for the [Gagne v. Mosley] race. This indicates some ballots have not yet been counted in the recount.
"As a result, the process of recounting the ballots cast in that race will now continue on Monday, November 21, at 4 p.m."
Republican House members told NHJournal they are pleased, but not surprised, by the decision. And they are very confident Gagne will ultimately hold the seat based on his original 1,820 to 1,797 margin.
"Every vote matters and should be counted. Anyone afraid to finish the recount should be questioned as to what they are afraid of finding," said Rep. Ross Berry (R-Manchester). "This is a direct result of Republicans demanding transparency in our elections, and I look forward to bringing more sunshine into our voting process. The voters I represent in Ward 6 have a right to know all of their votes will be counted."
There have been 17 recounts thus far, with a total of 29 currently scheduled, in the wake of last week's midterms. Scanlan said it was a difficult decision to reopen the recount given the heightened scrutiny of the election process. But his office has more data available this year than in past years thanks to increased efforts to make sure the election results are accurate.
"It's important that we get everything right," Scanlan said.
The secretary of state has also created the Special Committee on Voter Confidence to examine concerns about election integrity in the state. While the committee has not found any evidence of widespread voter fraud, its final report has yet to be released.
Republicans currently have a one-seat majority in the House. A race in Rochester is tied. As a result, a Gagne win would be a significant development in determining control of the lower chamber.
Some candidates, mostly Republicans, requested recounts in races where they trailed by more than 100 votes, and it is extremely unlikely those outcomes will change during a recount. 
Manchester's Ward 6 race isn't the only one getting another look. Scanlan also announced 27 absentee ballots found in the Rockingham District 6 race could change the results. Democrat Eric Turer beat Republican Melissa Litchfield 1,213 to 1,198, a difference of 15 votes. However, an audit of that race found 27 absentee ballots were not counted on election night or during the recount this week.
Scanlan is asking the New Hampshire Ballot Law Commission to order the 27 absentee ballots be counted and made part of the total.
It is a situation that echoes the 2020 election fiasco in Bedford, where election officials failed to count 190 absentee ballots and then attempted to hide their mistake from the general public.