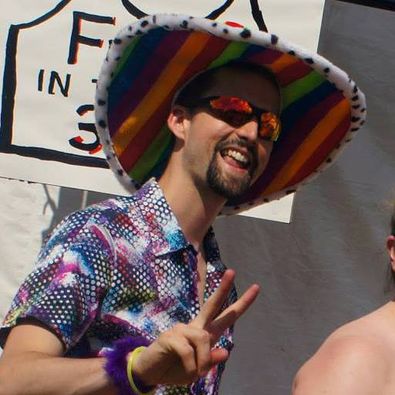 Libertarian activist Ian Freeman was found guilty of several felonies Thursday in the Bitcoin money laundering case. 
Freeman was at the center of a Bitcoin sales and donation operation that used his churches, such as the Shire Free Church in Keene, and hubs to launder money from cyber criminals, according to prosecutors.
The jury took a few hours Wednesday and Thursday to find Freeman guilty on charges of operating an unlicensed money-transmitting business, money laundering, conspiracy to commit money laundering, conspiracy to operate an unlicensed money-transmitting business, and income tax evasion.
Freeman is set for a sentencing hearing in April. He faces up to eight years in prison.
Freeman was the lone Crypto 6 defendant to go to trial after four others took plea deals. Charges were dropped against the fifth. He was arrested during a March 2020 raid at his Keene home along with co-defendants Aria DiMezzo and Nobody, formerly known as Rich Paul. Freeman's ex-girlfriend Renee Spinella and her husband, Andrew Spinella, were arrested at their home in Derry. Alstead resident Colleen Fordham, 63, was also arrested as part of the bust.
Prosecutors dropped the charges against Fordham early in the case. DiMezzo, Nobody, and the Spinella all took plea agreements that netted them light sentences.
Freeman was accused of taking in millions of dollars through Bitcoin exchanges and Bitcoin ATMs with the help of DiMezzo and the others. Freeman reportedly used personal bank accounts and accounts for made-up churches like the Shire Free Church, the Crypto Church of New Hampshire, the Church of the Invisible Hand, and DiMezzo's Reformed Satanic Church, in order to conduct the bitcoin businesses. He allegedly lied to banks in opening accounts for his churches and other businesses and got the others to open accounts on his behalf, according to court records. Part of Freeman's operation was helping cyber criminals swindle money from lonely victims, according to the indictments.
Freeman, DiMezzo, and Nobody are all part of the Free Keene collective, an offshoot of the Free State Project. The Free State Project made a show of kicking Freeman out of the movement in 2014 after he repeatedly advocated for lowering the age of consent. The Free State Project is a Libertarian initiative to overtake the state's government. Freeman is an advocate of seceding from the United States of America.