Joined by representatives of the state of Israel and his own state's Jewish community, New Hampshire Gov. Chris Sununu signed an executive order Thursday banning the state from doing business with companies participating in the Boycott/Divest/Sanction movement against Israel.
"Israel is the specific target of a dedicated discrimination that seeks to isolate it economically, alienate it socially, and coerce neutral businesses into joining these boycotts against their will," Sununu said. "These values are the antithesis of the 'Live Free or Die' spirit here in New Hampshire. And it's why I'm signing an executive order today enacting an anti-BDS policy within the state of New Hampshire."
Sununu described the BDS effort as a "hate movement" that is "unfortunately still alive and well" both nationally and locally.
"The fact that these discriminatory and hateful attacks on Israel, the fact that a lot of it is more common at the national level, and coming from sitting members of Congress, is appalling. A lot comes from the progressive left wing, which seems to think there are no boundaries for speech and behavior as long as you're on their side," Sununu told NHJournal after the signing.
Israel's ambassador to the United Nations, Gilad Erdan, and the consul general in New England, Ambassador Meron Reuben, were on hand for the signing.
"I thank all of you from the bottom of my heart," said Erdan. "BDS wants to destroy, to annihilate the one and only Jewish state. What you're doing here today is not only defending and protecting Israel; you are defending the special alliance between Israel and the United States of America.
"Today you are creating an Iron Dome, an economic Iron Dome and also a moral Iron Dome," Erdan added, referencing Israel's anti-missile defense system. "You are defending our shared values, the values of truth and freedom."
Erdan also noted Sununu's actions made New Hampshire the 37th state to take action against the BDS movement and just the second New England state (behind Rhode Island.) Less than one percent of the Granite State's population is Jewish, and Sununu was asked why he felt New Hampshire needed to lead on this issue.
"We could have no Jewish people in New Hampshire, and it would still be the right thing to do," Sununu answered. "It's not just about people from Israel or the Jewish American community. It's sending a message that you have to stand up against hate."
Reuben talked about the tradition of trade and commerce between Israel and New Hampshire and urged Sununu to bring a business delegation to Israel at his earliest opportunity.
"Well, as of about a month ago, my schedule has gotten a little more flexible," Sununu quipped, referencing his decision not to enter the 2024 presidential race.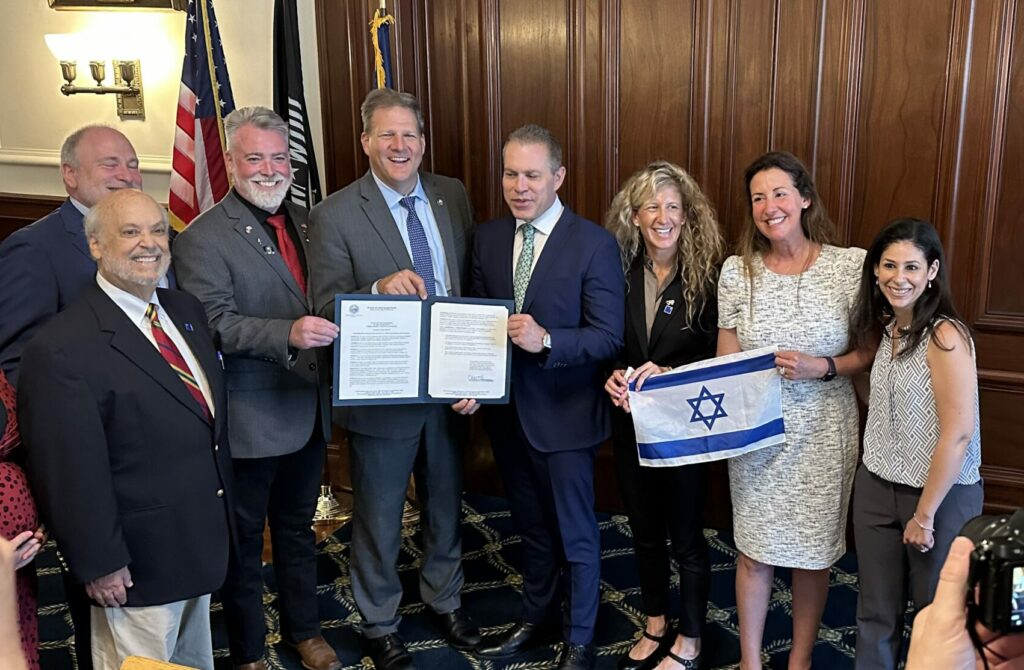 New Hampshire has had several high-profile anti-Israel and anti-semitic incidents by Democrats. During the 2020 presidential campaign, the state Democratic Party hosted Rep. Ilhan Omar (D-Minn.) not long after members of her own party denounced her for repeated anti-semitic comments.
In October 2021, state Rep. Maria Perez (D-Milford) publicly used the Hamas slogan calling for the end of the nation of Israel, condemning what she called the country's "occupation and apartheid." Perez tweeted, "From the river to the sea, Palestine will be free!" (The phrase is shorthand for the destruction of the nation of Israel, which lies between the Jordan River and the Mediterranean Sea.)
And members of the House Progressive caucus were accused of anti-semitism by their fellow Democrats during an intraparty conflict last year. During the dust-up, progressive Rep. Alissandra Murray (D-Manchester) described the conflict with Jewish House members as "we kicked the termite nest," echoing language from notorious anti-semite Louis Farrakhan.
Murray, who serves as co-chair of the House Progressive Caucus,  took to Twitter Thursday to object to Sununu's executive order, claiming it "condones violence."
"HB 339 was ITL'd in committee and never even got a vote on the floor, so the tyrant Sununu decided to issue a politically-motivated executive order that condones violence and violates free speech. NH deserves better than this political game player in the corner office."
HB 339 was GOP-backed legislation "prohibiting the investment of state funds in any company participating in a boycott of Israel." The bill, voted Inexpedient to Legislate (ITL) by the Executive Departments and Administration Committee by a vote of 15-5, was sponsored by Rep. James Spillane (R-Deerfield).
Spillane and former Rep. Paul Burch (D-Westmoreland) were credited by Sununu and other supporters of the executive order for their combined efforts on behalf of the cause. Ironically, Spillane had his own anti-semitic incident two years ago, sharing a cartoon meme from social media containing Jewish stereotypes. Spillane was formally reprimanded by the House and issued an apology claiming he did not realize the artwork contained anti-semitic imagery.
One House member who formally complained about Spillane's actions was Rep. Paul Burch.
"I am so proud that a thoughtful governor and a bipartisan approach has resulted in a very important document being signed," Burch said Thursday. "This issue isn't about any particular country or its policies. This is about whether New Hampshire is going to continue a non-discrimination policy, whether it's based on sex, color, religion, or national origin. This is about New Hampshire."