New Hampshire state Rep. Maria Perez (D-Milford) is standing by her use of the Hamas slogan calling for the end of the nation of Israel, condemning what she calls the country's "occupation and apartheid."
On October 23, Perez tweeted, "From the river to the sea, Palestine will be free!" (The phrase is shorthand for the destruction of the nation of Israel, which lies between the Jordan River and the Mediterranian Sea.)
When questions were raised about her tweet, Rep. Perez took it down. But after a published report appeared at NHJournal, she took to Twitter Friday morning to speak out yet again.
"I would like to respond to the attacks I've received for one of my recent tweets. I shared a slogan that Palestinian human rights activists use to convey that they desire freedom of movement and an end to settler colonization," Perez tweeted.
"I believe in a one state solution where Jews, Muslims, Christians and others can live together with equal rights, unlike the current state of Israeli occupation and apartheid."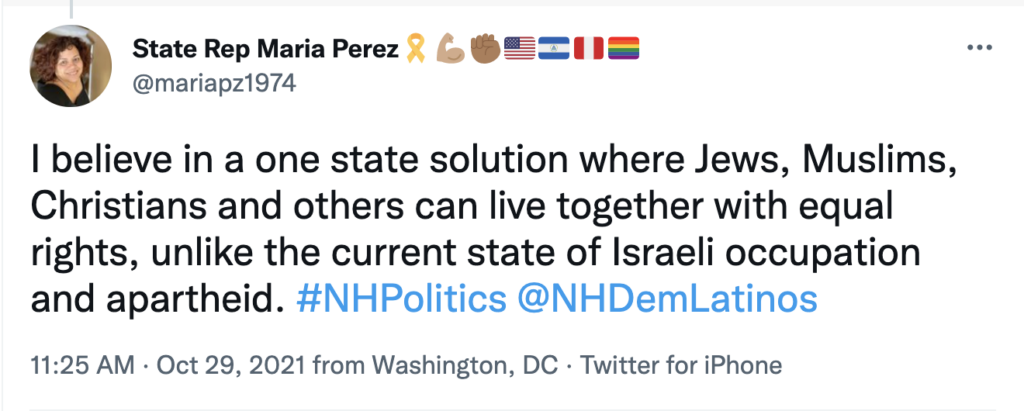 Perez concluded: "As a part of my commitment to social justice and democracy, I will continue to advocate for the human rights and freedom of all people."
Calling Israel an "apartheid state" is a common antisemitic trope, according to four Democratic members of the U.S. House of Representatives. They released a letter in May urging fellow members of their party to abandon this rhetoric.
"We reject comments from Members of Congress accusing Israel of being an "apartheid state" and committing "act[s] of terrorism." These statements are antisemitic at their core and contribute to a climate that is hostile to many Jews," the four Democrats wrote. "We must never forget that less than eighty years ago, within the lifetime of our parents and grandparents, six million people were murdered by the Nazis in the Holocaust because they were Jews. Israel has long provided the Jewish people with a homeland in which they can be safe after facing centuries of persecution."
Robert Trestan,  New England Director of the Anti-Defamation League also renounced Perez's claims. "Calling for a one state solution denigrates and denies the existence of a Jewish State of Israel. This is no solution. We hope Representative Perez will reconsider the implications of her choice of language and check the facts."
And the Republican Jewish Coalition issued a statement Friday condemning Perez's comments as well.
"N.H. State Representative Maria Perez should be ashamed of herself. The disgusting phrase 'from the river to the sea Palestine will be free' is a well-known antisemitic, anti-Israel slogan used by terrorist groups like Hamas to delegitimize the State of Israel and incite violence," said RJC national political director Sam Markstein.
"The fact that Representative Perez's statement comes the same week as the three-year anniversary of the tragic Tree of Life synagogue attack in Pittsburgh is even more outrageous. Unfortunately, this is yet another example of the Democratic Party's assault on Israel. The New Hampshire Democratic Party must hold Representative Perez accountable for this vile anti-Israel rhetoric."
While New Hampshire Democrats have repeatedly released public statements condemning antisemitic social media posts from Democrats, neither the state party nor the House Democratic Caucus responded to requests for comment regarding Perez's remarks.
Ken Litvack, Board Chair of the Jewish Federation of New Hampshire, told NHJournal Perez's comments were "antisemitic in nature," and he urged her to gain a better understanding of the issues.
"We are disappointed to hear the comments made by Rep. Perez, and do consider them to be problematic and antisemitic in nature," Litvack said. "The phrase used here — 'from the river to the sea' — has troubling connotations, as it indicates the destruction and erasure of the Jewish state. Whether she intended it that way or not, this is the way the phrase is commonly used, and as a public representative, she needs to be aware of that."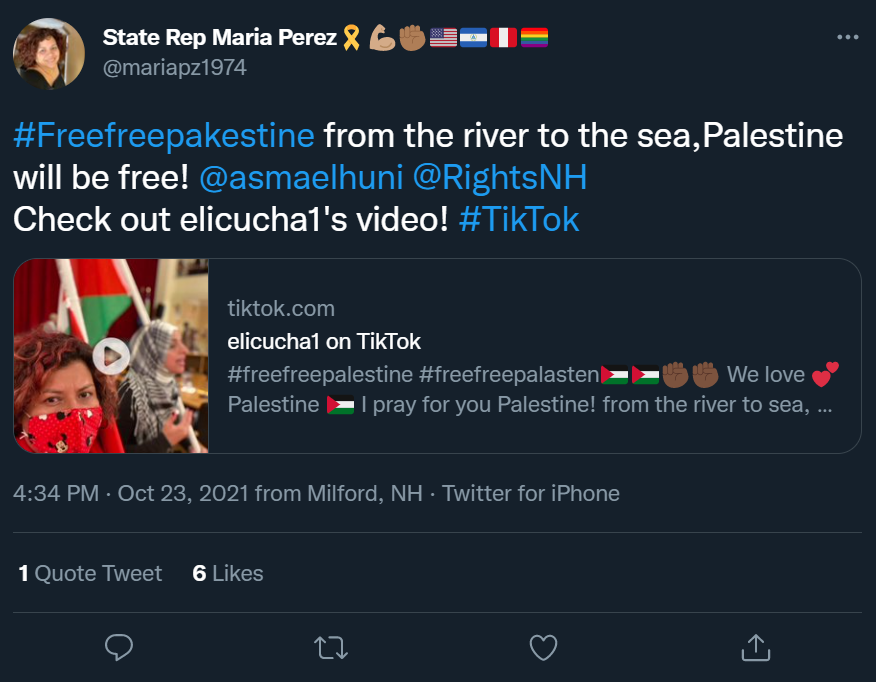 As for Perez calling Israel an apartheid state, Litvack said, "If Rep. Perez were to visit Israel, she would see that the picture is much more complex, and if she better understood the history of this region, she would also understand the rightful claim of Israel by the Jewish people. It is our hope that the future offers a peaceful resolution for Israelis and Palestinians, and that we can embark on a more understanding pathway to get there, instead of giving in to divisive impulses or statements.
Rep. Judy Aron (R-South Acworth) echoed Litvack's sentiments.
"While I appreciate Rep. Perez's desire to protect human rights, I believe her support is misplaced and ignores the larger historical context within the region.  As I have previously stated, I encourage Rep. Perez to research the antisemitic origins of the slogans that she supports," Aron said.
Zach Schapira, Executive Director of the J'accuse Coalition for Justice, was more direct.
"Rep. Perez claims to 'advocate for the human rights and freedom of all people.' But the offensive slogan she used advocates just the opposite: it's a dog whistle to eliminate the State of Israel and the haven that country has been for millions of Jews escaping persecution. Before Rep. Perez starts throwing around emojis and hashtags, perhaps she should educate herself on the complex history of that region."