Hey, it beats "Opponent To Be Named Later."
Hours after the latest UNH poll showing GOP Gov. Chris Sununu with a one-point lead over Sen. Maggie Hassan in a theoretical Senate seat match-up next year, the first-term Democrat's campaign had sent out a fundraising appeal based on the bad results.
In it, Hassan urges supporters to rally around her as she faces off against…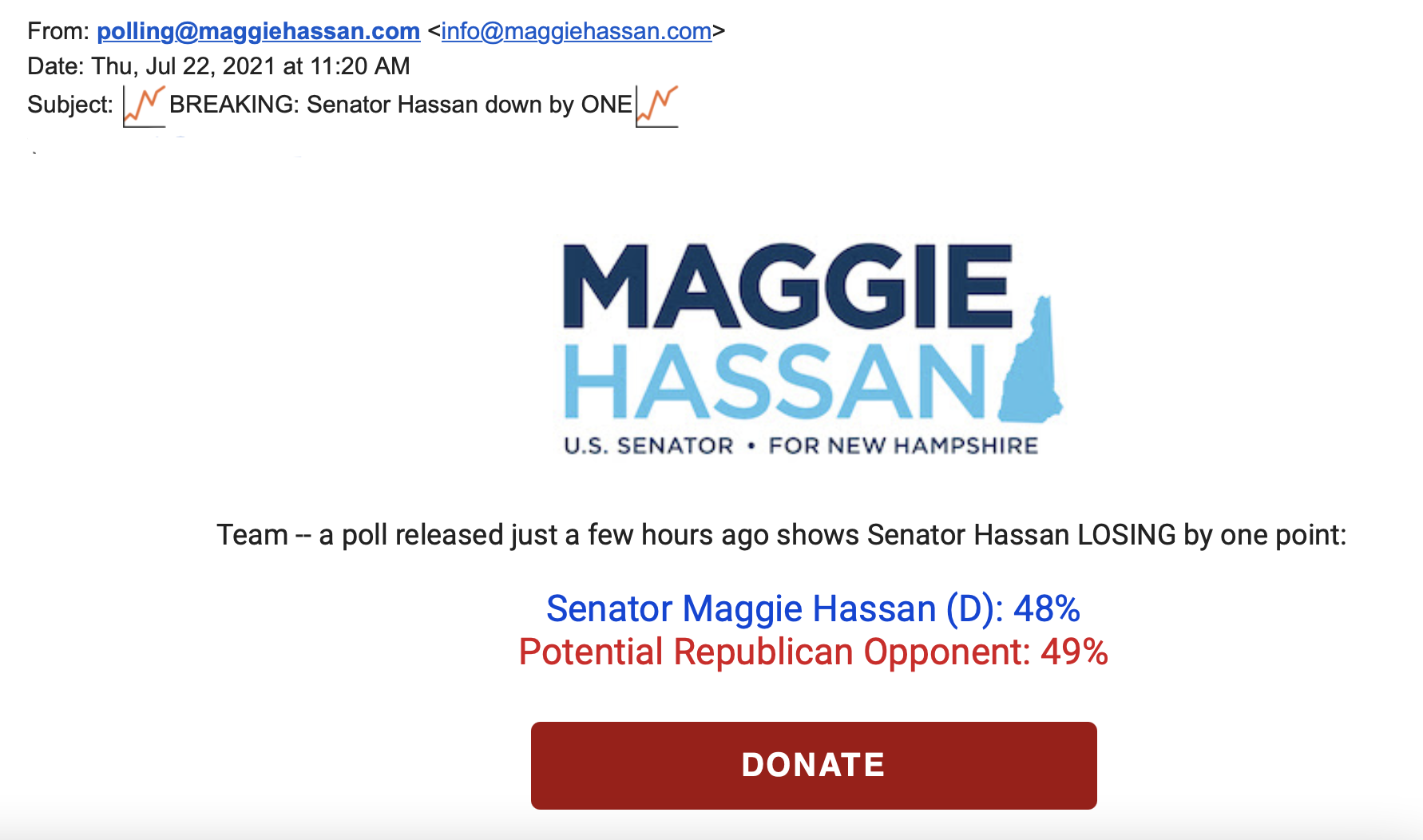 …her "Potential Republican Opponent."
AKA: Gov. Chris Sununu.
It's certainly an unusual strategy, given the poll specifically names Sununu and not a "potential Republican opponent" or generic equivalent.
Then again, in May Hassan emailed out a fundraising appeal that quoted Fox News celebrity Sean Hannity.
Why the less-than-effective attempt at subterfuge?
"How many people in New Hampshire have voted for both Hassan and Sununu — a lot," one New Hampshire Democrat told NHJournal. "They probably gave them both money, too. Why would she want to remind a possible donor she's running against [Sununu]?"
According to the new Granite State Poll conducted by the University of New Hampshire Survey Center, Sununu holds a 48-47 percent lead over Hassan. That's both well within the margin of error and wildly different from other recent polling.
In a March poll from St. Anselm College, Sununu led Hassan 47-41 percent. In June, another St. A's poll found Hassan was underwater with voters at 46 percent approve, 49 disapprove — a margin of -3 points. Her performance with undeclared voters was worse– 40-53 percent — and with self-described moderates she was at 35-58 percent.
Sununu, on the other hand, had a healthy 68 percent approve/30 percent disapprove rating from the voters.
In the new UNH poll, the margin may be narrow but Hassan continues to be extremely unpopular compared to Sununu. She's still underwater (favorable 37/unfavorable 40) while Sununu's +23 (48-25 percent).
They both have unusually high "neutral" numbers — Hassan's at 17 percent, Sununu's 22 percent — which may bolster her campaign's thinking on the mystery opponent. Voters who have backed both candidates in the past are more likely to avoid taking sides.
Hassan's the most vulnerable incumbent Democrat facing voters in a Senate race next year, and Senate Majority Leader Chuck Schumer (D-N.Y.) hasn't shown any desire to make her life easier. He forced a vote on H.R. 1, putting Hassan on the record opposing voter ID and supporter public funding for attack ads and campaign consultants.
Schumer also forced a vote on "bipartisan" infrastructure legislation that literally doesn't exist, allowing GOP leader Mitch McConnell (R-Ky.) to mock Senate Democrats. "Around here, we typically write the bills before we vote on them," he quipped.
Hassan hasn't been helping herself, either, backing paid anti-gun lobbyist David Chipman to head the Bureau of Alcohol, Tobacco and Firearms — a nominee so problematic many of her fellow Democrats are still on the fence.
Thanks to rising inflation, the record flood of illegal immigrants, and a messy COVID situation, 2022 is already shaping up to be a tough year for Democrats. It's possible a generic "Potential Republican Opponent" actually could defeat Hassan next year.
And Chris Sununu is no generic Republican opponent.