New Hampshire Democrats had to be surprised when they opened an email from Sen. Maggie Hassan's campaign quoting conservative Fox News host Sean Hannity.
"Republicans are lining up to encourage far-right Republican Chris Sununu to run against Senator Maggie Hassan," the email from "Maggie for NH" warned.
"FIRST, POLITICO reported that Mitch McConnell launched a 'full-court press to woo Sununu.' THEN, extreme FOX News host Sean Hannity brought Sununu on his show and said he's been urging Sununu to run. Hannity even repeatedly called him "Senator Sununu.'"
The campaign also noted the political reality that may make the Granite State ground zero for American politics yet again next year: "The Senate majority could come down to New Hampshire."
The Hassan campaign also attacked Hannity, claiming he's "known for his misleading smear campaigns and for spreading dangerous misinformation."
As NHJournal reported, the Fox News host did repeatedly refer to Sununu as a senator during a prime-time roundtable Wednesday night. Sununu laughed off the references, saying "that's my brother, go talk to him," but he also took the opportunity to give conservative viewers some red-meat rhetoric.
On Wednesday night, Hannity had the second-highest cable-news ratings of the evening in the key 24-54 demo (Tucker Carlson was #1). Hannity's total viewership was more than twice as high as CNN's Chris Cuomo.
Gov. Chris Sununu's office declined to respond to NHJournal's inquiries about the email, but Sununu spox Ben Vihstadt did tweet a response: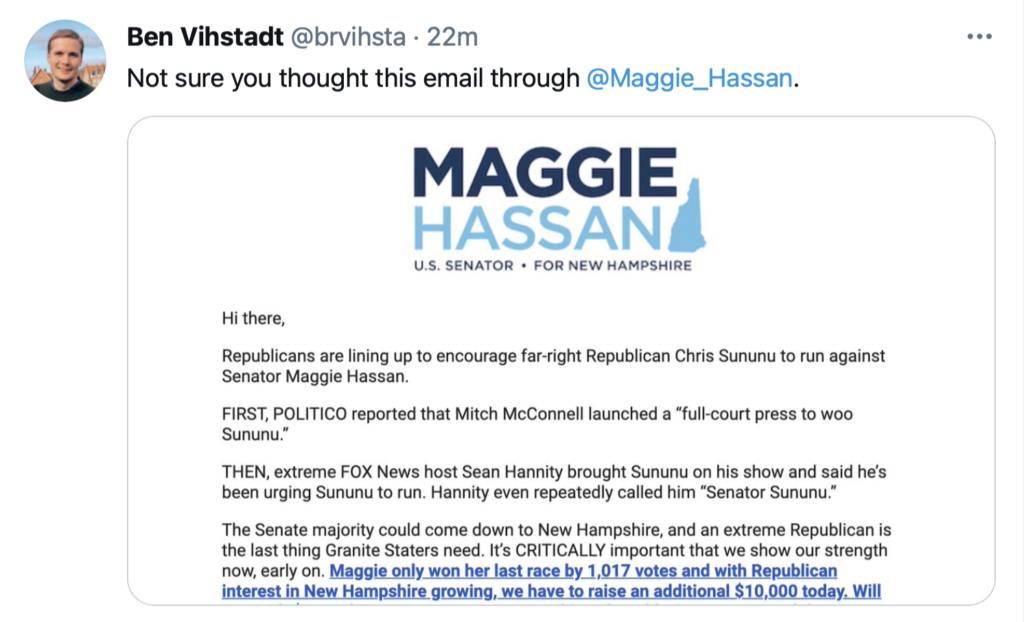 Polls continue to show Sununu is significantly more popular than Hassan. National GOP sources tell NHJournal they are "very confident" Sununu could wrest the seat from the first-term incumbent if he runs next year.