In another sign Republicans believe the crime issue is a winner for them this November, a GOP organization is targeting Sen. Maggie Hassan over her vote to send COVID relief checks to prison inmates like cop-killer Mumia Abu Jamal and infamous Boston Marathon Bomber Dzhokhar Tsarnaev.
The mailer references a vote Hassan and fellow Granite State Democrat Sen. Jeanne Shaheen cast to save a provision in President Joe Biden's COVID relief bill that sent $1,400 taxpayer-funded checks to incarcerated felons. The checks were part of the nearly $2 trillion in so-called "American Rescue Plan" spending that economists now agree has significantly contributed to the 40-year high in inflation.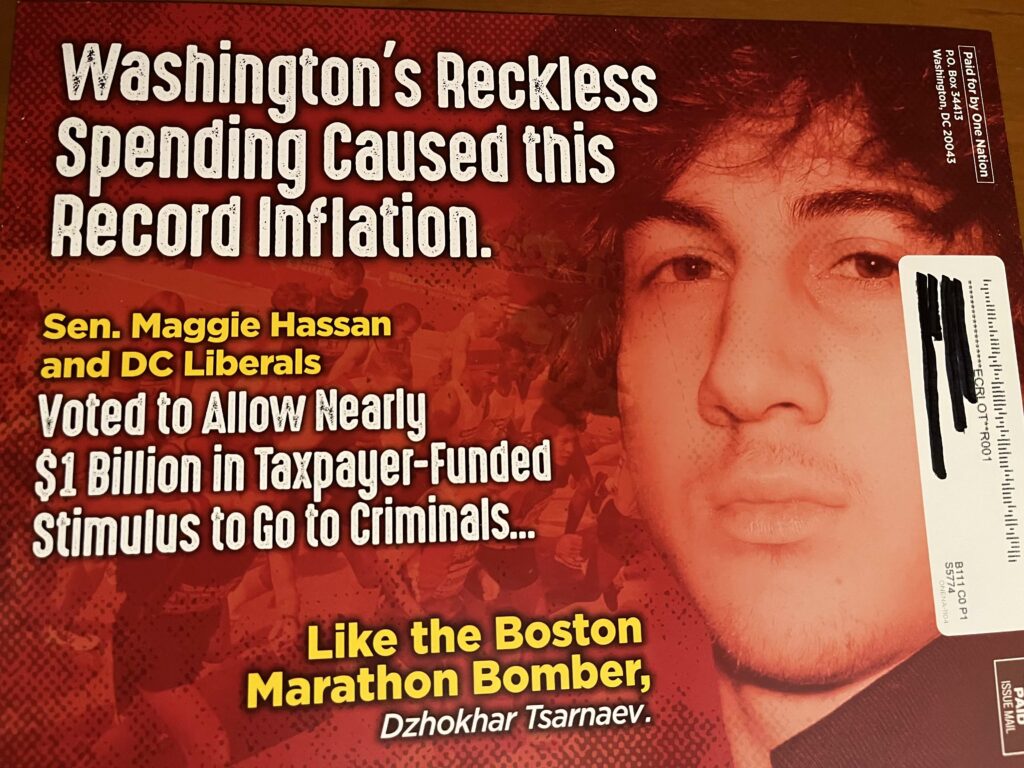 The vote to kill a GOP amendment blocking payments from going to prisoners passed with just 50 votes, meaning if Hassan had opposed sending COVID checks to criminals like Tsarnaev, her vote could have passed the measure and sent it on to the House. Instead, she voted with the rest of the Senate Democrats to reject it.
The spending was included in the final version of the American Rescue Plan, which was passed with the help of Reps. Annie Kuster and Chris Pappas.
Republicans have hit Hassan on this vote before. When media reports of the checks hit earlier this year, the National Republican Senatorial Committee released a statement.
"The Boston Marathon bombing was a deadly terrorist attack that claimed four lives and wounded hundreds. Unfortunately, the surviving terrorist who perpetrated this evil received a fat stimulus check with taxpayers' money because Senate Democrats refused to face down the woke mob and deny payments to prisoners," said NRSC Spokesman T.W. Arrighi. "What's more baffling is Senator Maggie Hassan, a Boston homeowner, was one of the approving votes!"
Democrats can't claim to be surprised. Sen. Tom Cotton tweeted the day after they cast their vote in March 2021 that Tsarnaev "is getting a $1,400 check thanks to the Democrats' 'COVID relief' bill."
The mailer claims Democrats sent "nearly $1 billion in taxpayer-funded stimulus" to criminals like Tsarnaev. However, Hassan has claimed in the past that while she voted to send the checks, she also supports having those funds confiscated in cases where the incarcerated felons owe court-ordered restitution, as in the Boston Marathon Bomber's case.
But what about the millions of COVID relief that went to convicted murderers, rapists, and other felons who don't have court-ordered debts? They would keep the money they received, Democrats acknowledge.
New Hampshire is a low-crime state, and yet the issue is coming to the fore in the federal races. Last week, Hassan released a new TV ad touting her support among some law enforcement officials, apparently an attempt to pre-empt some of the "soft on crime" messaging her campaign anticipated would be coming.
A new survey released by ABC News found voters rate the economy their top issue, mentioned by 89 percent of those surveyed, with education at 77 percent and inflation at 76 percent. The next issue is crime, named by 69 percent of voters — more than the 62 percent who mentioned abortion.
And a recent NBC poll also shows Republicans are trusted more than Democrats on the economy, inflation and crime. In fact, notes GOP strategist Karl Rove, the Republican's lead on the crime issue, 45 to 22 percent, "is the biggest lead for either party since the pollster began asking that question in 1993."
Hassan is hardly a member of The Squad when it comes to crime policy. She's repeatedly called for more funding for law enforcement and she refused to sign onto the George Floyd Justice in Policing Act because it would end qualified immunity for cops. (Both Kuster and Pappas voted for the House version of the bill.)
At the same time, she's voted overwhelmingly with the Democratic majority, including on the COVID funding for incarcerated criminals, as the mailer from the conservative One Nation organization noted.
Meanwhile, her GOP opponent, retired Gen. Don Bolduc, has been endorsed by the New England Police Benevolent Association.
"General Bolduc understands the needs of law enforcement from resource needs to stress management assistance for our members and their families," said Executive Director and New Hampshire resident Jerry Flynn. "We are committed to providing our members with the type of representation they can depend on, and General Bolduc will be that leader for us in Washington, D.C."