It's a eye-popping image from Sen. Tom Cotton's Twitter feed: A photo of Boston Marathon Bomber and the message "Dzhokhar Tsarnaev, the Boston Bomber, murdered three people and terrorized a city. He'll be getting a $1,400 stimulus check as part of the Democrats' 'COVID relief' bill."
Can that be true? Did the four members of New Hampshire's congressional delegation really vote to give a stimulus check to terrorists, murderers, rapists and other felons found in America's prisons?
Yes. And it's not the first time.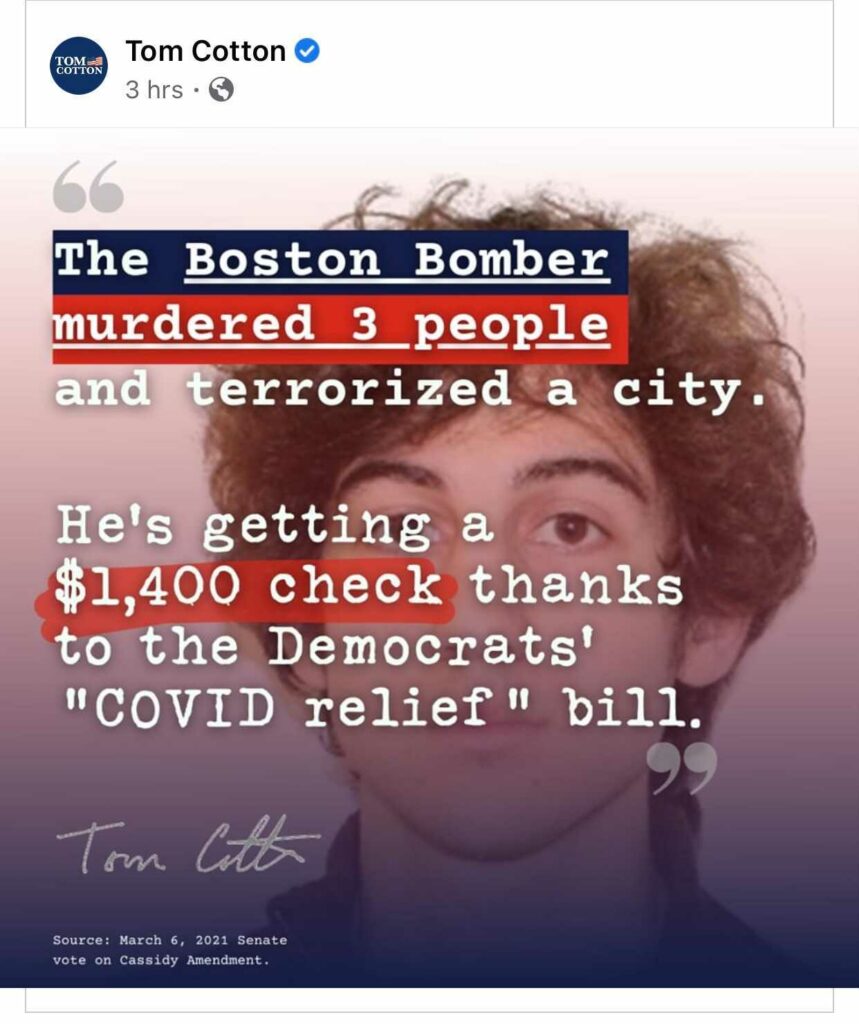 In addition to billions of dollars in "emergency" relief to public schools that won't be spent until 2025 and $1,400 a week checks just for federal employees who stay home while their kids do remote learning, the final draft of Biden's $1.9 trillion COVID spending package also sends "relief" checks to America's prisoners. And it did so over the objections of Republicans, who tried to strip that provision from the final bill.
"Senate Democrats blocked an amendment introduced by Senators Bill Cassidy, M.D. (R-LA), Tom Cotton (R-AR), and Ted Cruz (R-TX) to prohibit Economic Impact Payments (EIPs) to 'any individual who is incarcerated in a Federal or State prison,'" Cassidy said in a statement. "If adopted this amendment would have saved taxpayers approximately $1.9 billion."
"All Senate Democrats voted to send $1,400 taxpayer-funded stimulus checks to murderers and rapists in prison," Cotton told NHJournal. "This isn't COVID relief—it's a liberal slush fund. Voters should hold their Senators accountable for this travesty."
The COVID relief bill allowing checks to go to America's approximately 1.4 million convicted criminals behind bars was passed by the House, with the votes of both Reps. Annie Kuster and Chris Pappas. Both Granite State Senators, Maggie Hassan and Jeanne Shaheen, voted against stopping checks to prisoners.
"Prisoners do not pay taxes. Taxpayers pay for their every need. Inmates cannot stimulate the economy. But, under this bill they receive stimulus checks. This is a perfect example of nontargeted, inappropriate, and total waste of spending. It's ridiculous that this is in the bill," Cassidy said.
And it's not the first time. Prisoners received relief checks in the original Coronavirus Aid, Relief, and Economic Security (CARES) Act, passed in March 2020. Those $1,200 checks went to every inmate in the U.S., once again over GOP attempts to stop them.
All four members of the congressional delegation declined to answer questions about their votes on the COVID-19 package or any of its elements.