A day after an NHJournal report on her description of parental involvement in education as "interference," the head of the Timberlane Teachers' Association issued a public apology via Facebook.
"Yesterday, I sent an email to the House Education Committee asking them to vote against a bill (HB1015) that as a professional I strongly feel will limit my ability to teach my students," TTA president Coral Hampe wrote. "However, in expressing my concerns about the bill, my words were imperfect, and for that, I am sorry."
Hempe also removed her comments from her Facebook page.
Those "imperfect words" were a plea to state lawmakers to restrict parental input into classroom curricula.
"Your calling is to the legislature. Others are called to medicine. Teachers are called to teach. Let us do our jobs without interference from parents and laws," Hampe wrote.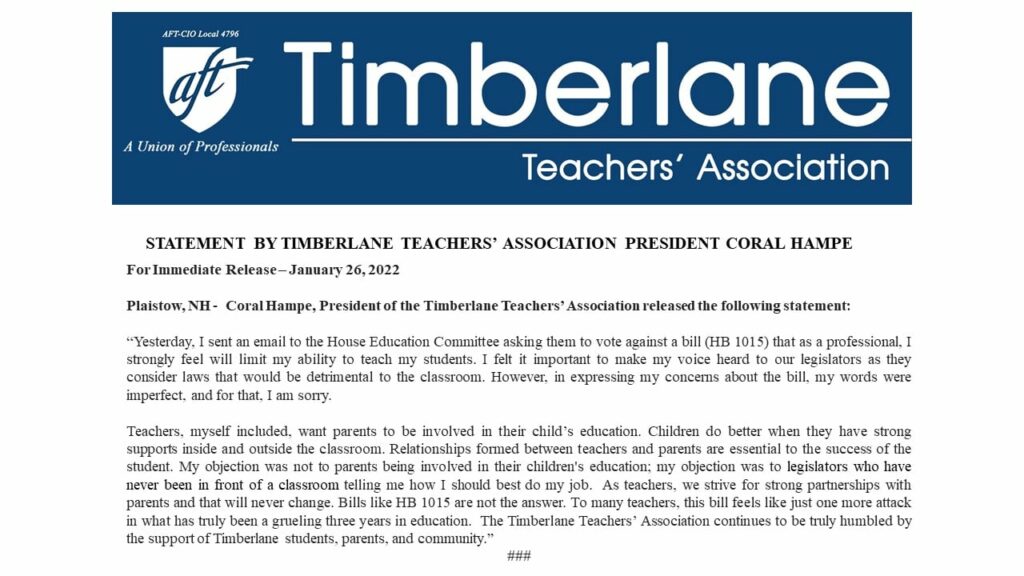 New Hampshire teachers are already required to provide two weeks of advanced notice of their curriculum for health and sex education. HB 1015 would extend that to all course content to allow for parental review. Parents would be able to raise objections, but they would have to do so in writing. Then they would have to reach an agreement with the school for academically acceptable alternative materials or content, provided at the parents' expense.
Megan Tuttle, president of the National Education Association-NH, also opposes HB 1015. Tuttle, who collects nearly $220,000 a year as union chief, says parental input isn't needed because 'teachers are trained and experienced in education and have a duty to set their students up to be successful contributors to society."
"All children deserve a fact-based education that helps prepare them for their future," Tuttle said.
House Majority Leader Jason Osborne (R-Auburn), a sponsor of the bill, released a statement Thursday claiming he has received "positive emails from members of the Timberlane Teachers' Association following the public testimony from their union's president."
"I appreciate the outpouring of support I have received from teachers in the Timberlane school district and members of the Timberlane Teachers' Association who do not support the Marxist propaganda of their union president," Osborne said in a statement. "Maybe if the union bosses spent more time supporting their teachers instead of communism, New Hampshire parents would not be as concerned with what their children are being taught on a daily basis.
"The events of this week are a perfect example of why parents should be involved with school curriculum, and the House majority looks forward to ensuring those rights are upheld," Osborne said.
Hampe's comments are part of a pattern of anti-parent rhetoric from public school administrators and elected Democrats in recent days.
When the principal of Newmarket Junior-Senior High School announced his new policy of detention and suspension for students who do not properly mask, he told parents who object they should use the state's school choice program and leave.
Rep. David Meuse (D-Portsmouth) tweeted a cartoon mocking parents concerned about school curricula as Trump-supporting rednecks wearing Confederate Flag t-shirts.