The head of the Timberlane Teachers' Association says teachers should be able to do their job "without interference from parents," the latest expression of anti-parent sentiment from teachers unions.
Coral Hampe is a Spanish teacher and head of the teachers union at Timberlane High School in Plaistow, N.H. In a message to legislators opposing HB 1015, she described parental and legal oversight as "interference."
"Your calling is to the legislature. Others are called to medicine. Teachers are called to teach. Let us do our jobs without interference from parents and laws," Hampe wrote.
Hampe did not respond to a request for comment on Wednesday, nor did Timberlane School Board Chair Kimberly Farah. The district and the union are currently involved in contentious contract negotiations. 
The law in question, HB 1015, would allow parents to swap out, at their own cost, any material being taught to their child that they find objectionable. The law would require parents to give the school principal written notice about their objection, and it would have the parents and school administration work together to find appropriate replacement material.
"It is appalling, although not surprising, that a teachers' union believes they are above the law," said House Majority Leader Jason Osborne, R-Auburn, of the bill's cosponsors. "They want to indoctrinate our children in the same Marxist theories they hold without any recourse. If teachers were actually teaching the facts and leaving their opinions out of their curriculum, they would have nothing to fear. Clearly, that is not the case in our public schools."
Teachers unions and their allies have become more open in their rejection of the legitimacy of parental involvement in public education. New Hampshire House Democrats are trying to overturn state education rules preventing schools from going to remote learning with some buy-in from parents.
On Monday, the Warner, N.H. Democratic Party tweeted a political cartoon mocking parents who want to review curricula as Confederate-Flag-wearing Trump supporters. The tweet was forwarded by state Rep. David Meuse (D-Portsmouth) and several other Democratic committees around the state.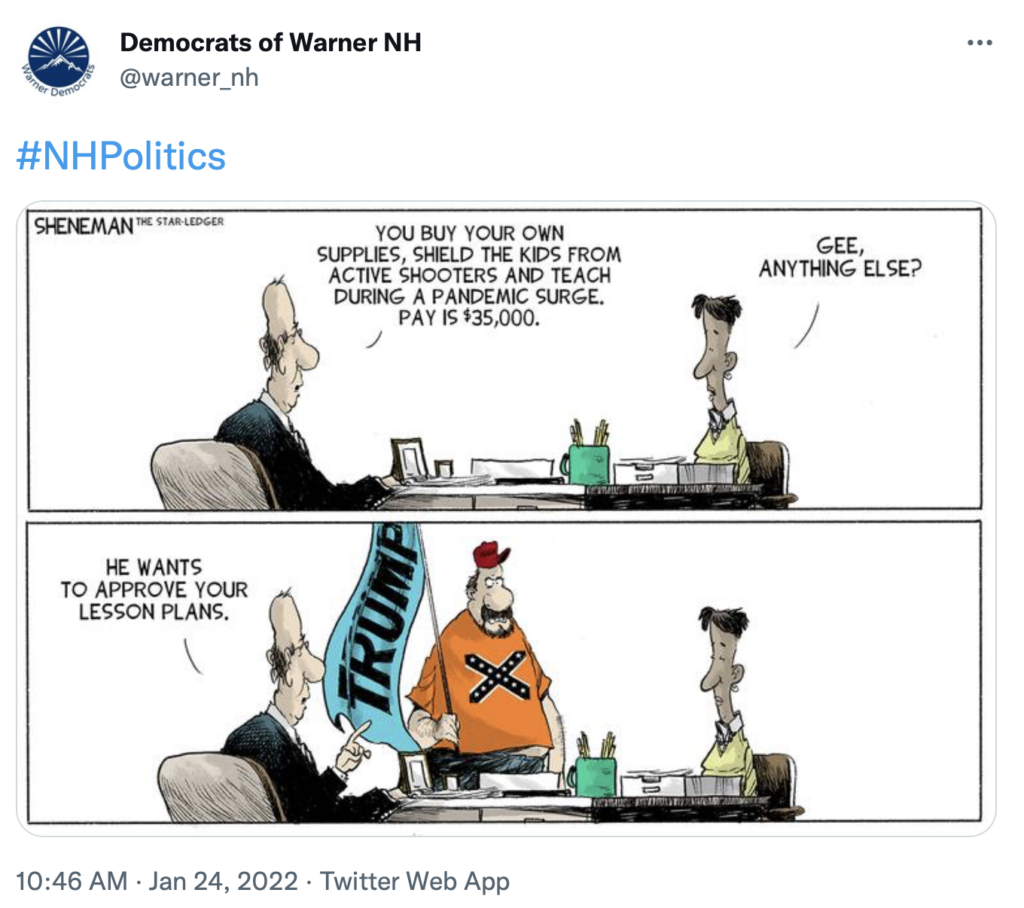 The Timberlane Teachers' Association is part of the American Federation of Teachers – New Hampshire. Deb Howes, president of AFT-NH, did not respond to a request for comment. The AFT-NH's legislative bulletin includes a misleading statement on the proposed law, claiming it is aimed at stopping current events from being taught in the classroom. 
"We cannot think of anything more damaging to our students than removing a teacher's ability to use current events to emphasize a topic and help our students relate so they can better understand the material. Are teachers supposed to forgo using current events in the classroom?" The bulletin states.
Current events are not mentioned in the text of the law. Instead, it requires teachers to give parents two weeks' notice on what will be taught to their children, in order to give parents an appropriate amount of time to review material and ask questions.
Osborne said Hampe's message betrays how out-of-touch the unions have become in public schools.
"In what world could a business live above the law and not have to answer to the very people who fund them, whether it's a school, a private business, or even the government? I can't imagine Market Basket would survive much longer if they wanted to sell groceries without interference from customers," he said.
The AFT-NH, along with the other teachers' union, the NEA-NH, are suing the state over the new anti-discrimination law that prohibits teaching any one group is superior or inferior by virtue of their race, creed, or sexual orientation. The lawsuits falsely claim that the state law prohibits teaching "divisive concepts."
Rep. Kimberly Rice (R-Hudson), another co-sponsor of HB 1015, questioned whether or not Hampe's statement actually speaks for teachers in the Timberlane district.
"I feel like we have parents and educators pitted against each other and that's not the way it's supposed to be," Rice said.