After the Democrats' devastating performance in Tuesday's elections, Obama campaign manager Stephanie Cutter said, "The one thing we need to make sure of is that Republicans in 2022 don't become the party of parents."
Republicans gleefully declare it's too late. They believe the Democrats have conceded the education issue by putting their loyalty to teachers unions and progressive politics ahead of the concerns of parents and students. That includes backing bans on in-person instruction long after the science supported them, draconian mask mandates for young children at very low risk from COVID and — the most discussed issue of the 2021 election cycle — Critical Race Theory (CRT).
Exit polling and expert opinion agree: the CRT issue was just one of many that sent suburban parents flocking to polling places to show their displeasure with teachers unions and their Democratic allies. Youngkin published an op-ed about education just days before the election that mentioned declining student performance due to remote learning, COVID policy and the like — and no mention of CRT.
No matter. The subject has seized the imagination of progressive activists and members of the media, who dismiss it as a "Fox News talking point" invented entirely by GOP strategists to drive their racist voters to the polls.
"I think that the real ominous thing is that critical race theory, which isn't real, turned the suburbs 15 points to the Trump-insurrection-endorsed Republican," MSNBC's Nicolle Wallace said of Virginia Governor-elect Glenn Youngkin's victory Tuesday night.
"The idea that public schools even teach critical race theory — that is actually not a thing that happens in real life, in real classrooms across the country," said Candis Watts Smith, a professor of political science at Duke University and progressive activist.
In New Hampshire, left-leaning radio host Chris Ryan said Wednesday the issue is "largely a bunch of crap" and a "Fox News talking point."
At the same time, there are progressive supporters of the race-based ideology who argue the only reason to oppose using it in K-12 education is racism. While they often avoid the specific phrase "Critical Race Theory," they insist that CRT concepts — like the inherent privilege of white people and the participation of all white Americans in a system of "white supremacy" — must be taught.
As MSNBC's Joy Reid said Tuesday night, "the big issue is 'education,' which is code for white parents not wanting their kids to learn about race."
So which is it? Is CRT non-existent, or a vital part of a quality education?
In New Hampshire, the record is undeniable: CRT-based instruction has been part of the school systems for years.
In fact, NHJournal has reported on multiple incidents of CRT-based training in New Hampshire schools just in the past year. The most significant was the Manchester School District's mandate for some employees to take "white privilege" training. Part of the training includes a webinar entitled "What Is White Privilege, Really?" in which the instructor tells participants the goal of the training is to "expand our definition of white privilege as both personal and systemic, and to understand the function of whiteness as a pillar of white supremacy and power."
After the mandate was made public, the school district reversed course.
And despite denials, the Laconia School District was using the work of Ibram X. Kendi, a leading proponent of CRT.
Kendi is the author of "How to Be an Antiracist" and "Stamped from the Beginning," both on the Laconia schools' reading list and both of which tell readers that white people are inherently racist, regardless of their behavior — a key tenet of CRT.  Kendi told Slate magazine: "I can't imagine a pathway to being Antiracist that does not engage critical race theory. I mean, critical race theorists specifically over the last 40 years have been so foundational to providing a structural analysis of race and racism, which is to be Antiracist is to have that structural analysis."
Laconia also had materials for teaching while children in elementary school about their "privilege."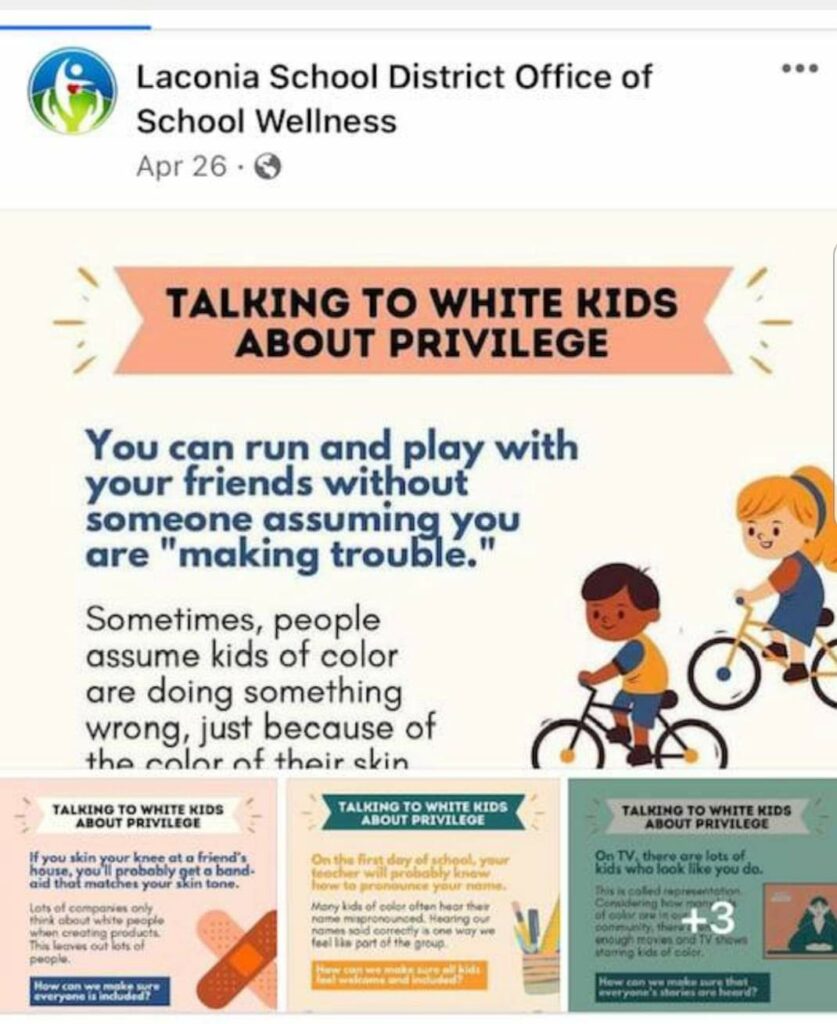 Kendi's CRT work was also found earlier this year on the Litchfield School District's webpage until NHJournal began asking questions about it. District officials called it a mistake and quickly removed the "Anti-racism resources" link from their webpage.
Once again, all of these examples are from New Hampshire school systems this year.
Some CRT supporters argue that white parents' resistance to having their children's 'privilege' exposed and having 'equity' injected into the schools — by, for example, ending advanced math classes — is a sign the theory is correct. It offends their "privilege," while empowering people of color who embrace CRT.
Apparently not.
A September 2021 poll of Americans in the 2o largest metro areas found that parents oppose CRT in public schools by a whopping 42-point margin. And despite the claims the issue is a "racist dog whistle," a majority of black and Hispanic parents support removing "concepts such as white privilege and systemic racism" from the curriculum.
Democrats who deny the existence of race-based instruction targeting white students and their privilege aren't telling the truth. If they believe this strategy can solve their problem with suburban parents, they're lying to themselves.