Former President Donald Trump and his Vice President Mike Pence are both heading back to New Hampshire in the coming weeks.
On Monday, Trump's campaign announced he's "delivering remarks on Making America Great Again" at the DoubleTree Manchester Downtown on Thursday, April 27. It's the same venue where Trump's potential opponent, Gov. Ron DeSantis, spoke at a record-breaking fundraising event for the state GOP.
The venue selection immediately set off speculation among NHGOP insiders that Trump was making the appearance in response to DeSantis' success. "He wants to pack the room and beat DeSantis over the head with it" one Granite State Republican said when NHJournal told them about the event announcement.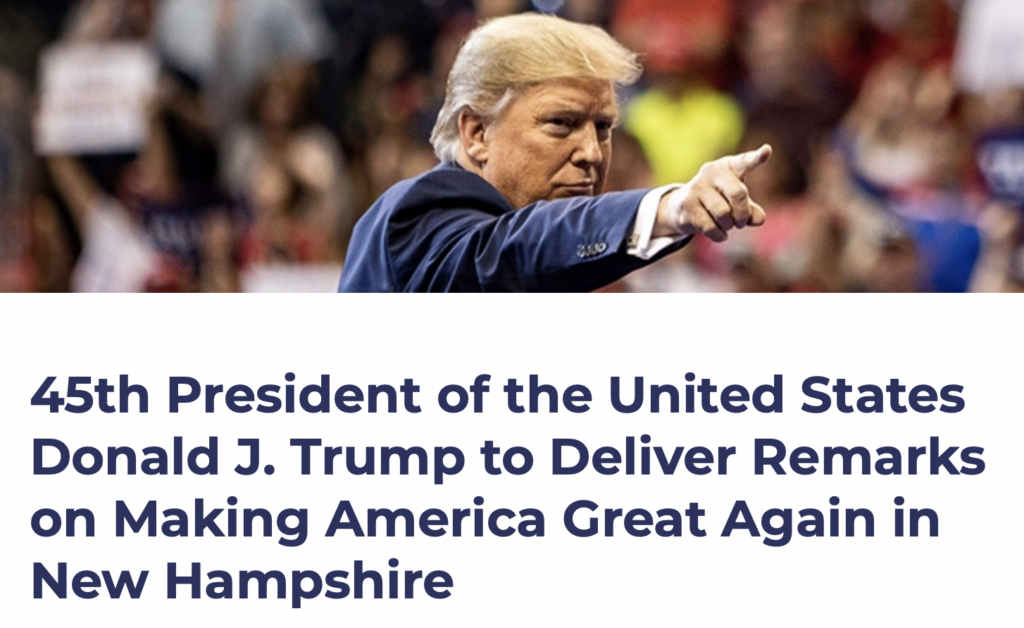 Given the logistics — and the fact rumors have swirled for a week about an upcoming Trump visit — it's more likely the venue selection is a coincidence.
Trump fans are delighted he's returning to New Hampshire, the scene of his first-ever electoral victory.
"We are excited to have President Trump back in New Hampshire," said Steve Stepanek, a senior advisor to the Trump campaign. "From protecting our first-in-the-nation status to fighting every day for the forgotten men and women of the Granite State, President Trump has long had a special relationship with New Hampshire. President Trump looks forward to discussing his America First agenda, which remains more popular than ever and will once again propel him to a decisive victory in New Hampshire's Republican primary next year."
Polls taken since Trump was indicted by progressive Manhattan District Attorney Alvin Bragg have shown Trump with a solid lead nationwide and in the Granite State. His leading contender is DeSantis, with Gov. Chris Sununu polling in third place here in New Hampshire.
DeSantis is widely agreed to have helped himself with last week's visit, particularly his decision to work the crowd at the Manchester venue and make a last-second stop at the Airport Diner. He even earned praise from potential opponent Sununu. "I think it's the best retail politics we've seen out of DeSantis, and he really did what many of us hoped he would do," Sununu told Fox News on Monday,
Unlike the $150 a plate fundraiser when DeSantis spoke, Trump's event is free, with tickets available on a first come first serve basis.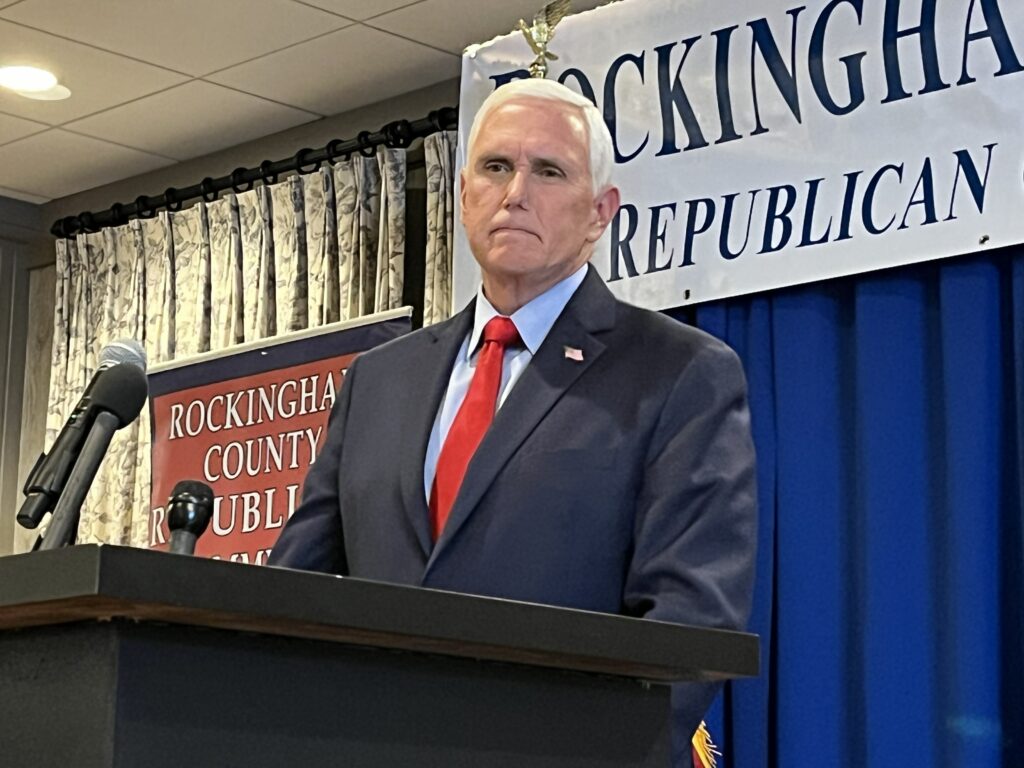 And just an hour after news of Trump's visit hit, the Josiah Bartlett Center for Public Policy announced a dinner with former VP Mike Pence at the Grappone Center in Concord on May 16. No other details were announced.
The Josiah Bartlett Center is a free market think tank, and so it's likely Pence's comments will focus on fiscal and economic issues, as opposed to the cultural issues he's often identified with. Pence will be on a two-day visit to the Granite State, perhaps a sign he is likely to enter the presidential race.
Also on the stump in the Granite State in the coming days:
Miami Mayor Francis X. Suarez joins the New Hampshire Institute of Politics as part of their American Stage Series to discuss the economy of the future and developing resilient cities on Tuesday, April 18.
Former N.J. Gov. Chris Christie will be in the Granite State for multiple events this Thursday and Friday, including a Thursday evening appearance at New England College.
Trump's U.N. Ambassador Nikki Haley will be making stops in Bedford, Henniker and Laconia April 26-28 — the same time her old boss will be in Manchester.