New Hampshire Republicans packed a Manchester ballroom for their first look at 2024 contender Gov. Ron DeSantis (R-Fla.) at the Amos Tuck fundraiser.
What they got was dinner and a show. A show that provided DeSantis a stage to refute some of the most common criticisms of the most likely challenger to former President Donald Trump.
A week of media reports suggesting DeSantis couldn't draw a crowd closed with a room of more than 500, which helped the state GOP raise a record $382,000.
Then DeSantis got to show his political chops when, minutes into his speech, a group of women protesters — wearing bright red dresses, carrying a banner, and shouting "Jews Against DeSantis" — rushed the stage. Security and a handful of attendees quickly removed them from the podium before they could display their message.
All the while, DeSantis remained nonplussed.
"You've got to have a little spice in your speech, right?" the Florida governor quipped. "Why do you want to pay the ticket for that to get in? But different strokes for different folks," he added to cheers from the GOP crowd.
DeSantis then proceeded to deliver his remarks, a serviceable stump speech peppered with applause lines about taking on 'woke' culture and defending parents' rights.
And then, in a moment that felt like an intentional rebuttal to critics who have labeled him stiff and uncomfortable in public settings, DeSantis waded into the crowd to work the room. He shook hands, smiled for selfies, and chatted with people, many of whom were old New Hampshire hands at meet-and-greets with presidential contenders.
"That's not the Ron DeSantis I've been reading about," one NHGOP pro who is unaffiliated with any 2024 campaigns told NHJournal.
"He showed up, delivered, worked the room, and won the night," said veteran NHGOP strategist Jim Merrill. "He stopped the bleeding and reminded people what they've been excited about."
Many of the attendees NHJournal spoke to said they had never seen DeSantis in person before, and he made a favorable first impression.
"I think DeSantis is a legitimate political leader," said state Rep. Jess Edwards, a conservative member of the New Hampshire House. Asked about the protests, Edwards shrugged. "I think he's been rushed before. I guess when you've got Mickey and Minnie Mouse running at you, you can handle just about anything."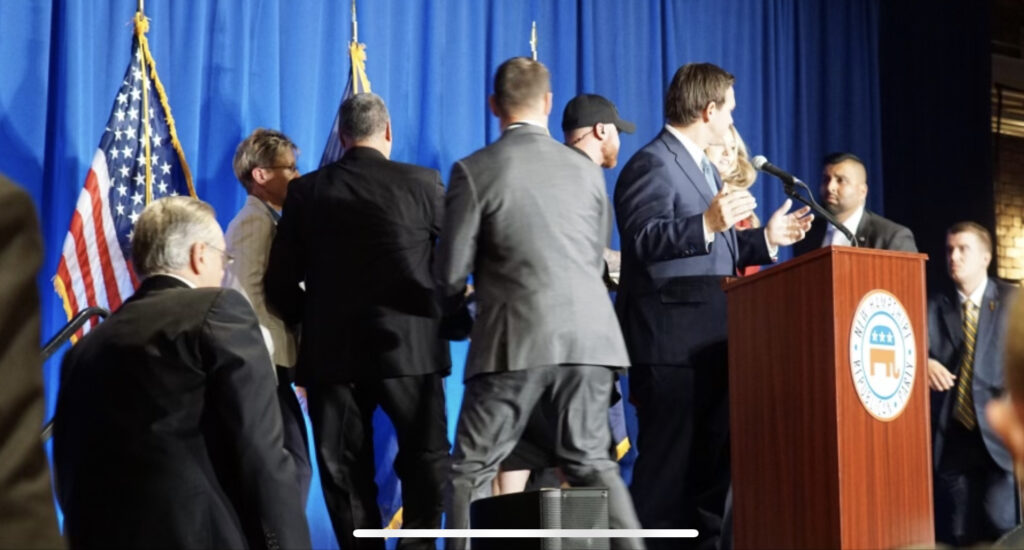 "He was strong," said Ray Chadwick with Granite State Taxpayers. "He knew what he was talking about, he knows what he's doing, and his message was, if you like it, great. If not — too bad."
"The only thing he didn't say that I wanted to hear was 'I'm running for president," said Kayla Pope, who came up from Woburn, Mass. with her sister Robyn. "We're such fans of his COVID policies. He's for parents, and he truly is America's governor."
Not everyone was a fan. Ryan Carmody, a recent law school graduate, come up from Massachusetts with a politically-active friend. "I'm not a Republican, and his speech had more focus on religion than I'm interested in. And he seems like a guy who is more into getting the job than making friends."
While DeSantis' speech didn't break any new ground, his presentation was energetic, and he appeared genuinely at ease in the crowd. In a sense, DeSantis' speech was a Sunshine State version of Gov. Chris Sununu's pitch: Look at what I've done in my state, and I'd like to do the same for America.
In DeSantis' telling, that includes massive budget surpluses, low taxes, rejecting COVID-19 panic, and taking on progressives in the classroom and the boardroom.
"It's easy to see why we are leading the nation on a whole host of issues. We are number one in the country, and have for many years now, for net in migration. We are the number one fastest growing state in the United States, the first time Florida's been number one since 1957," DeSantis said.
"We're number one in economic freedom by some measures — your governor would point out there's other measures that say New Hampshire — but let's just say Florida and New Hampshire near the top (in) economic freedom."
But his best received moments were when he recounted his successes in the culture wars. Talking about Florida's efforts to stop sex and gender content in the early grades of education, DeSantis said, "It is wrong to tell second graders they were born in the wrong body. It is wrong to tell children they can change their gender." He received a standing ovation.
Even some of the two dozen or so pro-Trump protesters gathered outside the Manchester Doubletree were relatively receptive to DeSantis as a candidate.
"I wish him the best," said Paul Varcak of Landaff, N.H., who was waving a Trump flag with his wife, Alma. "We're here to support Trump, but I would support the party's nominee.
"We're for Trump, of course," Alma added.
After the speech, Speaker of the New Hampshire House Sherm Packard was honored with the Gov. Meldrim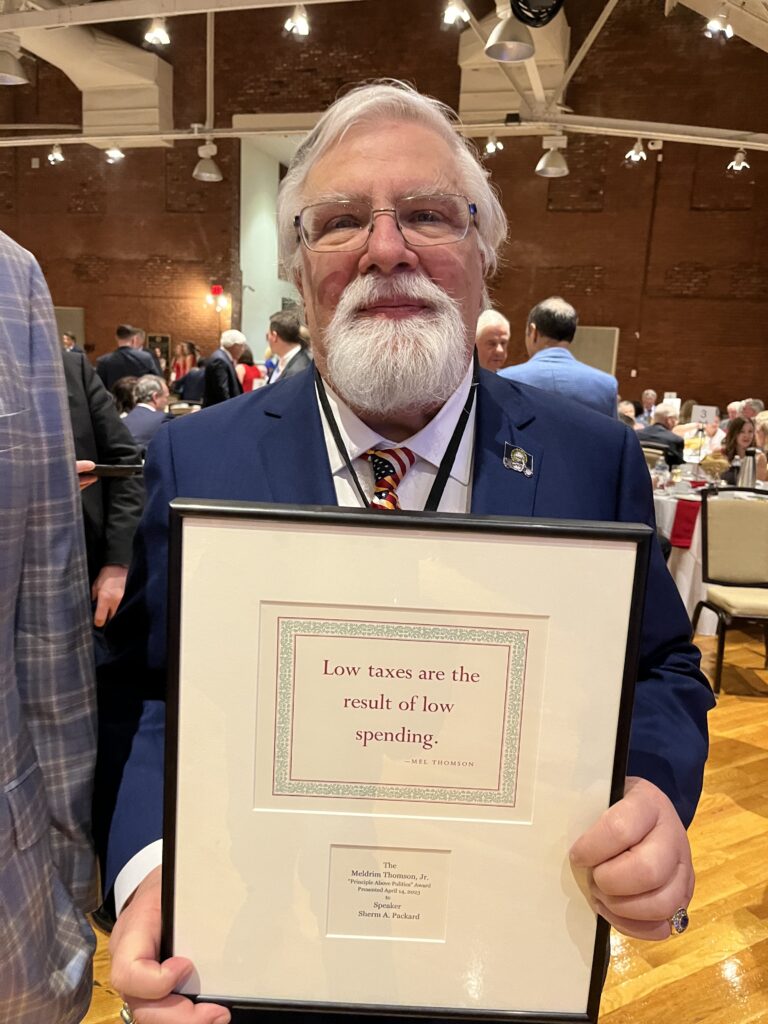 Thomson "Principle over Politics" award. He said the Florida governor's performance was "impressive."
Asked what New Hampshire would do with the $26 billion surplus, DeSantis bragged about in his speech (the entire New Hampshire budget for the two-year biennium will be about $15 billion), Packard replied: "Have a hell of a lot of fun."
Perhaps DeSantis' most important political move of his Granite State visit was the $132,000 check he gave the NHGOP before the event began, raised from his donors to support the party. The NHGOP has long struggled on the financial front. It added to the already record-setting total for the night.
It was the first major event for new state party chairman Chris Ager, who faced questions of his own about being an effective fundraiser when he was elected to the job in January.
 "Thank you, governor," Ager said after DeSantis concluded his remarks. "Maybe instead of everyone moving to Florida, you could move up here."
"I shall return," DeSantis said.
The crowd loved it.