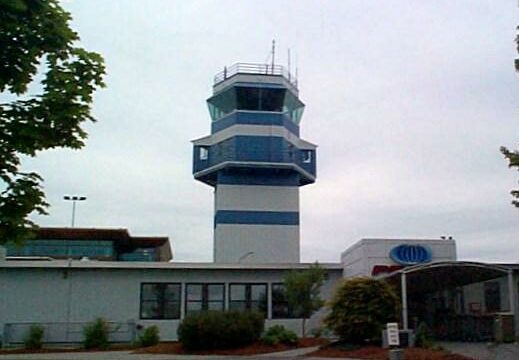 As the Million Air proposal to build a new fixed-based operator facility at Pease International Tradeport gets ready for take-off, a report about the already high PFAS contamination has some area residents concerned.
"There may be safeguards in place, but you're just too close to this wetland, and there are too many unknowns," said Danna Truslow, a hydrogeologist hired by Port City Air, to review the available data.
Truslow reviewed data gathered by the Air Force in 2014, the most recent available. Her analysis found the site Million Air wants to use for its FBO construction already has PFAS levels up to 10 times higher than those considered safe. And, she warned, construction that includes any dredging and filling of the adjacent wetlands risks disturbing the contamination, which could migrate to the aquifer that feeds the Haven Well or towards Hodgdon Brook and beyond.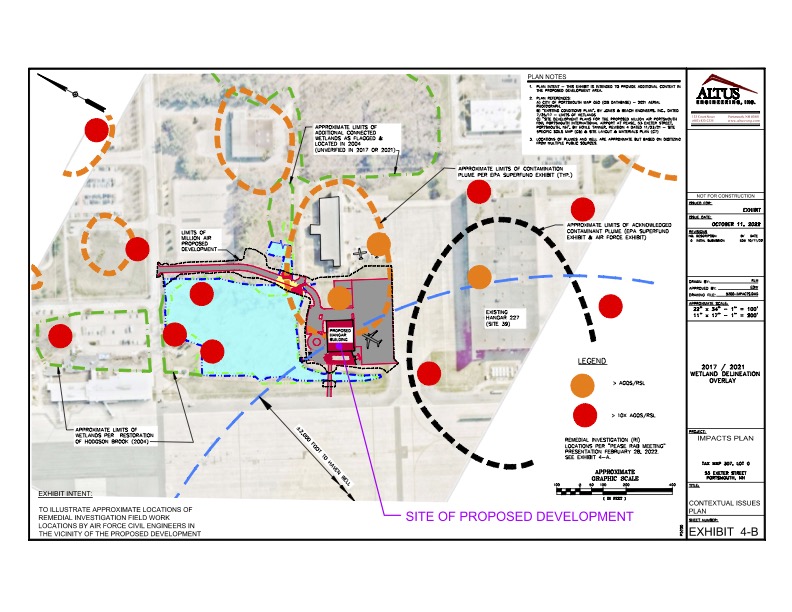 The Air Force cleaned up many known chemicals at the site of its former air base, but PFAS contamination from the site did not start showing in drinking water until recently. The data she used was collected after the cleanup was completed, Truslow said. Questions remain about how much PFAS is in the water and where the chemicals are concentrated.
"A lot of that has been cleaned up, but the PFAS is a more recent concern, and we don't have a full handle on where it all is," Truslow said.
Truslow is also concerned that soil dredged from the site and used to create berms, part of Million Air's proposal, could result in more PFAS exposure.
"They are going to be digging, moving soil around, stockpiling soil; we don't have a good idea on how much contamination is in there because we don't have that data," Truslow said. "There's a lot of detail that hasn't really been provided."
Peter Bragdon, the spokesman for the Texas-based Million Air, dismissed Truslow's claims, noting she was hired by its competitor Port City Air.
"The report talks about the proposed Million Air site without mentioning what is happening at the site next door, known as Hangar 229, a site occupied by Port City Air," Bragdon said.
"Sitting behind Port City Air's Hangar 229, adjacent to the same wetland discussed in the Truslow report, is a large pile of soil put there by Port City Air during their own construction project. Sitting there, uncovered, for months or even years."
Bragdon said his company's plans have already met with approval from the New Hampshire Department of Environmental Services, which issued a permit for the company's construction in the wetlands. Million Air is prepared to deal with all wetland and soil issues that could arise during the construction and operation, he said. 
Bragdon blamed Port City Air for stirring up opposition to the project.
"It is clear to us Port City Air's objections to Million Air have more to do with a fear of competition than with any concern for the environment," Bragdon said.
Port City representatives have denied the charge and claim they share concerns about the environmental impact harbored by local residents. Bob Blonigen, chairman of the nearby Newington Board of Selectmen, complained that his town's issues with the project are going unheard by the Pease Development Authority Board of Directors.
"Most of our concerns are that they are building their fuel farm right on top of an aquifer," Blonigen said.
PFAS from the Pease base left nearly all of the private wells in Newington too contaminated for safe drinking, he said. He said residents had been forced to hook up to the water system out of Portsmouth, which is now in danger from potential PFAS contamination from the Million Air project.
"Newington has concerns," Blonigen said.
Truslow and Port City representatives hope to be able to share their questions and concerns with the full PDA board before Million Air is granted its final approval.