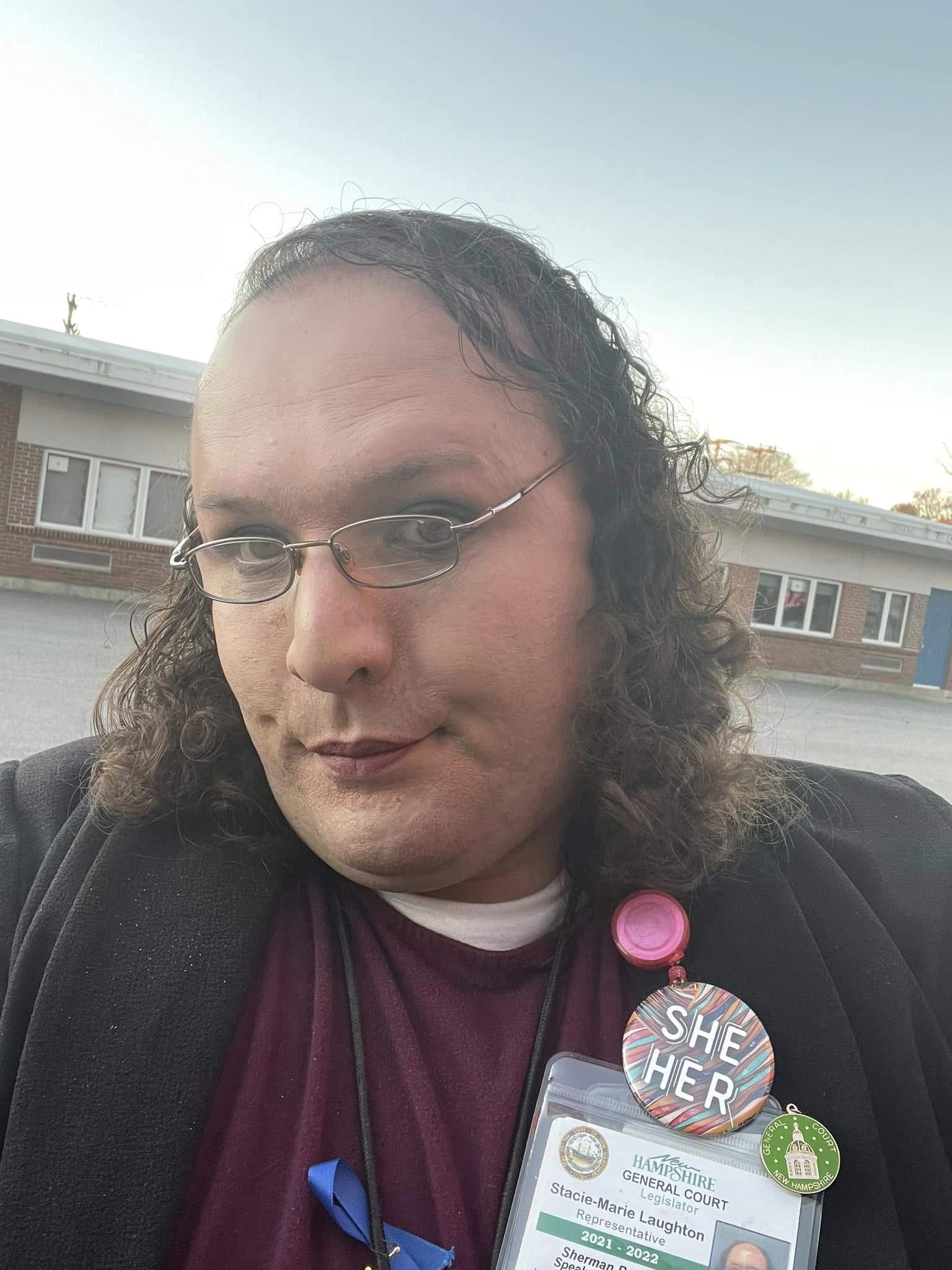 After days of evasion — and under pressure from public officials hearing from a concerned public — Hillsborough County jail officials confirmed to NHJournal Thursday that former Democratic state Rep. Stacie Marie Laughton is being "housed in a male unit."
The information was released the same day Laughton — a biological male who identifies as a woman — was indicted on new federal charges in a child daycare pornography case. The graphic details of the alleged crimes — involving children under the age of five — have left many in the Granite State stunned.
On Thursday, a grand jury handed up indictments against Laughton, 39, and lover Lindsay Groves, 38, on three counts each of sexual exploitation of children. Groves is also charged with one count of distributing child pornography.
Laughton additionally faces state charges of distributing child sex abuse images. The pair have been held in jail since their arrests last month.
After refusing for days to disclose where accused child pornographer Laughton is being held, Hillsborough County Department of Corrections Superintendent Joseph Costanzo relented and confirmed New Hampshire's first transgender elected representative is being housed with other men.
"The individual you are seeking information on is housed in a male unit in accordance with PREA standard 115.42(c) & (e). The specific location and housing unit and cell assignment will not be disclosed to protect the safety of all individuals and the security of the institution," Costanzo told NHJournal via email.
Laughton is listed as a biological male on the jail intake forms.
Both Groves and Laughton are being held at Valley Street Jail in Manchester. Costanzo initially told NHJournal it was his policy not to disclose that information, claiming it was not a matter of public record. However, he could not cite any specific written policy or law prohibiting public disclosure.
The Prison Rape Elimination Act, or PREA, policies Costanzo cites deal with screening transgender and intersex inmates for housing assignments.
"(c) In deciding whether to assign a transgender or intersex inmate to a facility for male or female inmates and in making other housing and programming assignments, the agency shall consider on a case-by-case basis whether a placement would ensure the inmate's health and safety and whether the placement would present management or security problems."
And:
"(e) A transgender or intersex inmate's own views with respect to his or her own safety shall be given serious consideration."
State Rep. Kathrine Prudhomme O'Brien (R-Derry), who was among those pushing Costanzo to disclose Laughton's housing gender assignment, said Laughton being kept with biological men is a victory for public safety.
"The safety of female inmates is important, and there shouldn't be loopholes that could be taken advantage of that make them more vulnerable. I'm pleased to learn Laughton is housed appropriately," Prudhomme O'Brien said.
Laughton has been in long-term relationships with biological women like his wife, Lisa Laughton, and Groves.
Laughton made national news in 2012 by becoming the first elected transgender member of the New Hampshire legislature, winning accolades from New Hampshire Democratic Party chairman Ray Buckley — despite the Democrat's criminal history. After years of run-ins with the law, Laughton was still on a suspended sentence for a 2008 felony credit card fraud conviction under his original name, Barry Laughton, when Democrats endorsed him for the state House.
Laughton's tangled criminal and political career also includes making a bomb threat at Southern New Hampshire Medical Center and stalking Groves.
According to a statement released Thursday, Groves worked at Creative Minds located in Tyngsborough, Mass. It is alleged that, between May 2022 and June 2023, Groves took nude images of children at the daycare and sent the photos to Laughton.
The pair engaged in graphic text conversations in which they discussed child rape. At one point, Laughton appears to admit to having raped a child in the past. Groves is accused in a civil lawsuit of molesting children at the daycare.
The investigation remains ongoing.