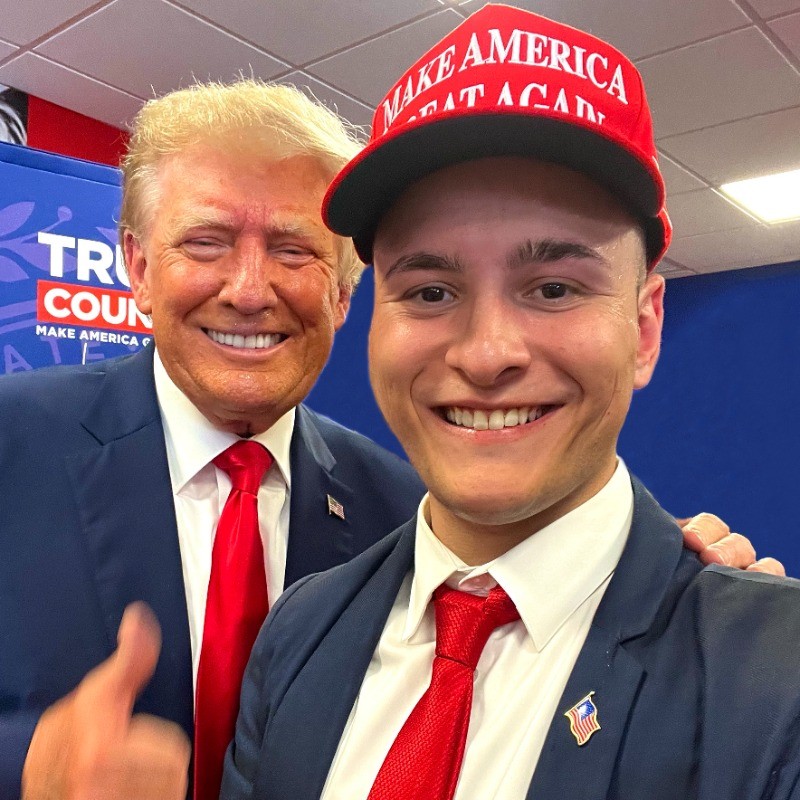 Donald Trump's New Hampshire second-in-command was at the January 6, 2021, riot on Capitol Hill, and he recorded a message for law enforcement protecting the Congress.
"I have a message. If you are a police officer and you are going to abide by unconstitutional bullsh*t. I want you to do me a favor right now and go hang yourself," said Dylan Quattrucci, currently New Hampshire Deputy State Director for Trump's 2024 presidential campaign.
"Cuz you're a piece of sh*t. Go f*** yourself," Quattrucci said in the video, originally posted to his mother's Facebook account. 
The video was shot on the evening of January 6 as members of the mob were being turned out of the Capitol Building by police officers after hours of violence. In the months that followed the attack, four of the police officers who responded to the Capitol to protect members of Congress and Vice President Mike Pence would end up taking their own lives.
Pat Sullivan, executive director for the New Hampshire Association of Chiefs of Police, has not seen the video but is not a fan of Quattrucci's Jan. 6 message.
"It doesn't sound like a message anyone should be putting out," Sullivan said. 
The mob had failed to stop Vice President Mike Pence from certifying the election for Joe Biden, which would have been unconstitutional. Quattrucci's subsequent rise in state politics, however, went unhindered. The young activist is now an active figure in the Trump campaign, taking the post shortly after he graduated from law school.
Quattrucci did not respond to NHJournal's request for comment.
NBC News reports that campaign finance records show he began working for the Trump campaign in May and made $6,500 in June, the most recent records available.
Matthew Bartlett is a Nashua, N.H. native who worked for the Trump administration and resigned on January 6 in response to the day's events. He called Quattrucci's video "one of the most disgusting messages I have seen from one of the most disgraceful days in our country's history. This person should not be embraced in politics or public discourse, he should be deeply ashamed."
Trump faces 91 criminal indictments in multiple venues, many connected to an alleged scheme to steal the election. Despite that, Trump remains far and away the most likely GOP candidate to win the nomination for president. Many in the party fear his wrath, and seemingly his operatives like Quattrucci. GOP insiders contacted about the video by NHJournal declined to publicly criticize Quattrucci.
Salem Police Officer Mike Geha, president of the New Hampshire Police Association, said his members work every day to keep Granite Stater's safe and generally do not pay attention to political noise. While Geha would rather stay out of politics, he also had little time for Quattrucci's comments.
"I can't defend him for what he said," Geha said.
If there is missing context for Quattrucci's statement that police officers should kill themselves, he should come out and make that clear, Geha said.
Quattrucci has been dodging questions about his presence at the U.S. Capitol on Jan. 6 for weeks since WMUR first reported on his now-deleted tweets from the riot. None of the tweets and photos appeared to be coming from inside the Capitol Building, but Quattrucci seemed to get close.
One tweet included a photo of the crowd outside the building from a raised vantage point, like the top of the steps outside the entrance. "We're not gonna take it," Quattrucci wrote, possibly referring to Twisted Sister's metal anthem from the 1980s.
Other Quattrucci tweets from Jan. 6  included, "Mike Pence is a traitor to America" and "I'm bleeding for my country. You'll have to kill me to stop my #FightForTrump." That last tweet accompanied a photo presumably showing Quattrucci's hand with a minor cut on a finger.