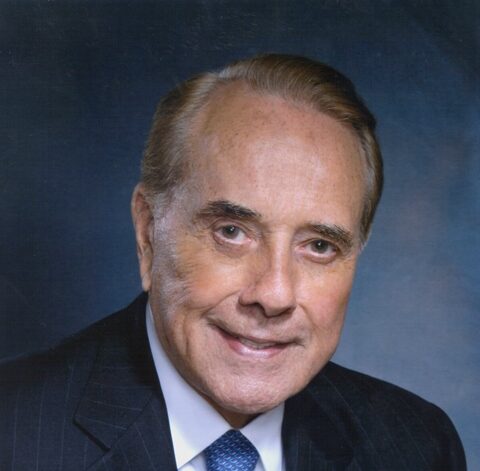 When the news of former U.S. Senator Bob Dole's passing broke Sunday, politicos on both sides of the aisle praised his impressive record of public service, from fighting in World War II to serving as the GOP's presidential nominee in 1996.
His record in New Hampshire is less impressive, however. He ran in the First in the Nation GOP primary three times — '80, '88, and '96 — without a win.
"Now I know why it's called 'The Granite State,'" Dole said the night he narrowly lost the 1996 primary to pundit Pat Buchanan. "It's tough to crack."
Praise for Dole poured out of the political community Sunday, with Gov. Chris Sununu ordering flags on all public buildings and grounds in New Hampshire to fly at half-staff in his honor.
"Bob Dole will long be remembered for his lifetime of service to the United States — defending the freedoms of Americans and those abroad in the Army during World War II, and championing the principles of liberty during his decades of public service as an elected official. I join with my fellow Granite Staters and Americans in remembering his legacy," Sununu said in his statement.
Ironically, his father Gov. John H. Sununu, was key to helping George H. W. Bush defeat Dole in the Granite State's 1988 primary
"New Hampshire voters tend to like candidates who are a little different. And Bob Dole was 'Republican Establishment' through and through," former Second Congressional District GOP U.S. Rep. Charlie Bass told NHJournal. "Reagan, Buchanan, McCain, and of course Trump."
Former President Donald Trump issued a statement Sunday, calling Dole "an American war hero and true patriot for our nation. He served the great state of Kansas with honor and the Republican Party was made stronger by his service."
It's hard to imagine a Republican with less in common with Trump than Dole, who was gravely injured in combat in Italy. (Trump, like Biden, used bogus health claims to dodge the Vietnam draft.) And yet Dole endorsed Trump in 2016 — after first backing Gov. Jeb Bush and Sen. Marco Rubio — the only one of the five living previous GOP presidential nominees to do so.
Dole did it in the name of party unity, telling the Republican leadership to respect their primary voters and rally around Trump in order to defeat Hillary Clinton. "He had a career often seen as a testament to absolute fidelity to the Republican Party," said political commentator Jeff Greenfield.
Dole's career, which began in the Kansas House of Representatives in 1950, took him through a time when the GOP establishment was extremely out of favor: Watergate. Dole was chairman of the Republican National Committee in 1971-72, and he was closely identified with President Richard Nixon when the scandal erupted. In 1974, the year Nixon resigned, Dole narrowly won re-election by 1.7 percent.
"During the campaign, when Nixon was in trouble and needed friends, he called Dole and asked if the senator wanted him to come campaign on the ground in Kansas," Bass said. "Dole said 'How about a fly-by in Air Force One' instead?"
Longtime  NHGOP strategist Dave Carney, who worked on Dole's presidential campaign as well as his majority leadership office, said the Kansas Republican loved New Hampshire, "even if the voters didn't love him back.
"He loved the retail politics, the diners, town meetings, and home coffees allowed folks to see the real Dole: Smart, funny, and authentic," Carney said. "He ran three times and extended his support each time. He was tough as nails and had a life of experiences that allow everyone to relate to him personally."
Strategist Tom Rath, who also worked for Dole, echoed those sentiments.
"He really liked New Hampshire. He made a lot of friends here and kept them until the end," Rath told NHJournal. "Bob Dole was fascinating to work for. He had great command of the issues. He was genuinely funny and was great at the back and forth that goes on behind the scenes in politics."
Many Granite Staters had their own stories of meeting Dole and the impression he left on them.
"I was working as a staffer for Congressman [David] Emery in Maine in the 1970s and the phone rang. The voice on the other end said, "Charlie, this is Bob Dole." I thought someone was pulling a joke on me, but he had served with my father [Perkins Bass] and showed he knew my name. He wanted to talk about New Hampshire politics."
A few years later, he would run in the 1980 FITN primary, losing to Ronald Reagan and finishing well behind George H. W. Bush and Sen. Howard Baker of Tennessee.
"One day when I was a young teenager, Sen. Tom McIntyre [D-N.H.] took me to the senators' dining room for lunch and he took me over to Bob Dole's table to meet him," New Hampshire Democratic strategist Jim Demers said Sunday. "I will never forget how nice he was to me, spending about 20 minutes talking with me. It made a big impression on me," Demers said.
"There is no doubt Bob Dole built a career as a conservative Republican, but he was one who recognized a bipartisan deal was better than getting nothing. Our political process would be better today if more people did business like Bob Dole did," Demers added.
Bass says Dole's greatest moment of leadership was when he brought an end to the government shutdowns imposed by then-House Speaker Newt Gingrich in 1995. At the time, the GOP base praised the new House leadership for being aggressive. But in retrospect, it's widely agreed to be a blunder that helped President Bill Clinton hold onto the White House in 1996.
"In my opinion, it was Bob Dole's shining moment, bringing that second shutdown to an end. The House side didn't like it, but Dole did it, not because it was the Republican or Democratic thing to do, but because he knew it had to be done," Bass said.
For Rath, it was Dole's service that made the biggest mark.
"Bob Dole was an American patriot in the fullest sense possible. He served with honor and with courage. It was a privilege to have worked for him. His was a life of service and decency. Watching him tie his necktie was a reminder that freedom is not free," Rath said.