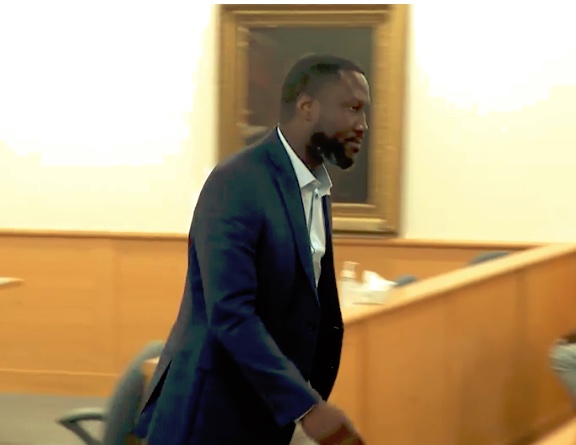 Caught not reporting $1.5 million in revenue, Strafford County Sheriff Mark Brave is now under court order to pay for his own defense lawyer.
Rockingham County Superior Court Judge Daniel St. Hilaire canceled Brave's free public defender Tuesday after prosecutors requested an emergency hearing. According to court records, prosecutors say Brave lied on his financial disclosure forms when he first applied for a public defender, leaving proceeds from the sale of his Dover home off his list of assets.
Brave cried poverty when he was approved for a public defender on Oct. 26, though he had already sold the 17 Schooner Drive home on Sept. 29. Brave did not list revenue from the home sale on his application for a public defender. The home sold for $1.5 million.
Brave was arraigned on charges he stole taxpayer money to support his hook-up lifestyle on Sept. 28. At that hearing, Brave represented himself, saying he could not afford a lawyer. Brave said he planned to hire Shaheen and Gordon to represent him once the house sale went through. 
Brave is facing the possibility of 63 years in prison and blames his current legal predicament on political vendettas and racism. He claimed Strafford County Commissioners George Maglaras, Robert Watson, and Deanna Rollo made up the allegations as part of a political maneuver. Maglaras, Watson, and Rollo are all elected Democrats. Brave's also accused Maglaras of racism. According to Brave, Maglaras called him a "token."
County Administrator Ray Bowers went to County Attorney Tom Velardi last spring after finding suspicious purchases Brave made with his county-issued credit card, according to records made public in the investigation. Verladi referred the matter to New Hampshire Attorney General John Formella's office for investigation.
According to the affidavit written by New Hampshire Attorney General Investigator Allison Vachon, Brave repeatedly used his position and public money to fund his relationships with various paramours. There were plane trips, hotel stays, meals, and even a family vacation to Great Wolf Lodge, though it is not clear if the Great Wolf Lodge weekend was with his family or the family of a woman he was dating. 
County officials had been concerned about Brave's spending outpacing his budget for months when an audit found Brave had "maxed out" his county credit card. According to Vachon's affidavit, the audit also turned up suspicious receipts for an August 2022 trip to Fort Lauderdale, Fla.
While Brave would give Bowers and, later, investigators multiple rationales for the Florida trip, it turned out to be an excursion with female Strafford County Sheriff employee Freezenia Veras.
Brave had hired a woman, Veras, to a new position he created for her in March 2022. Veras' title as chief of support services/public information officer didn't come with a job description, but it did come with a $ 79,000-a-year salary. As a result, Veras was getting more in her paycheck than certified deputies in Strafford County- those qualified to engage in law enforcement. Brave would go on to have Veras sworn in as a special deputy, giving her the power to arrest people.
Veras would eventually tell Vachon she and Brave went to Florida to research her new job with other law enforcement agencies. Veras told investigators Brave claimed the meetings were canceled at the last minute, and she spent her time shopping and hanging out by the hotel pool, the affidavit stated.
Brave allegedly used taxpayer funds for trips with multiple women and then repeatedly lied about it, the affidavit stated. He is charged with eight felonies, including theft, perjury, and falsifying evidence for stealing at least $19,000 from the county.
Brave remains Strafford County Sheriff, at least until the next election. He is currently on paid leave from his job.