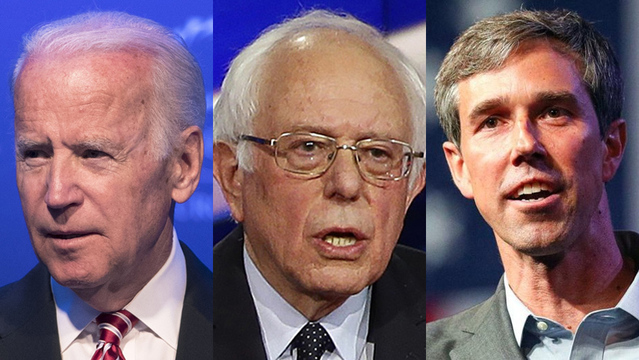 In post-midterms America, the Democratic Party is all about the "B's"– Bernie, Biden and Beto.
A new straw poll by the progressive political action committee Democracy for America gives Sen. Bernie Sanders a big lead among its supporters, with former Vice President Joe Biden and Texas Rep. Beto O'Rourke in the second and third spots. And, once again, Sen. Elizabeth Warren lags well behind.
Vermont progressive Bernie Sanders topped with list with 36 percent, followed by Biden at 15 percent and O'Rourke–the Left's flavor-of-the-month–at 12 percent. Sen. Warren was in fourth place with just 8 percent of DFA's support, narrowly edging out California Sen. Kamala Harris at 7 percent.
"Let's be clear: Progressive support in the 2020 Democratic primary is up for grabs and so is Democracy for America's endorsement," said DFA's incoming chairman Charles Chamberlain, in a statement released to Politico.  "Unlike 2016, no candidate has support strong enough for the Democratic Party establishment to clear the field, which means progressives will have an excellent opportunity over the next year to kick the tires on a wide range of different candidates and find the best one to take on Trump."
DFA, an organization founded by progressive Howard Dean, endorsed Sanders in the heated 2016 Democratic POTUS primary, so it's no surprise that he's the top choice of their membership.  However, the fact that a series of polls–both among progressives and Democrats as a whole–put the same three candidates in the top tier gives a good indication of how likely primary voters view the current field of contenders.
And perhaps most significant, one-time front-runner Elizabeth Warren doesn't crack the top three in any of these surveys.
For example, last week the progressive activist group MoveOn.org released the results of their own straw poll. Beto was on top, with Biden and Bernie close behind. Warren trailed Harris and came in fifth. Similarly, a national poll of Democrats released by CNN over the weekend put Biden at top, followed by Bernie and Beto, with Sen. Warren in seventh place and just 3 percent support.
Pollsters and political pros all agree that polling and surveys two year ahead of the general election are far too early to be significant. The consensus, rather, is that there is no consensus.
"There is no frontrunner there," pollster Frank Luntz said on Fox News. "There are twice as many candidates they may run for the Democrats this time as ran for the Republicans two years ago."
Philip Klein at the Washington Examiner argues that the strong performance by Beto O'Rourke is less a reflection of the Texas Democrat's strength than the weakness of the field overall. "The fact that O'Rourke, without doing much, could leapfrog all of the other candidates who had been clearly positioning themselves to run for years, suggests that none of the Democratic candidates enter the race in a particularly strong position," Klein writes.
And despite his consistently strong showing in these surveys, Joe Biden insists he won't make his decision to run based on the polls.
"I don't think about the polling data," Biden told CBS News. "I think about whether or not I should run based on very private decisions relating to my family and the loss of my son and what I want to do with the rest of my life. But I don't think of it in terms of can I win, can I – will I lose. That's not part of the calculation."