Lots of 2020 news for New Hampshire, starting with the departure of 2018's Summer Superstar, Michael Avenatti.  The L.A. lawyer had an electric effect on the crowds at Democratic events in New Hampshire, and some longtime Granite State politicos had high praise for him.
Today, however, Avenatti announced on Twitter that he's out of the 2020 race.
"After consultation with my family and at their request, I have decided not to seek the Presidency of the United States in 2020. I do not make this decision lightly — I make it out of respect for my family."
In addition to his pledge to keep representing adult film actress Stormy Daniels in her legal battle with President Trump, Avenatti also reiterated something he told NHJournal in an interview over the summer:
"I remain concerned that the Democratic Party will move toward nominating an individual who might make an exceptional President but has no chance of actually beating Donald Trump," Avenatti said. "The party must immediately recognize that many of the likely candidates are not battle-tested and have no real chance of winning. We will not prevail in 2020 without a fighter. I remain hopeful the party finds one."
Avenatti suggested to NHJournal that the right fighter for the Democrats was…Michael Avenatti. But he's out now, and while some are dismissing it as "dropping out before getting in," in fact Avenatti started a political action committee– FIGHT PAC (motto: "Join the Fight Club") and even ran an ad:
Interestingly, Avenatti was still talking up his prospects as a POTUS hopeful as recently as last night, tweeting out a national poll that had him at 2 percent and the comment "Better than Trump polled in 2015."
Ah, but there is that whole "arrested for domestic violence" thing, so…
Oh, and about that poll Avenatti tweeted. Check it out, and look for the names "Warren" and "O'Rourke."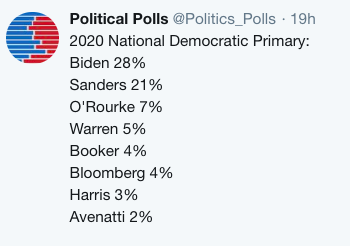 That's the Harvard/Harris poll. Here's another version, but with Hillary Clinton added:
Notice a trend? Despite the fact that she's been a darling of progressives for nearly a decade and he came out of nowhere over the summer, Rep. Robert Francis "Beto" O'Rourke is leading Sen. Elizabeth Warren in both polls.
Here's another poll:
Aha, Warren's beating Beto! Albeit by a point, but hey!
Wait. Check again. This is a poll of Democrats…IN MASSACHUSETTS.  Warren is essentially tied with a previously unknown congressman from Texas, in her home state. That's not good. And smart people are starting to notice.
Harry Enten, former FiveThirtyEight numbers cruncher now at CNN, has a piece entitled "Some 2020 Warning Signs Elizabeth Warren Needs to Pay Attention to — Stat." He points out that, not only is her polling underwhelming, but that her performance in her 2o18 re-election bid was uninspiring, too.
"Warren's 24-point margin may sound impressive, until you realize Hillary Clinton won Massachusetts by 27 points in 2016," Enten wrote. He did a simple formula analyzing all 34 of the 2018 US Senate races based on the fundamental partisanship in each state. His conclusion:
"Controlling for a state's weighted average partisanship and incumbency, Warren's performance was the sixth worst of all Democrats. She did 7 points worse than expected. (For comparison, Minnesota Sen. Amy Klobuchar and Vermont Sen. Bernie Sanders outperformed their baselines by 9 and 12 points respectively.)
"Bottom line: Elizabeth Warren is an underwhelming candidate right now, and there's no reason to believe she's going to get stronger as time goes on.  O'Rourke, on the other hand, continues to catch fire and is in the top tier of candidates despite having done…nothing.
Meanwhile, the top Democratic name in every 2020 poll continues to be former Vice President Joe Biden. If that doesn't change, every other conversation is moot. And, according to Biden, why should it change?
"I'll be as straight with you as I can. I think I'm the most qualified person in the country to be president," the former VP reportedly said earlier today.