If Gov. Chris Sununu is trying to tamp down talk of a U.S. Senate bid in 2022, somebody needs to tell his scheduler.
Or maybe not.
On Tuesday, the conservative group Heritage Action announced its upcoming Save Our Paychecks National Tour, "in response to the Biden-Harris Administration's war on Americans' pocketbooks," according to their press release.
On the schedule: An August 21 stop in Manchester featuring Sununu with National Republican Senate Committee chairman Sen. Rick Scott (R-Fla.)
"I am proud to join Heritage Action for America in their Save Our Paychecks Tour to stand alongside businesses and hard-working Americans as we fight to get our country headed in the right direction," Scott said in a statement.
However, Heritage Action contacted NHJournal Wednesday with news that the press release was in error, and Gov. Sununu was not confirmed to appear at their Manchester stop. Sources inside Sununu's office say they just received the invitation and have not had time to review the request.
Scott's been talking up a potential Sununu Senate bid for months, urging the popular Granite State Republican to run against first-term incumbent Sen. Maggie Hassan. Hassan is her party's most vulnerable senator facing the voters next year, and she's already underwater in the polls. Sununu, on the other hand, is one of the most popular governors in America, with strong support among both Republicans and independents.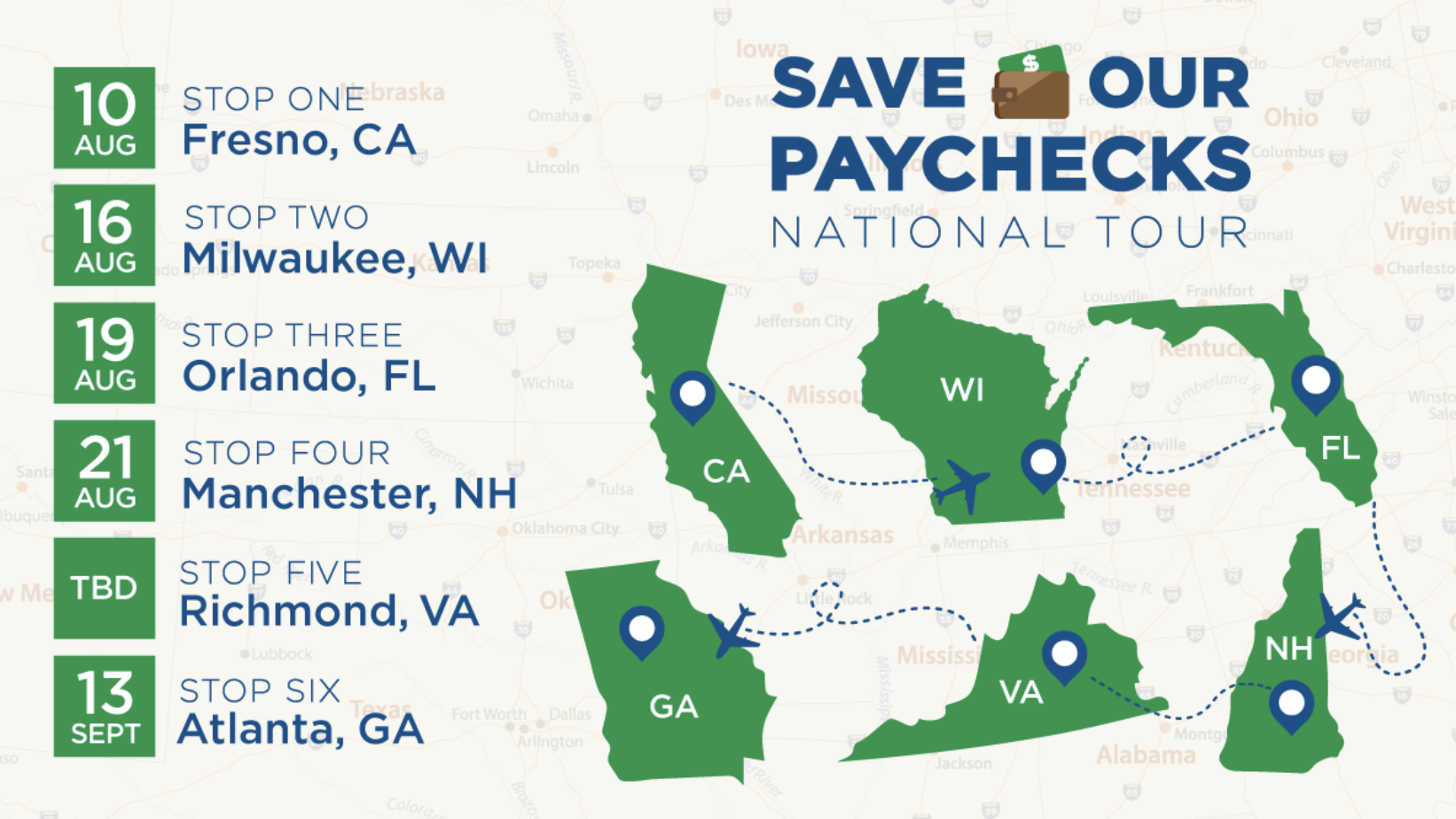 Hassan's prospects aren't being helped by the fading fortunes of the Democratic brand in the Granite State. In a new UNH poll released on Tuesday, President Joe Biden's favorability has flipped since he took office, from 53 percent approve/45 percent disapprove in February to 38 percent approve/48 percent disapprove today. That's a drop of 15 points in Biden's approval and a swing from +8 to -10 points.
And the message of the Heritage event in Manchester won't be mistaken for bipartisanship.
"Thanks to Bidenflation and the Administration's continued attacks on our pocketbooks, Americans are losing purchasing power every month," said Heritage Action Executive Director Jessica Anderson. "Blue state lockdowns and Congress' disastrous spending plans have led to higher taxes and higher unemployment. The Save Our Paychecks Tour will shed light on the American workers and businesses who have been left behind by the Biden Administration."
If he does participate in a Heritage Action event critical of the Biden administration — while standing next to the senator in charge of recruiting candidates — it would feed rampant speculation that Sununu is leaning toward a Senate run.
"Oh, he's so in," one veteran NHGOP source close to the Sununus told NHJournal. "He's done what he wants to as governor, and he just can't resist a good [political] fight."
In a one-on-one podcast interview with NHJournal, Sununu brushed off questions about his political future with his standard "I have plenty of time to decide" answer. But he also asked an interesting question of his own:
"Everybody wants Washington to change. So why would we keep hiring the same people?"