While national politics may be mired in partisan gridlock, New Hampshire Gov. Chris Sununu is walking on the sunny side of the street.
In a wide-ranging one-on-one podcast interview with New Hampshire Journal, the three-term Republican celebrated the "really great budget" he just signed into law, bragged about his paid family leave plan that's "too good to be true" and predicted a growing economy driven by newly-enacted tax cuts.
As for the more contentious budget items, Sununu was in no mood to fight, instead shrugging off the debate over the late-term abortion ban and expanded anti-discrimination language as largely partisan.
"I'm with the 60 percent" of Granite Staters, Sununu said of the abortion issue. "I find there is always middle ground."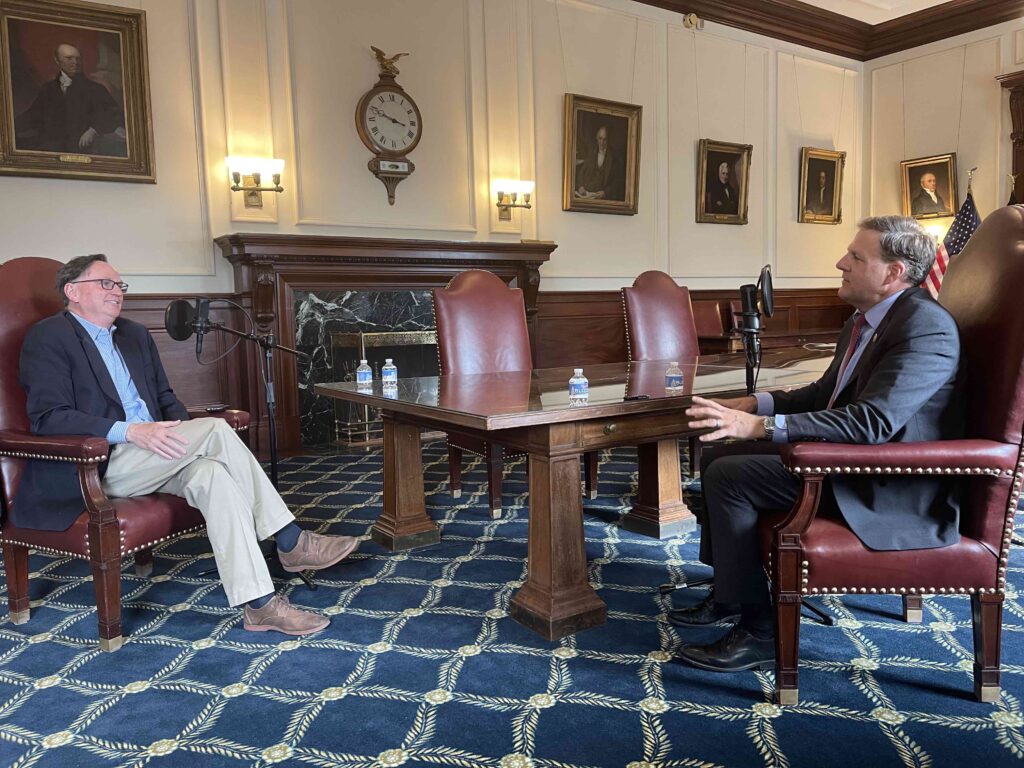 Sununu was clearly fired up to talk about the budget's fiscal policies. Asked to name the elements of the budget he believes will be most significant 10 years from now, he immediately answered the elimination of the interest and dividend tax cuts and the family medical leave program.
"It's the hidden income tax," Sununu said of the plan to phase out the interest and dividends tax over five years. He said eliminating it in New Hampshire "has been discussed for 40 years, but no one had the courage to do it.
"Finally we said, 'Look, people have to come first, not government.' And we found a way."
Sununu was even more enthusiastic about his paid family medical leave program, which is essentially a new state employee benefit paid for by taxpayers that is made available to private sector businesses and workers who want to opt-in.
"It's an innovative private-sector solution that is going to work at very little cost and everyone has choice, with no income tax. It's too good to be true," Sununu said.
Sununu is less excited to talk about the cultural issues inspiring most of the post-budget debate, but he didn't back down.
On the new abortion law, which ends New Hamsphire's outside-the-mainstream standing as a state with no restrictions on the procedure up to the day of birth, Sununu said he believes he's with the people.
"There is 20 percent [of the people] on both sides where abortion is the only issue," Sununu said. "Well, I'm kind of in that 60 percent of everybody else. I always find there's always a middle ground. So I'm pro-choice, but like most people, I've never supported the idea of late-term abortion."
Polls show more than 80 percent of Americans, including many self-identified pro-choice people, agree with Sununu. But what about the new mandatory sonograms and other elements of the law? Sununu hinted they could be re-visited in the future.
"I think we can make some fixes here, and understand the cost provisions there, and certain waivers or stipulations. I think that's all open for discussion."
On the anti-discrimination law Sununu signed that's intended to block government employees from advancing race-based ideologies like Critical Race Theory (CRT) on the job, the governor complained about misconceptions being spread by the media and CRT-supporting Democrats.
"The biggest misconception is you can't talk about slavery or implicit bias. Of course you can, and we should," Sununu said. But, he added, the approach needs to be positive, not labeling people inherently racist based on their skin color.
"We're not going to tell people that because of how they were born, they're implicitly racist. Or because of what race or sex or gender they are that they're implicitly bad."
Asked if he was disappointed by the mass resignation of more than half of the Governor's Advisory Council on Diversity and Inclusion, Sununu dismissed it as "a bit of a political game" organized by the partisans at the New Hampshire chapter of the ACLU.
Meanwhile, in the past few days, people have been "burning up the phones" to ask about getting involved. "We'll have those positions filled very soon," Sununu said.
But for political activists and insiders, the only question they have for Sununu is, "Are you running?" Will he take on U.S. Senator Maggie Hassan, viewed as the most vulnerable Democratic senator in the 2022 cycle.
Sununu gave a lengthy answer (which can be heard here) offering few clues about whether he'll run to become the first-ever four-term GOP governor, return to the private sector, or challenge Hassan.
Paid leave is the sort of policy a candidate for higher office might use to boost his political stature. Was that part of Sununu's motivation?
"I don't care whether you're running for planning board or dogcatcher or president, in the past four years, we've gotten a lot done," Sununu said.
"[New Hampshire politicians] have talked about fully funding kindergarten — did it. We talked about paid leave — I did it. We talked about school choice — We did it. You put the list of what we set out as some amazing things if we could get them done in the next few years, and we've pretty much gotten all of them done, which is very exciting."
In addition to his record, Sununu also believes he can beat Hassan on her own playing field: Bipartisanship.
"Whether I run or not, anyone who just sticks to party like [Hassan] in Washington, that's a problem for New Hampshire citizens," Sununu said.
"Everybody wants Washington to change," Sununu added. "So why would we keep hiring the same people?"