Just days after the release of a new poll showing her tied with Gov. Chris Sununu in a theoretical 2020 match-up, New Hampshire's Sen. Jeanne Shaheen was using the bad news to fundraise –out of state — for campaign funds.
And, political observers say, the focus on out-of-state money may have unintentionally tipped Shaheen's hand about the campaign's 2020 strategy: Nationalize the race for the Granite State's U.S. Senate seat, rather than focus on local New Hampshire issues.
"NEW POLL ALERT," begins a Facebook ad paid for by the Shaheen for Senate committee. "Democrat Jeanne Shaheen is TIED with potential GOP opponent Chris Sununu — the GOP will spend whatever it takes to flip this seat from blue to red. That's why a group of donors is MATCHING all donations right now to help Jeanne raise $10,738 before 11:59 p.m. to fight back."
The ad data on Facebook shows that the ad was most widely distributed in California, New York, Massachusetts, Maryland, Washington and Georgia. Fewer than 3 percent of the ads' reach was in New Hampshire.
As NHJournal first reported, a poll released in late February by Emerson University polling found that Senator Jeanne Shaheen tied with Governor Chris Sununu at 44 percent, with 12 percent of voters undecided. The margin of error was +/-3.2%.
"Nate Silver's FiveThirtyEight says there's NO way Democrats can flip the Senate unless we win in New Hampshire," Shaheen wrote in another Facebook ad, offering to match donations that came in by a specific deadline.  And that ad was also overwhelmingly distributed outside of New Hampshire: California, Ohio, Connecticut, Michigan and New York. Just 4 percent of the reach was inside the Granite State.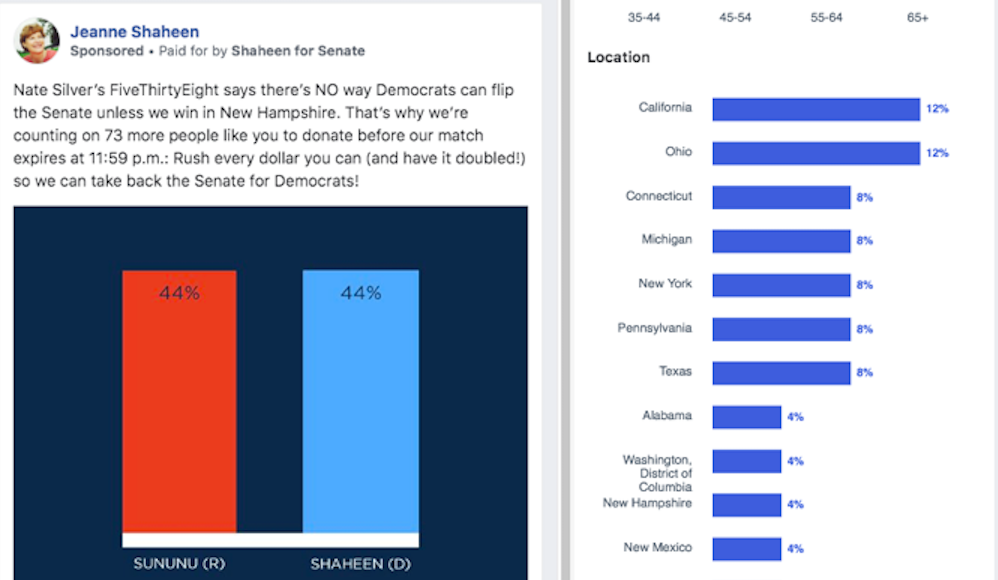 Shaheen announced in January that she intends to seek a third six-year term in the U.S. Senate. Shaheen's office declined repeated requests for comment on this story.
"It's no surprise that Jeanne Shaheen has to look to New York and California to find supporters for her far-Left policies and proposals," New Hampshire GOP state chairman Steve Stepanek told NHJournal. "She's got shrinking grassroots appeal in the Granite State."
Stepanek tells NHJournal that Shaheen's campaign staffers weren't the only people to take note of the recent Emerson poll showing her at 44 percent against Gov. Sununu.  "People in DC were surprised by her weak support.  She's a two-term U.S. Senator well-known among the entire state and she's under 50 percent. She's definitely vulnerable," Stepanek said.