Robert F. Kennedy Jr., a member of the legendary Kennedy political dynasty, will formally launch his White House bid at the Boston Park Plaza on Wednesday. He will be the first member of President John F. Kennedy's immediate family to run for federal office since his nephew, Joe Kennedy III, lost a Massachusetts U.S. Senate primary race in 2020.
The first hint of an RFK, Jr. candidacy came in March when he spoke at the New Hampshire Institute of Politics, an all-but-mandatory stop on the presidential campaign trail. Asked about the 2024 race by NHJournal, Kennedy said, "I am thinking about it," inspiring, enthusiastic applause from the audience.
"And I've passed the biggest hurdle, which is my wife has greenlighted it," he added. "And if things go right, we'll have the funniest first lady in history."
Kennedy's wife, actress Cheryl Hines, who was in the audience, portrayed the wife of Larry David on his hit HBO comedy series "Curb Your Enthusiasm."
The campaign is not shy about making the connection between Kennedy and his famous family. While the press release announcing Wednesday's event calls Kennedy "a nationally known trial attorney who has successfully championed numerous environmental causes over his long career," it also mentioned that "President John F. Kennedy, elected in 1960, was Robert F. Kennedy Jr.'s uncle, as was Massachusetts Sen. Ted Kennedy."
And perhaps more relevant with Joe Biden in the White House, "Kennedy is the eldest son of U.S. Sen. Robert F. Kennedy, who in 1968 mounted a major campaign in a tumultuous primary that dislodged the incumbent Democratic President Lyndon Johnson."
Can history repeat itself?
Last month Kennedy, 69, said via Twitter that if he runs, "My top priority will be to end the corrupt merger between state and corporate power that has ruined our economy, shattered the middle class, polluted our landscapes and waters, poisoned our children, and robbed us of our values and freedoms."
By "poisoning our children," Kennedy is referring to his longstanding and outspoken opposition to public health vaccine policy. He has promoted claims rejected by medical experts that childhood vaccinations are linked to autism. And he's the founder of Children's Health Defense, frequently labeled "one of the most influential anti-vaccine organizations."
Some of Kennedy's social media content, including a video of his speech at the NHIOP, have been removed from platforms such as YouTube, Google, and Facebook as violations of their policies regarding vaccine disinformation. In January, Kennedy joined other vaccine skeptics in a lawsuit targeting news and social media companies participating in a consortium blocking anti-vaccine content.
Kennedy's anti-vaccination politics is creating some strange bedfellows. Donald Trump ally and political stuntman Roger Stone tweeted Tuesday about RFK, Jr.'s announcement, "Although I am a Republican and proud to support Donald Trump, this is exciting."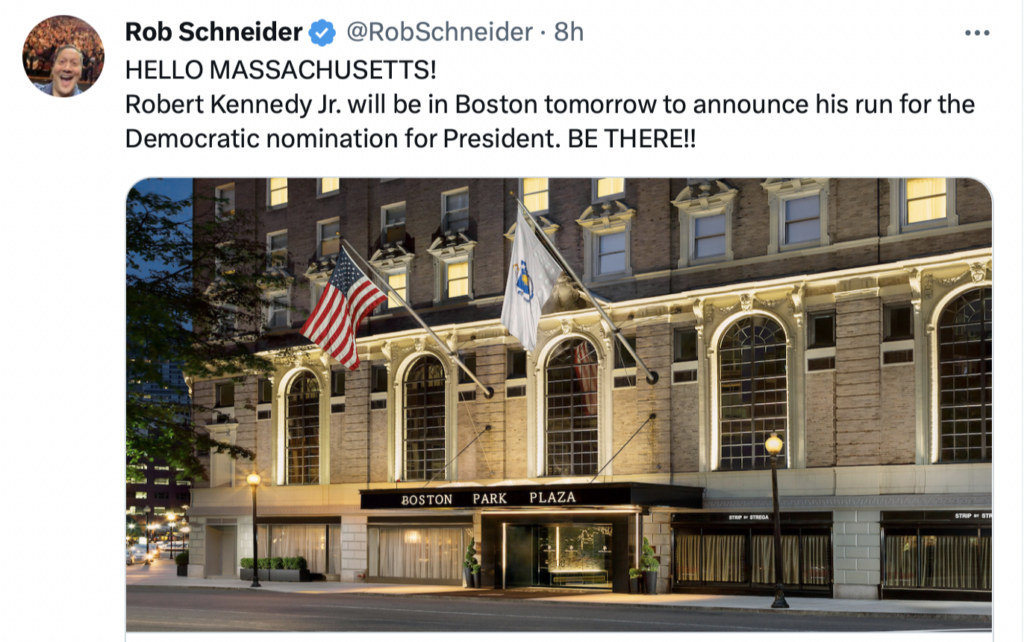 And comedian Rob Schneider, a Trump supporter frequently appearing on Fox News, also gave RFK Jr. a Twitter shoutout.
"Yes! Robert Kennedy Jr is (God forbid!) a Democrat! But so was my mom, who voted for Ronald Reagan. I don't care if RFK Jr is a Martian, he is the ONLY Presidential candidate who dared to expose the covid/government/Pharma LIES!!"
While few political pundits give Kennedy a serious shot at winning the White House, some Granite State Democrats privately acknowledge he could create real headaches for Biden in the Granite State. Due to the new Democratic National C primary calendar pushed through by Biden, New Hampshire's First In The Nation primary won't be sanctioned by the party. President Biden has pledged not to appear on the primary ballot or campaign in the Granite State.
If the Democratic ballot only features the names of RFK, Jr. and self-help guru Marianne Williams, there would be a good chance Biden would lose. With his name ID, millions of dollars, and the support of an activist base of anti-vaxxers and environmentalists, RFK, Jr. could turn out thousands — perhaps tens of thousands — of primary voters. Assuming Iowa Democrats hold a caucus, he could likely do the same there, too.
Kennedy is certainly taking it seriously. He has former U.S. Rep. Dennis Kucinich (D-Ohio) helping with his campaign, and he is building on his name ID in the party to get attention.
While a recent Morning Consult poll showed just 10 percent of Democratic primary voters currently back his bid (as opposed to 70 percent for Biden), it also found 46 of these voters had a favorable view of Kennedy, and just 24 percent viewed him unfavorably.
When Kennedy appeared at the NHIOP, longtime Democrat state Sen. Lou D'Allesandro was on hand, along with state Democratic Party chairman Ray Buckley and the top Democrat in the state legislature, state Sen. Donna Soucy. D'Allesandro said at the time he believed Kennedy would be well-received in New Hampshire if he chose to run.
Asked Tuesday if he had a message for RFK, Jr., D'Allesandro said, "Please say hello to him and give him my best. Although we may have different views, I certainly respect his opinions and right to express them."