Many presidential candidates have launched their campaigns from the stage of the New Hampshire Institute of Politics, and on Friday, Robert F. Kennedy Jr. came close to doing the same, telling a supportive crowd the topic was on his mind.
"I am thinking about it," Kennedy said when asked by an NHJournal reporter about a possible presidential bid. His answer inspired enthusiastic applause from the audience.
"And I've passed the biggest hurdle, which is my wife has greenlighted it. And if things go right, we'll have the funniest First Lady in history."
Kennedy's wife, actress Cheryl Hines, who was in the audience, portrayed the wife of Larry David on his hit HBO comedy series Curb Your Enthusiasm.
After the speech, Kennedy confirmed he was thinking through a possible White House run. Asked if his legacy as a member of the Kennedy family played a role in his decision making, RFK, Jr. answered, "It's part of the DNA."
Kennedy's comments came the same morning as the release of a new NHJournal poll showing just 32 percent of Granite State Democrats want President Joe Biden to be the party's nominee in 2024.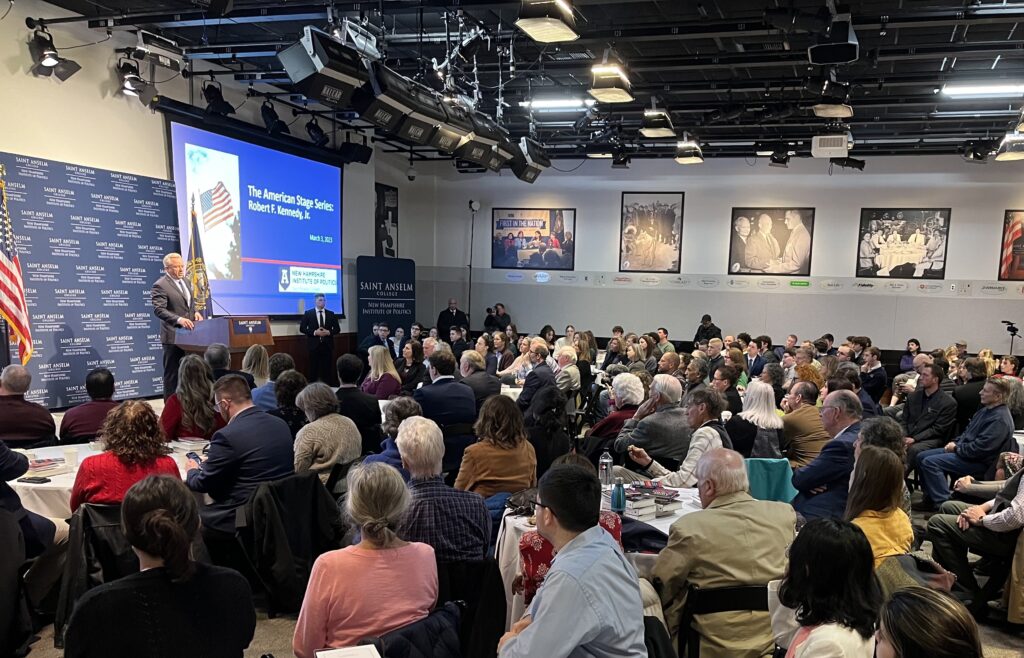 Kennedy spoke to a packed NHIOP audience for more than an hour, largely on the issues of environmental activism and his concerns about vaccines and Big Pharma. He didn't mention any political aspirations until he was asked, and he didn't mention it again.
Instead, Kennedy offered an extended diatribe against the pharmaceutical industry, which he claimed "controls" the CDC and other government public health agencies. He repeatedly suggested that an increase in diseases from autism to obesity is linked to the widespread adoption of modern vaccine regimes.
While Kennedy conceded the science is still up for debate, he compared the relationship between big business, government agencies and the pharmaceutical industry to President Eisenhower's warnings regarding the "military-industrial complex."
"The NIH [National Institutes of Health] is a captured agency incubating new drugs for PHARMA and collecting royalties from them. Even the CIA and the Pentagon are captured agencies, captured by their contractors," Kennedy said.
Kennedy portrayed drug companies as a nefarious force with tentacles reaching into government and the media.
"They own the politicians because they own Anderson Cooper and they own Fox News, because of the [Big Pharma] advertising. They can control everything," Kennedy said, adding: "These are the same companies behind the opioid crisis. These are not good people."
Kennedy was critical of the federal government's COVID policy from both sides of the aisle. "It was Biden and Trump who did the response [to COVID]; it's not a Republican or Democratic issue," Kennedy said, claiming that "the White House ordered Facebook to censor me."
On hand to greet Kennedy were New Hampshire state Democratic Party chair Ray Buckley and state Senate Democratic leader Donna Soucy (D-Manchester), along with longtime Manchester state Sen. Lou D'Allesandro — all of whom got shoutouts from RFK when he took the stage.
"It was a good speech," D'Allesandro told NHJournal. "I enjoyed it."
Soucy was more circumspect. "It was very interesting," Soucy said. Asked about RFK Jr.'s views on vaccines, Soucy again invoked the "I" word (I thought the discussion was interesting") before quickly adding, "I'm fully vaccinated — and I'm still glad I am."
The crowd, on the other hand, largely welcomed his anti-vax views. Many came specifically to hear Kennedy speak on the subject, and they liked what they heard.
"Unbelievably fabulous," said Geri Procaccini, who came from Fayston, Vt. to hear Kennedy speak. Asked about his interest in running for president, Procaccini repeated, "unbelievably fabulous!"
Goffstown Republican John Flanagan was also intrigued. "I thought his speech was very informative," Flanagan said. "I didn't know he had [a presidential bid] in mind. If there's any Democrat I might consider supporting, it could be him."
Stopped by a reporter on his way out of the hall, party chair Buckley declined to comment on Kennedy's speech other than to say his views on vaccines were "outside the mainstream."