New Hampshire political activists took note when ads appeared on Facebook Tuesday touting Gov. Chris Sununu and the state's success in distributing COVID-19 vaccines. But political Facebook ads are nothing new. Rep. Chris Pappas, for example, runs them all the time.
There is, however, one notable difference: When Pappas' office posts an ad on Facebook, it's the taxpayers who pay.
According to the Facebook Ad Archive, Representative Chris Pappas' official office has spent nearly $40,000 on taxpayer funds for ads on the social media platform since May of 2018. One of the ads, which has been running since April 13th, reads remarkably close to one a politician would use on the campaign trail.
"The American Rescue Plan will provide New Hampshire with the help we need to beat this virus." the official congressional office ad reads.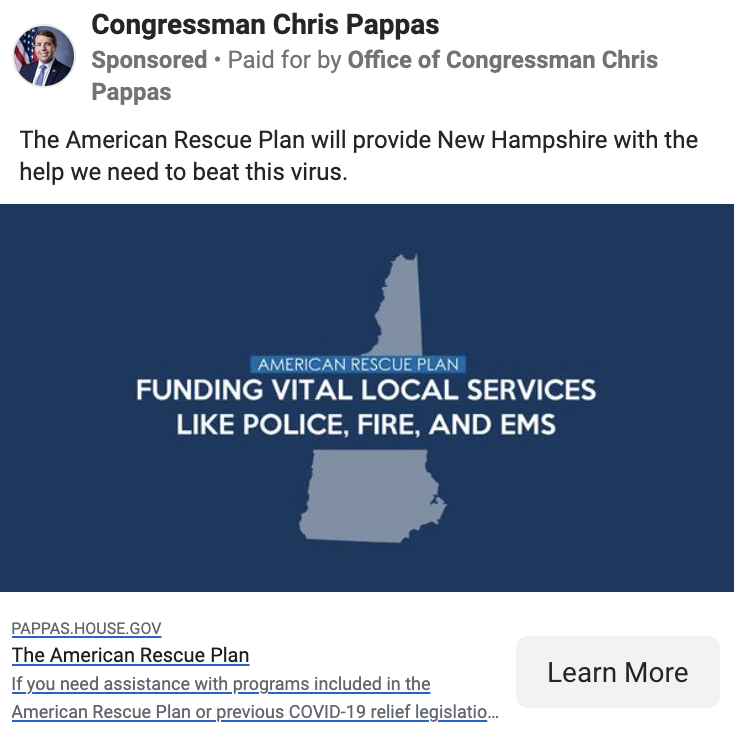 Ad from Rep. Pappas's official office, paid for with tax dollars.
"I'm working hard to improve government services, hold leaders accountable, and provide oversight for Granite Staters." says another one of the taxpayer-funded ads.
Other paid Facebook messages seem much more like typical communications from a Congressman's office, asking constituents to join tele-town halls, 'like' his official page, or sign up for his newsletter. 
Matt Mowers, Pappas' opponent in 2020, told NHJournal on Tuesday, "It's disappointing that Congressman Pappas is using taxpayer dollars to run obvious political advertisements on Facebook, but it comes as no surprise. Pappas voted for H.R. 1, a bill that would cut a taxpayer-funded check for $7 million to his own campaign,"
"Pappas' campaign should refund the taxpayers for these ads – he should use all of that corporate-funded PAC money he raises to buy his political ads instead." Mowers said.
Currently Sununu's campaign is running five ads, touting the state's low unemployment rate, its successes with managing the pandemic, and promoting the fact that it has the highest vaccination rate in the country.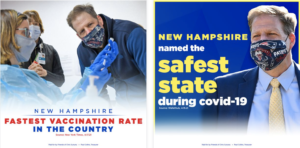 Paid Facebook ad from Friends of Chris Sununu
The ads are paid for by a campaign committee, not state funds. According to Facebook Ad Archive and confirmed by Sununu's staff, Sununu's office hasn't spent a cent of taxpayer funds on the platform since he was elected in 2016.
Pappas' taxpayer-funded ads come at a time that Congress is debating H.R. 1, which would pump even more taxpayer money into political campaigns. As NHJournal has reported, H.R. 1 allows political campaigns to receive taxpayer money for their attack ads, at a 6:1 match for small-dollar donations. For example, a $200 donation to Pappas' campaign would turn into $1,200, at the expense of taxpayers.
Some estimates project that, if H.R. 1 were enacted, Pappas' campaign could receive up to $5 million public dollars for his 2022 re-election campaign.
Both Pappas and Congresswoman Annie Kuster have voted for the bill twice, and both New Hampshire Senators Maggie Hassan and Jeanne Shaheen have publicly advocated for the legislation.
H.R. 1 has come under fire recently from New Hampshire's top election official, Democrat Secretary of State Bill Gardner. Last week, he testified before the U.S. Senate against the bill, saying he believes "it would be harmful to our elections in New Hampshire,"
"H.R. 1 would just be a federal takeover of the election process in New Hampshire. So instead of the New Hampshire legislature, the House and Senate, deciding how our elections should be here, this is going to be a federal decision," Gardner said.
Sununu's office told NHJournal on Tuesday that "the Governor does not support taxpayers footing the bill for political campaigns, as proposed in H.R. 1."