When reports of kidnapped women and murdered children began pouring in Saturday from the massive Hamas attack on Israel, the response in Washington, D.C. was to convene the "Gang of Eight." Those are the eight key Congressional leaders charged with overseeing military intelligence, and they are usually the first people briefed in such a crisis.
Only thanks to Reps. Annie Kuster and Chris Pappas, it is now the gang of seven. The speaker's chair is empty, vacated by a vote of all 208 House Democrats in support of Rep. Matt Gaetz (F-Fla.) and seven fringe, MAGA Republicans.
Unlike a typical leadership battle, Democrats weren't backing an alternative candidate to take control. They didn't even offer a leadership plan. Their only goal was to help what talk host Hugh Hewitt has dubbed the "Knucklehead Caucus" create chaos, to promote GOP infighting while shutting down the House.
The Democrats' plan worked. There is plenty of chaos in Washington today.
Unfortunately, there is far worse in Israel, and thanks to the Democrats' success, a leaderless Congress is powerless to act. The House cannot pass legislation or approve military aid until the vacancy that Kuster and Pappas helped create — purely for partisan political purposes — has been replaced.
"The emergency in Israel puts a spotlight on the state of paralysis in the House and completely unchartered legal territory the House is in," reported CNN's Annie Grayer.
Or as moderate Republican Mike Lawler (R-N.Y.) put it, "This is why you don't remove a speaker mid-term without cause. What an unmitigated sh*t show.
"Doing so as Israel faces an all-out attack is dangerous. Uncertainty and chaos in the U.S. breeds vulnerability around the world," Lawler added.
Few members of Congress are coming out of this looking worse than Kuster, partly due to what appears to be the worst communications team on Capitol Hill.
Last week, Kuster's campaign sent an ill-timed email touting her role as a "steadfast and responsible adult in the room to end the chaos," literally two hours before she voted to back Gaetz and his "Plan Chaos" — with no plan for a replacement.
On Saturday morning, as Hamas released videos of kidnapped grandmothers and the abused body of a dead, nearly-naked Israeli woman, Kuster sent out another email that badly missed the moment. Her campaign was bragging about her role in removing the speaker.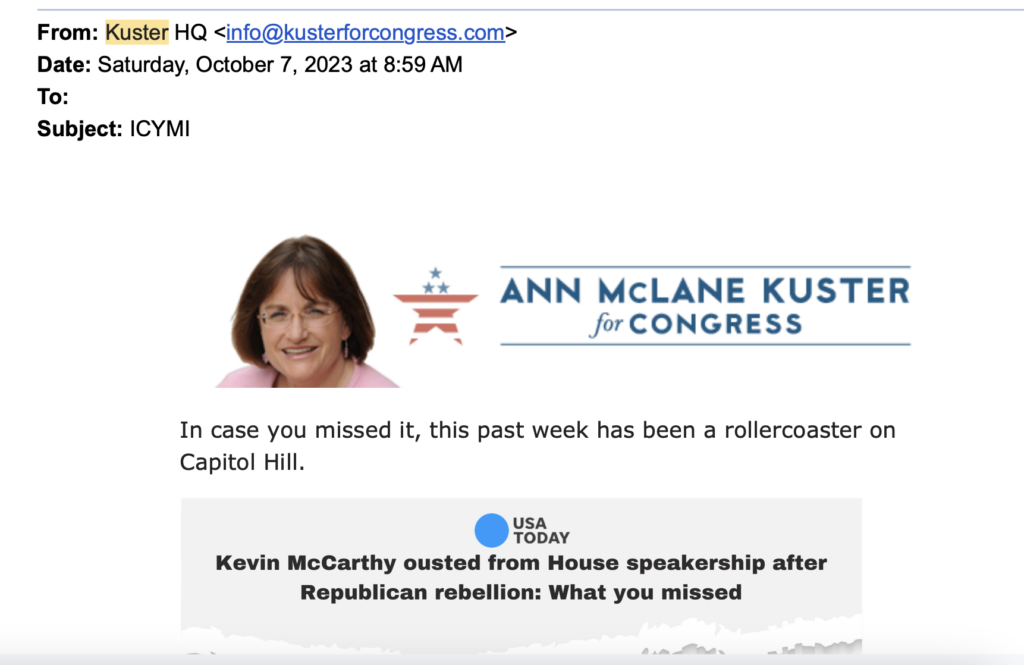 The fundraising email included this description of Kuster's vote to vacate: "As the Chair of the New Democrat Coalition, she worked to end the chaos and deliver bipartisan solutions for the American people."
Voting with Gaetz and his fringe fellow travelers is certainly "bipartisan," but how many Granite Staters view it as a "solution?"
But to make sure they got the message, Kuster re-sent the same fundraising appeal on Sunday at 5:31pm — still touting her vote to remove the Speaker, and with no mention of the Hamas attack on Israel.
Nobody believes Hamas was inspired to attack because of the Democrats' defenestration of Congress, and Israel's fate hardly hinges on who sits in the speaker's chair. At the same time, no rational person believes Kuster and Co. helped Israel's cause by shutting down Congress for at least a week as part of Team Gaetz.
And while Pappas cast the same vote as Kuster, he isn't the leader of the so-called "New Democrat Coalition" or sending out emails touting his "bipartisan" leadership as an "adult in the room."
Then there is Kuster's problematic support for antisemitic members of her own party. She's a longtime ally of Rep. Ilhan Omar (D-Minn.) and lobbied Democratic leadership not to punish the antisemitic Democrat for her offensive public statements about the Jewish state.
Democrats engaged in childish partisanship for short-term gain, with Kuster's enthusiastic support. Now, there is a mess the United States must clean up quickly in order to fully come to Israel's aid.
All 208 Democrats should be asked whether it was worth it.
Both Kuster and Pappas have declined multiple requests for comment.