On Tuesday at 2:44 p.m., U.S. Rep. Annie Kuster's campaign team sent a fundraising email with the subject line, "Adults in the room." It recounted Saturday's vote for a stopgap measure to prevent a government shutdown, a situation it blamed on House Speaker Kevin McCarthy for being unwilling to reach across the aisle and work with Democrats.
"Luckily, we had steadfast and responsible adults in the room, like Annie Kuster, to end the chaos…"
Less than two hours later, Kuster voted to throw McCarthy out of the speaker's chair with no plan to replace him and no political objective in mind.
Just chaos.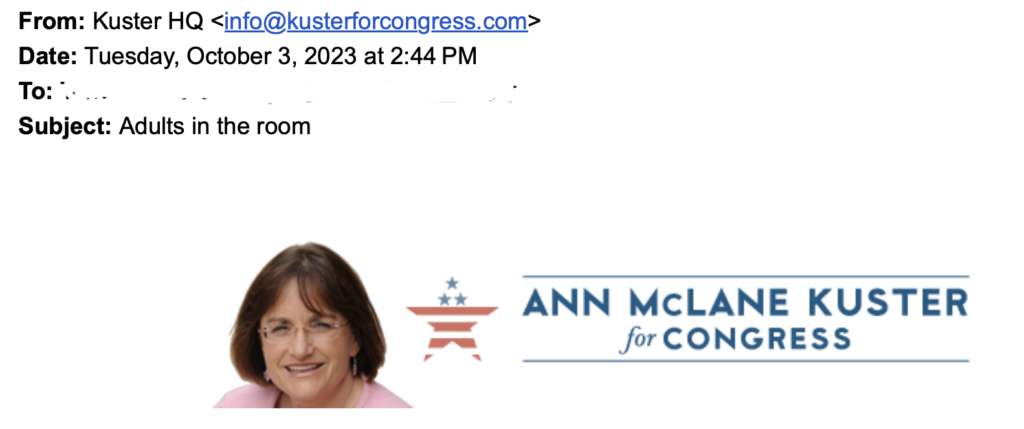 What was Kuster voting for when she joined the 208 Democrats — and a handful of fringe Republicans — to end the McCarthy speakership? Good government? Expanded abortion access? A new "sweats-and-hoodie" dress code?
Nothing but chaos.
Kuster was literally voting to throw the government into limbo. With the speaker's chair vacant, the House cannot conduct any of the people's business. No votes can be taken on budgets, even as the stopgap clock is ticking, bringing a potential shutdown even closer. No action on the border, even as a new monthly record of illegal crossings was set in September.
Kuster voted to send Congress careening into a ditch for at least a week, if not longer.
This is the vote of a "steadfast and responsible adult"? If so, then isn't Kuster saying that Rep. Matt Gaetz cast a "responsible adult" vote, too?
As Savannah Viar with the National Republican Congressional Committee put it, "Democrats voted en masse following their extreme leader, Hakeem Jeffries, to throw the House into chaos on a motion to vacate. Extreme House Democrats are arsonists complaining about fire damage."
The issue isn't kicking out McCarthy. McCarthy is to "principled leadership" what Strafford County Sheriff Mark Brave is to honesty in accounting. Few Americans will bemoan the loss of his political courage.
The issue is throwing out McCarthy simply for the sake of creating more chaos in the House. If there had been a dozen liberal Republicans prepared to join Democrats in a coup to install Speaker Alexandria Ocasio-Cortez, that would be politics. And it ain't beanbag.
But Kuster had no such plan. The Democrats in the Chaos Caucus had no plan of any kind. Their decision to team up with Gaetz and his gang of goofballs was "Seinfeld" politics in action.
A vote about nothing.
Kuster and her fellow Democrats will benefit from the fact that the media will focus solely on the eight fringe Republicans. But some voters are going to do the math. And some of the 210 Republicans who voted against the chaos, and the many Republicans who support them, are going to point it out.
"Chaos is good for TV drama, but it is not good for fixing runaway inflation, addressing a broken border, or ending our dependence on China," New Hampshire Republican Russell Prescott said Tuesday. "It's time for Congress to get to work for the American people."
Prescott is running in the GOP primary for a chance to take on Kuster's fellow Chaos Caucus member, Rep. Chris Pappas.
The other Republican in that 1st Congressional District primary, Hollie Noveletsky, also called out Democrats for their leading role in Tuesday's fiasco.
"I don't agree with the decision to vacate the chair. It's a shame that a small group of lawmakers motivated by personal ambitions, along with partisan Democrats, have created such a disarray in the House," Noveletsky said. "The people of New Hampshire want Congress to focus on the issues facing them, and I don't believe this debacle helps Republicans and conservatives do that."
Hurting Republicans was the point. Not helping govern, not advancing public policy — just inflicting political pain. And if the price is adding to the wave of chaos that is raging across American society, well, it's worth it.
Just ask "steadfast and responsible adult" Annie Kuster.