Images of Cuban protesters shouting "Libertad!" in defiance of the Communist regime have been ringing through Cuban streets the past two days, and they're resonating with at least one elected official in New Hamshire.
"I personally feel like it was like, well, it's about time, you know?" said state Rep. Jose Cambrils (R-Loudon). He was born in Victoria De Las Tunas, Cuba, some 400 miles from Havana.
Thousands of Cubans took to the streets on Sunday in a surge of demonstrations the regime hasn't faced in decades. There are widespread shortages of food and medicine. And electricity, always an unreliable commodity on the island, has suffered ever more frequent outages. All due to the failures of the socialist economic system, opponents of the anti-democratic regime say.
"When I saw the news I can say I wasn't shocked because I always believed that, once they installed a new president back in April, I thought you would eventually see the people start to revolt. The Castro mystique was gone," Cambrils said.
And how did he feel about what he saw?
"I still have a place in my heart for Cuba and I would love to see it become a free nation."
Cambrils told NHJournal his father had traveled to Cuba to flee the fascist regime of Spain's Gen. Franco, only to find himself and his young family under Castro's rule. And so he had to flee again.
"I was five years old at the time and we were blessed that we had an uncle who lived in Boston. So in November of '65, we flew into Logan Airport. It was like 10 degrees, I remember how cold it was coming from the tropics.
"But from the day that we got here, I just fell in love with this country," Cambrils said.
Cambrils is the first Cuban-American ever to hold elective office in the Granite State, and he says believes that makes him even more cognizant of what the protesters in Cuba are fighting for.
"This [protest] didn't happen overnight. This is a true movement," Cambrils said. "And I think it's because people feel somehow they are no longer under [the influence] of the Castros."
Cambrils isn't happy about U.S. foreign policy toward Cuba in recent years, believing it was a mistake when President Barack Obama re-established diplomatic relations with Castro's Cuba in 2014.
"Obama was just enabling the Communists. He was just pumping money into the regime, helping to keep them in power," Cambrils said. Sen. Jeanne Shaheen was silent on the Obama administration's decision. And, like the other Democrats in the state's federal delegation, she has also been quiet about current events in Cuba — despite being a senior member of the influential Senate Foreign Relations Committee.
Asked about the silence of Shaheen and her fellow Democrats, Cambrils said he isn't surprised.
"Why should they say anything? To them, socialism is a viable way to go. They embrace a lot of socialist ideas and they were trying to bring a lot of socialist things here to our state and our country."
President Joe Biden, on the other hand, released a strong statement Monday afternoon.
"We stand with the Cuban people and their clarion call for freedom and relief from the tragic grip of the pandemic and from the decades of repression and economic suffering to which they have been subjected by Cuba's authoritarian regime," Biden said.
"The Cuban people are bravely asserting fundamental and universal rights. Those rights, including the right of peaceful protest and the right to freely determine their own future, must be respected," the president added.
Progressive Democrats have long urged their party to embrace Cuba and end the political conflict. The myth that Communist Cuba has a superior health care system to the U.S. has become a common cliche in leftwing American politics, despite evidence to the contrary.
N.H. state Sen. David Watters referenced it in a tweet from Cuba during a 2017 visit. "Much to learn in Cuba, rapidly privatizing economy, and free ed & med care, food security, Americans welcome."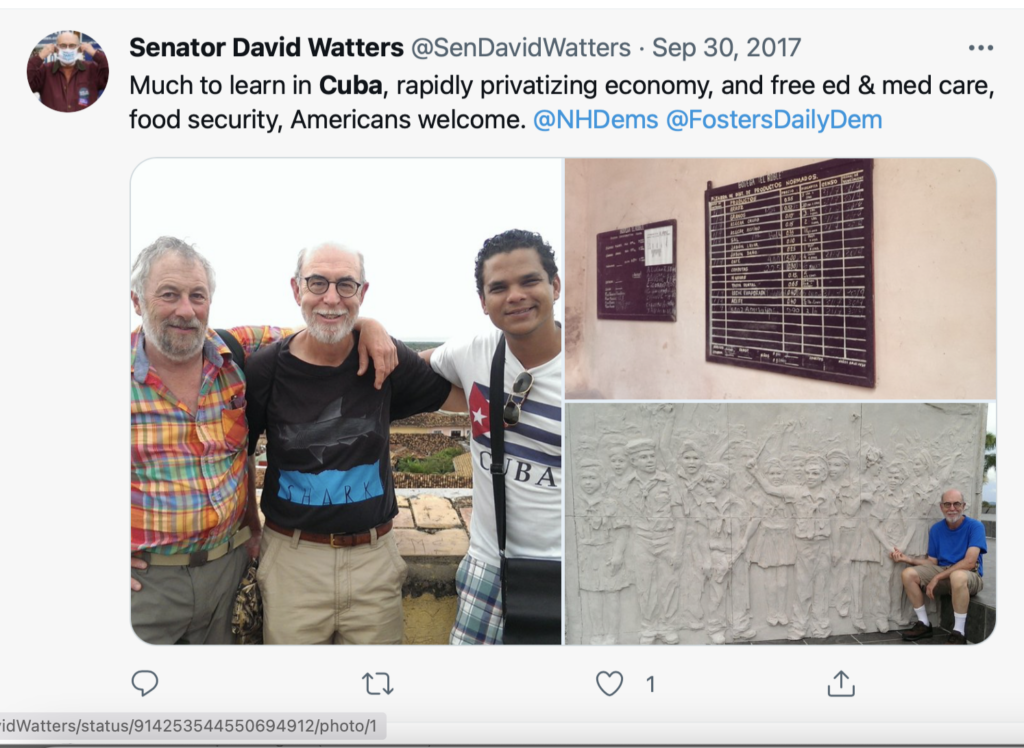 Cambrils doesn't agree America has "much to learn" from Cuba's regime.
"For the record, medical care is free in Cuba, the problem is you can't get it anywhere. Free education is nothing more than free indoctrination. And as far as food goes, beans are about the only source of guaranteed food supply," Cambrils said.
"The concept of socialism that everybody is equal, but there's always going to be someone who wants to be more equal than others. If people think life under socialism is so great, I always tell them, 'Fine — then why don't you go live there?'
"My family gave up everything to come here with nothing. Why would we do that if socialism so so great?"