New Hampshire state epidemiologist Dr. Benjamin Chan said Tuesday he is setting aside the CDC's guidance on masks for the fully vaccinated insisting that, despite the science, fully vaccinated Granite Staters still present a COVID risk to others.
"Public health continues to recommend in New Hampshire that everybody, including fully vaccinated people, continue to wear face masks and practice physical distance in indoor environments," Chan said during a Tuesday COVID-19 press conference. "It's going to help protect the vulnerable populations who may be in some of these public settings.
Chan's claim that fully vaccinated people pose a risk to "vulnerable populations" is at odds with the science from the CDC and most public health professionals — not to mention his boss, Gov. Chris Sununu.
The Centers for Disease Control and Prevention director Dr. Rochelle Walensky announced on Thursday that vaccinated Americans no longer need to wear masks. "Anyone who is fully vaccinated can participate in indoor and outdoor activities, large or small, without wearing a mask or physical distancing," Walensky. "If you are fully vaccinated, you are protected, and you can start doing the things that you stopped doing because of the pandemic."
Dr. Anthony Fauci concurred. "The accumulation of all of those scientific facts, information, and evidence brought the CDC to make that decision to say now when you're vaccinated, you don't need to wear a mask, not only outdoors, but you don't need to wear it indoors," he said on Sunday.
Chan rejects all these findings and has instead implemented his own guidance for the Granite State, urging continued mask-wearing and social distancing. It's not the first time he's raised questions about the efficacy of vaccines. In March, he told NHJournal he rejected the science showing COVID-19 vaccines drastically reduced rates of infection and spread.
He was wrong.
The good news for New Hampshire is Sununu has already lifted the statewide mandate and Chan does not have the authority to force people or businesses to follow his unsubstantiated guidance.
The bad news is it's the latest example of Chan undermining efforts to convince the vaccine-hesitant to get their shots. This is a problem in New Hampshire, where the pace of new vaccinations has plummeted by 90 percent.
A poll published by The New York Times found people were up to 18 percent more likely to get the vaccine if it means they can stop wearing a mask.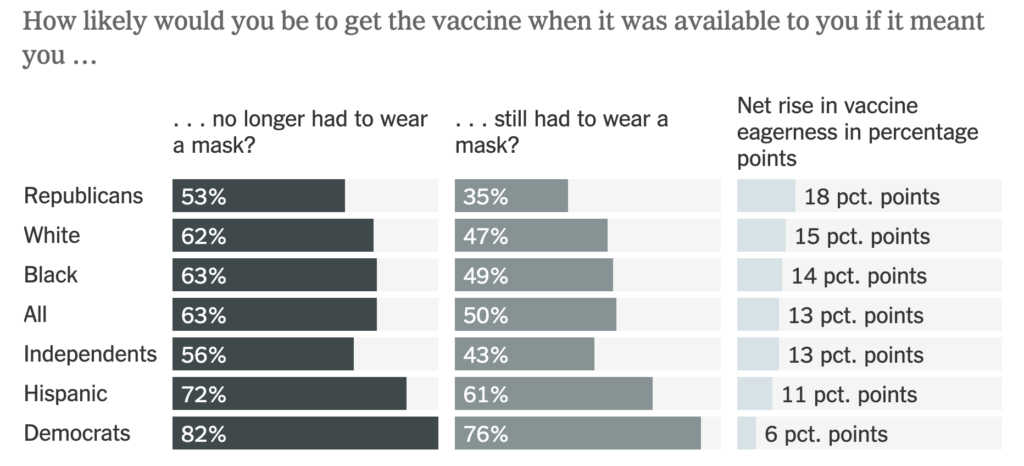 President Joe Biden sent that same message when he announced the new guidelines: "The rule is very simple: Get vaccinated or wear a mask until you do. It's vax'ed or masked. Get vaccinated," Biden said.
Asked by NHJournal if he believed Biden and the CDC were "putting the vulnerable population at risk" by claiming masks were unnecessary Chan declined to answer. Instead, he repeated his unsubstantiated claim that fully vaccinated people needed to wear masks because they present a danger of virus spread.
"If I'm wearing a mask, my mask is protecting me. My mask is protecting other people around me. My mask is also protecting my vulnerable family member at home who is either unable to be vaccinated or who may have some immune condition that prevents them from mounting a full immune response."
That is not backed by science.
Chan's take was also rebuked, albeit unintentionally, but Sununu.
Asked during the presser how much faith he had in the "honor system" of only the people who are vaccinated taking off their masks, Sununu retorted, "If somebody is worried about someone else being vaccinated, they can be vaccinated themselves, right?"
Chan had no comment.