New Hampshire has lost its "First in the Nation" ranking on COVID-19 safety due to the plunging number of new vaccinations.  The question now is whether the Sununu administration will change tactics in the face of falling vaccine rates.
On Thursday, an updated analysis of COVID-19 numbers dropped New Hampshire's overall COVID safety ranking from first to fifth. The report from Wallethub.com now ranks Hawaii, Vermont, Massachusetts, and Maine (in that order) above the Granite State.
"New Hampshire's drop in the rankings largely comes down to vaccination rates," Wallethub data analyst Jill Gonzales told NHJournal. "As of May 12, over 70 percent of the population aged 16 and up has initiated vaccination throughout the state, the fifth-highest share in the country. By comparison, four weeks ago when the state was ranked first, it had the highest vaccination rate nationwide — just above 65 percent.
"This means that even though its percentage went up, other states have taken a lead in vaccination. Vermont, for instance, is currently first with a 75 percent vaccination rate."
A closer look at the numbers shows the Granite State's performance in the past two weeks is even worse than first appears.
On April 29, Sununu told NHJournal that despite declining rates of new vaccines, New Hampshire didn't have a distribution problem and the slowdown was due entirely to his administration's success at getting so many shots into arms.
"So of course, the demand goes down, and that's naturally why we'll see the demand keep getting smaller and smaller, probably until Memorial Day," Sununu said "The rate of vaccination is happening exactly as we predicted."
At that time, New Hampshire was ranked number one in both the rate of distribution and percent of the adult population with at least one shot.
Today, New Hampshire's ranked number 27 in distribution and has fallen to sixth for population vaccination.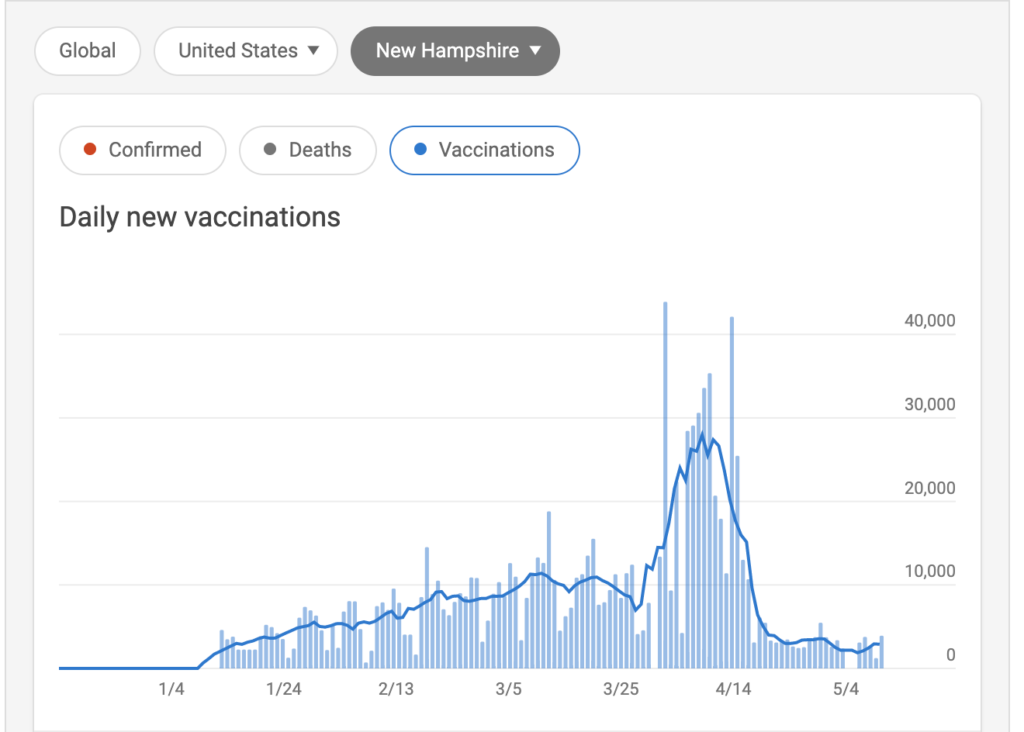 According to Becker's Hospital Review, which has been tracking states' performance since the COVID outbreak began, New Hampshire has fallen from the best state for getting shots into arms — at a pace of 97 percent a month ago — down to number 27, administering just 78 percent of vaccines it's received.
New Hampshire's rate of new daily vaccinations being distributed has collapsed, from a seven-day rolling average of 27,383 on April 12 to 2,899 on May 12 — a decline of almost 90 percent.
Becker's reports New Hampshire has received 1,478,845 doses of the vaccine but only distributed 1,156,401, leaving about 300,000 doses on hand.
The data from New Hampshire's Department of Health and Human Services dashboard is slightly different, however. It reports a total of 1,291,614 shots given as of May 12, about 135,000 more than Becker's.

Yet the DHHS figures appear to be at odds with its own numbers. In its May 12 email update, it reported 1,162,755 total shots, off by nearly 129,000.
Whatever the actual numbers — and reliable data has been difficult to come by from DHHS since the pandemic began — there is no dispute about two data points: At least 300,000 Granite Staters who are eligible for a shot have yet to get even one; and despite widespread availability, fewer and fewer people are choosing to get one.
Based on the available data, the potential demand for doses (first and second combined) should be around 800,000, while the current supply is around 325,000 — in other words, there shouldn't be enough shots to go around.
Instead, shots are sitting unused across the state and the rate of distribution has declined to a trickle. Even more disturbing, the rate of Granite Staters getting their second shots is sliding downward, too.
Thus far, Sununu has declined to acknowledge the declining numbers are a problem, or to offer a solution. Meanwhile, other states are taking action to boost vaccinations among more reluctant citizens.
Ohio Gov. Mike DeWine, for example, announced a promotion tying COVID vaccinations to the state lottery, giving away $1 million to five vaccinated adults, plus another five full-ride public college scholarships to teens who take the shot.
West Virginia is giving people 35 and younger a $100 savings bond if they get vaccinated. Other locals, including New Jersey and Erie County, N.Y. are offering the COVID version of a "beer and a bump" — free drinks for getting your shot.
And in Alabama, getting your COVID shot will get you the chance to drive two laps around the iconic track of the Talladega Superspeedway.
Thus far, the Sununu administration's plan appears to be to stay the course, even as other states continue to lap New Hampshire's vaccination numbers.