When former President Donald Trump was in Manchester last month, he was joined on stage by 51 New Hampshire GOP state reps endorsing his presidential bid in front of a standing-room-only crowd.
On Tuesday, the pro-Ron DeSantis Never Back Down PAC released its own list of more than 50 House GOP names of their own — six of whom are committee chairs, and four of whom endorsed Trump at that Manchester rally.
"New Hampshire wants a leader with a winning conservative record that will bring new energy and economic growth to our country. They know that leader is Governor Ron DeSantis," said Never Back Down Communications Director Erin Perrine.
But the DeSantis list had only been live a few hours before two of the Trump turncoats were back on the MAGA Express — sort of.
"I'm endorsing both," Rep. Juliet Harvey-Bolia (R-Tilton) told NBC News. "DeSantis has a lot of promise for the future, and Trump is great now."
Rep. Lisa Smart (R-Meredith), on the other hand, is now all (back) in for Trump.
"I was so incredibly proud to join many of my colleagues in endorsing President Donald J. Trump last month and my support for him has not changed," Smart said in a statement released by the Trump campaign. "I'm dismayed by the games being played by Never Back Down and I will NOT be participating in any activities with Ron DeSantis."
"Then don't sign a pledge for DeSantis a week ago. She looks really stupid right now," former state Rep. Melissa Blasek, a DeSantis supporter, responded on Twitter.
The DeSantis campaign responded by releasing a copy of the letter of support she signed backing his candidacy.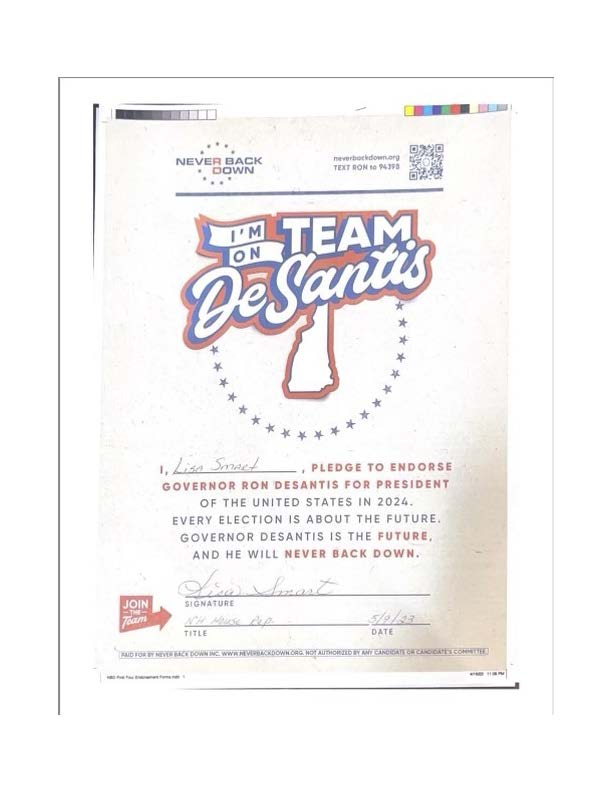 "The only thing 'Smart' about this situation are apparently the letters on her name tag," Blasek told NHJournal.
As the Florida governor prepares to power up what's expected to be a formidable presidential primary campaign, Team Trump isn't waiting for the starting gun. They've been targeting DeSantis with TV ads for weeks, and he's a favorite subject of Trump's ridicule on his Truth Social website.
With Trump and DeSantis ready to throw down, the state houses in early states like Iowa and New Hampshire are a natural battleground.
Earlier this month, DeSantis made headlines when New Hampshire House Majority Leader Jason Osborne (R-Auburn) published an op-ed at NHJournal endorsing his candidacy.
"This diverse list of endorsements represents the entire spectrum of the Republican Party," Osborne said of the list DeSantis dropped Tuesday. "It has been a long time since we have seen a candidate with the ability to elicit such broad appeal."
Then on Saturday, the SuperPAC announced endorsements from 37 Iowa Republican legislators, including Osborne's counterpart, Majority Leader Rep. Matt Windschitl, and Iowa state Senate president, Sen. Amy Sinclair.
Trump responded with a list of "elected and grassroots leaders" from across the Hawkeye State, including at least three who told Axios they hadn't been consulted about being on the list and are undecided in the primary.
"Former GOP congressional candidate Gary Leffler told Axios that a reporter alerted him that his name was on Trump's list on Saturday — while he was attending DeSantis' event," they reported.
Veteran GOP strategist Jim Merrill, who's not committed to a candidate in the 2024 primary, shrugs off the endorsement flip-flop story.
"This happens every campaign. It's not the first time, it's not the last time. It's a silly process story," Merrill said. "The real news is that fifty House Republicans — including significant members of the leadership team — have endorsed DeSantis before the guy's even entered the race. That's a pretty good start for DeSantis."
Team Trump isn't backing down, tweeting out messages declaring DeSantis' endorsement story "fake news" due to Smart's defection.
Osborne added another note about the DeSantis endorsements. "I am unaware of a single name on our list who did not support President Trump in his previous elections. This is a strong indication that people are ready for a new direction, a winning direction."
DeSantis is coming to New Hampshire on Friday to meet with some of those lawmakers who've endorsed him, campaign sources say.
Meanwhile, the other two N.H. House Republicans who dumped Trump to join DeSantis, Reps. Brian Cole (R-Manchester) and Debra DiSimone (R-Atkinson) are still on board.
As of press time, anyway.