Donald Trump's message to an enthusiastic crowd at the Doubletree in Manchester could have come straight from Democrat strategist James Carville's playbook: The economy, stupid.
Carville famously posted that message at Bill Clinton's campaign headquarters during the 1992 campaign, when the candidate's personal issues threatened to swamp his candidacy. Trump — indicted in one New York courtroom, facing a civil suit over sexual assault allegations in another, and with his former vice president testifying to a federal grand jury about the January 6 Capitol Hill riot that very day– had plenty of potential distractions of his own when he walked on stage Wednesday, too.
It didn't show.
While Trump included his usual adlibs — at one point, he threw in his impression of a befuddled Joe Biden — the former president stayed on script enough to hit his message on the economy: I fixed it, Biden ruined it, you need to bring me back.
"When I left office, we handed Joe Biden the fastest economic recovery ever recorded– all with no inflation," Trump said. "He took that booming economy and promptly blew it to shreds."
It's a message his campaign believes could be his best selling point to Republicans and independents who backed Trump in the past but are reluctant to do so again due to Trump's personal behavior.
"One of the most important issues in this campaign will be which candidate can rescue America from the wreckage of the Biden economy. Under my leadership, we built the greatest economy in the history of the world. In fact, we did it twice. And now, we will do it once again," Trump said.
Before the speech, supporters who lined up six hours early also pointed to the economy as a key reason they are supporting the former president.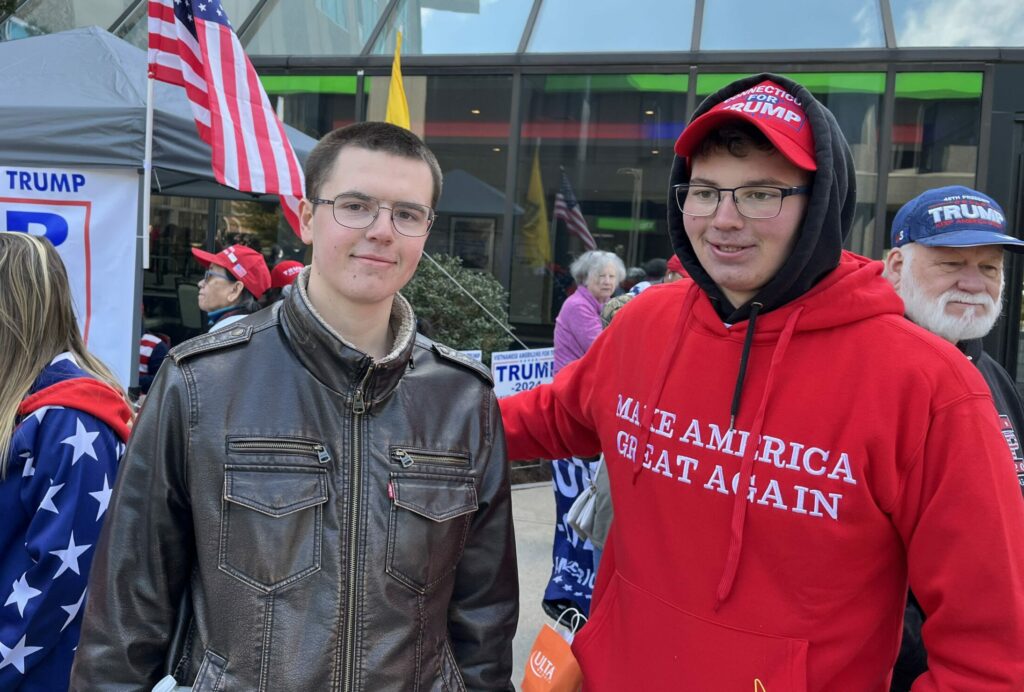 Patrick and Ryan Morris are twenty-something brothers who came up from Connecticut to hear Trump speak. Asked what their pitch was to their fellow Gen-Z'ers, they both mentioned the economy.
"He's for the working class," said Patrick. "He's going to secure the border, he's going to bring back the economy, and he's going to get us out of these foreign wars," added Ryan.
Trump used Wednesday morning's disappointing GDP number, 1.1 percent growth in the first quarter of 2023, as a starting point for his critique of Biden's record on the economy.
"The typical family has lost over $7,400 in annual income [under Biden]," Trump said. "Inflation is out of control. Banks are collapsing… real wages are down 24 months in a row. The trade deficit has surged to a record $1 trillion."
"They [the Biden administration] say the economy is good," Trump added. "The economy is horrible."
Trump's economic message centered on trade, particularly in confronting China. He spoke at length about his proposal for "reciprocal trade."
"So if India charges our companies 100 percent [tariffs], we charge their companies 100 percent. Reciprocal," Trump said.
Trump also suggested one reason the Biden administration won't confront China over its unfair trade practices is that Biden and his family have been bought off.
"Everybody's paid off by China, including, by the way, our president. It's a big problem. You wonder why he does nothing about China? Because he got millions of dollars from China," Trump said.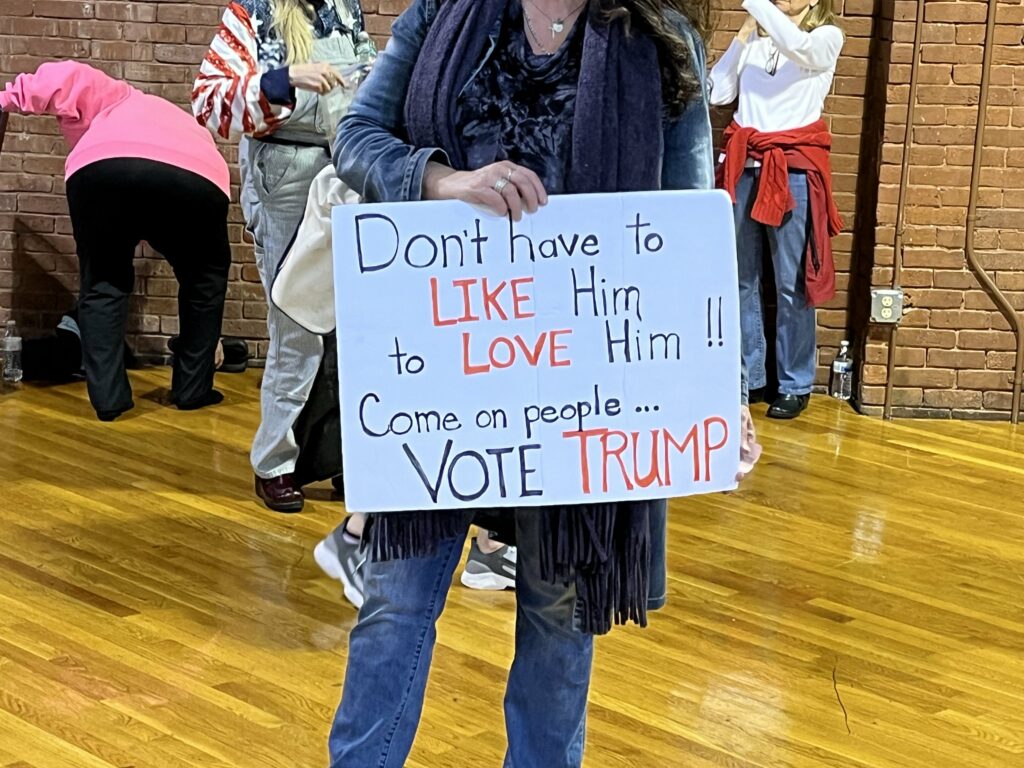 In fact, Trump announced he was retiring the nickname "Crooked Hillary" so that he could declare the president "Crooked Joe Biden."
While the economy and trade might be appealing to those reluctant Republicans the campaign wants to lure back into the fold, they weren't the topics the diehard Donald Trump fans came for. Polite applause turned into raucous cheers when Trump turned to social issues. For example, the biggest applause line of the afternoon was when Trump pledged, "I will not give one penny to any school that has a vaccine mandate or mask mandate."
The crowd also cheered when Trump promised: "to keep men out of women's sports." When Trump took questions from the audience ("Do you think Biden takes questions? I don't think so.") the first question was about New Hampshire Democratic Reps. Annie Kuster and Chris Pappas voting against the Protection of Women and Girls in Sports Act last week. "It's the craziest thing," Trump said of the issue.
And the solution? "Vote Trump," he said.
The Democratic National Committee released a statement condemning the speech. "Trump's lies won't change the fact he holds the worst jobs record of any president since the Great Depression and rigged the economy for the ultra-wealthy and biggest corporations."
Not surprisingly, Trump fans gave the former president rave reviews.
"Today we saw why President Trump loves New Hampshire," said former state GOP chair turned Trump senior advisor Stephen Stepanek. "Whether it was the phenomenal crowd or the 51 state reps who endorsed him, it is obvious that when Donald Trump came to the Granite State, he was coming to 'Trump Country.' That's why he'll win, not just the First in the Nation primary, but the New Hampshire general election, too."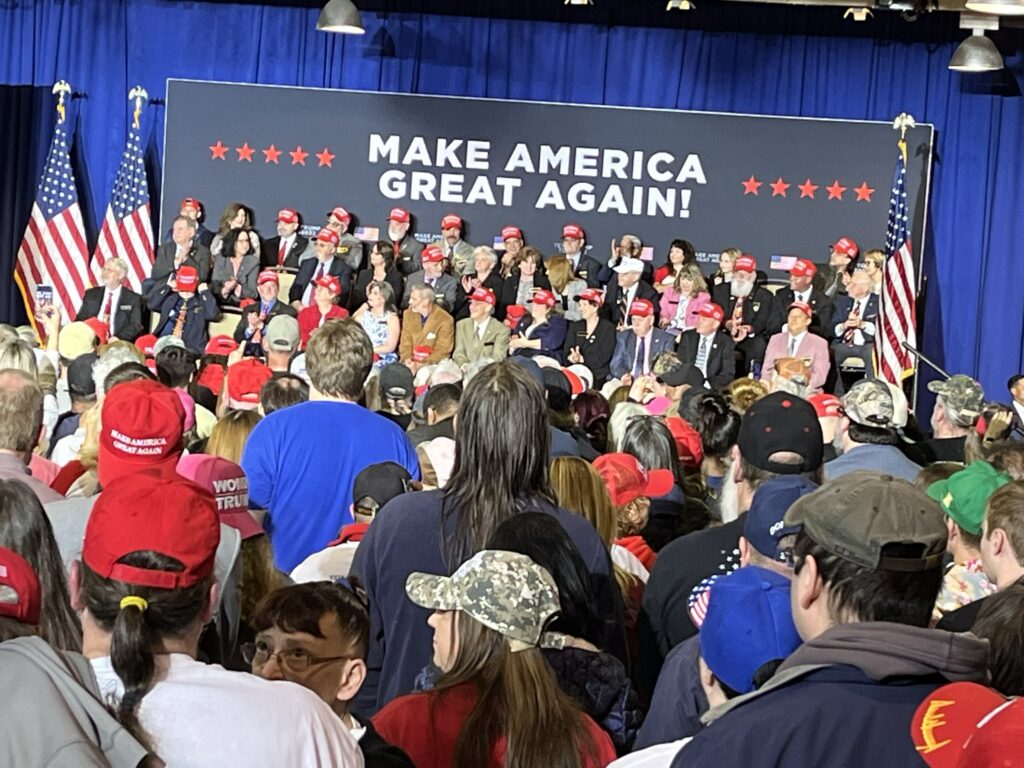 Those 51 endorsements, representing 25 percent of the 200-member House GOP caucus, may be the most important event of the day. Trump said in his speech that, despite his current surge in the polls, "we're not going to play 'prevent defense,' because that prevents you from winning." Presenting a long list of endorsements while packing the same facility DeSantis appeared in just two weeks ago definitely sends a message.
After the event, Trump pulled another page from the DeSantis New Hampshire playbook, stopping by the iconic Red Arrow Diner to surprise the diners and grab some dinner.
"Did you get my order for the Trump Tower Burger?" he asked owner Amanda Wihby.
"Yep," she replied. "Well done!"