Campton Democrat state Rep. Tommy Hoyt has a message for Granite State voters who support the Parents Bill of Rights: "Shut up."
When a voter sent Hoyt an email urging him to "pass SB272 without any amendments," Hoyt replied:
"Do you know why children's results tanked during covid. Their parents were incompetent teachers. Do your children a favor, let the teachers teach, and shut up. You're clearly no professional."
Hoyt confirmed to NHJournal that the email is authentic.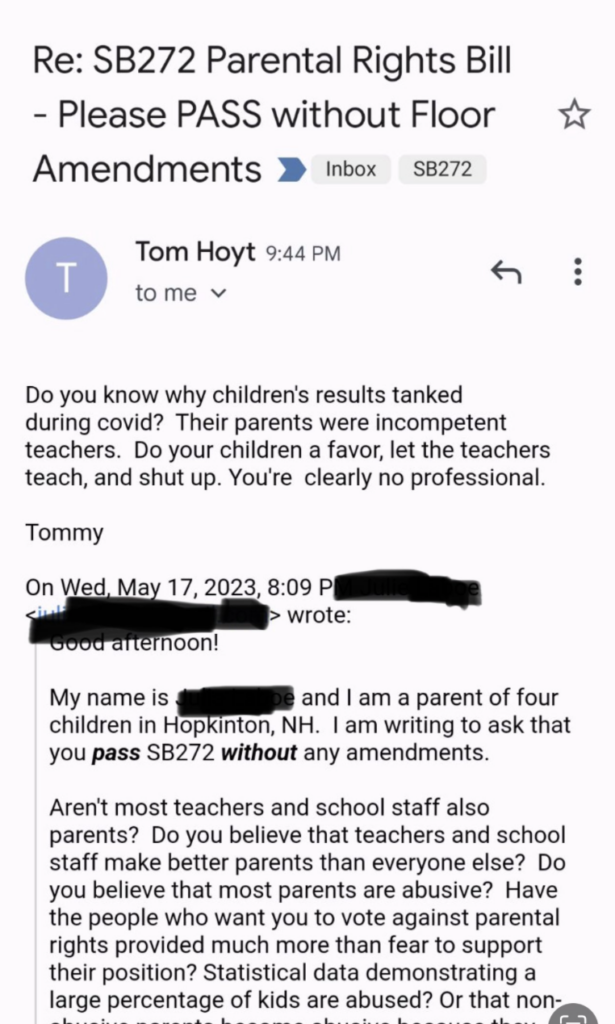 "The way I feel is that children's test scores in school performance dropped off drastically was because they didn't have teachers. And the parents that thought, 'We can replace them and can tell them what to do,' was not effective. I probably could have used better words," Hoyt said.
After hot and heavy opposition from teachers unions and progressive activists, the bill was defeated 195-190 Thursday morning. A representative of one of the state's largest teachers unions has hinted that Democratic House members will face primaries if they vote for the parents rights measure.
And a promise of a free plane ticket to fly Rep. Robin Vogt (D-Portsmouth) back from his Florida vacation caused Speaker Sherm Packard (R-Londonderry) to open an investigation into tactics being used by the bill's opponents.
Democrats argue parents present a unique danger to their children and, therefore, should not be given information about their kids' behavior at school when it comes to sex and gender — behavior teachers, coaches, custodians, and other adults are aware of already.
SB272 would require school districts like Manchester to end their current policy of refusing to answer parents' questions about their children's behavior on these issues.
During the debate over the legislation in the state Senate, Sen. Rebecca Perkins Kwoka (D-Portsmouth) said the bill would "open children up" to "violence from their parents." Sen. Donovan Fenton (D-Keene) said SB272 could "end up being fatal for our young children."
And New Hampshire state Democratic Party chair Ray Buckley has said publicly that if this legislation passes, "some kids will be beaten to death."
Hoyt said he does not support school administrators lying to parents, but he supports teachers, principals, and coaches keeping information about their children secret. Asked if he believes parents are more of a threat to children than other adults, Hoyt replied, "I would certainly say some parents would be."
Supporters of the parents' rights bill note some local teachers have been prosecuted for sexually assaulting and harassing children.
Just last year, a former New Hampshire teacher of the year finalist was charged with illegal sexual contact with a student. A Portsmouth High assistant coach lost his job over allegations of abuse.
And former Timberlane Regional High School teacher David Russell just signed a deal in his sexual assault case forbidding him from teaching, coaching, or working with anyone under 18, and he cannot be in a minor's presence without supervision.
Asked about the risk posed by teachers, Hoyt compared them to Catholic priests.
"Have you heard anything about any of the priests that have been molesting children for years? For anybody that's in a position of power, that's going to happen," Hoyt said.
A federal Department of Education study found teachers are significantly more likely to engage in sexual misconduct with children than priests.