The chairman of the New Hampshire Democratic Party claimed Friday that if public schools inform parents about their children's behavior regarding gender issues or any counseling they have received, some of those students will be "beaten to death" by their moms or dads.
Buckley made his comments on Twitter in response to New Hampshire Journal's coverage of a mother who took the Manchester School District to court when the school refused to inform her about her child's on-campus behavior. Judge Amy Messer ruled in the district's favor.
"(T)he right to make decisions about the care, custody, and control of one's child is not absolute," Messer wrote.
On Thursday, NHJournal reported on a press conference held by GOP congressional candidate Karoline Leavitt outside the district's headquarters, denouncing both the policies and the Democrats who support it. Her opponent, Rep. Chris Pappas (D) voted on Thursday to kill a proposal requiring schools that receive federal funds to inform parents about counseling they receive at school.
"Parents have an inalienable right to know what's going on in their child's classroom, and in Congress, I will proudly support legislation to enact a federal parental bill of rights," Leavitt said. "I will always ensure that Granite State moms and dads feel heard at the highest level of our government. That is why I am here today, and I will always put parents over politicians."
Friday morning, Buckley tweeted to NHJournal: "You're purposely going after children, endangering their lives, mental health & safety & its disgusting. Not all families are the same, some kids will be kicked out or beaten (to death), or commit suicide. All to try to get votes for Karoline?"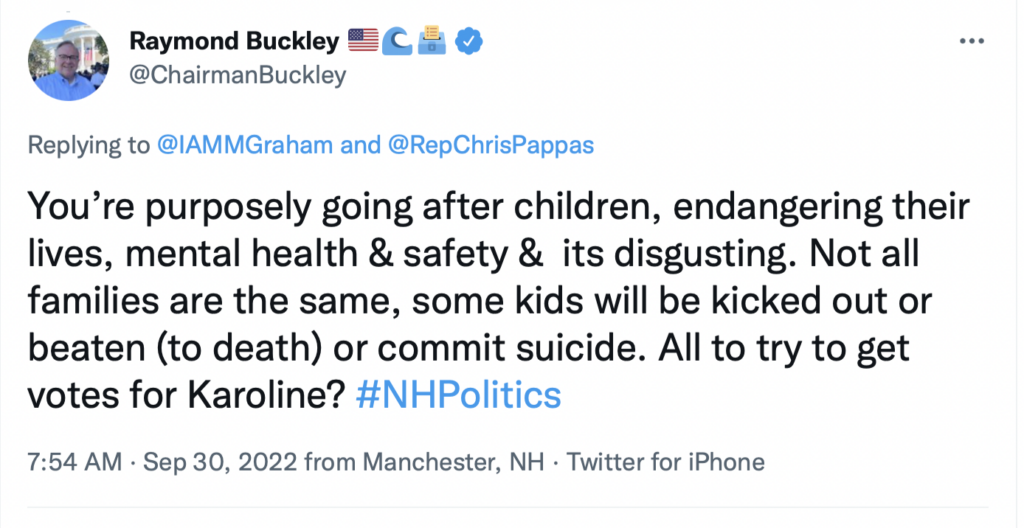 The reaction from New Hampshire Republicans was immediate.
"The Biden administration labeled parents as 'domestic terrorists,' and now the chair of the New Hampshire Democrat Party is claiming Granite State parents beat their kids to death," said Leavitt. "The Democrats' hatred for parents who simply want to be involved in their children's education is disgusting. It's rooted in the fact that Democrats like Chris Pappas are funded by powerful teachers unions who want total control over our public education system. While Pappas continues to side with Joe Biden and radical bureaucrats, I will continue to stand with Granite State mothers and fathers."
"I think Ray Buckley's comments are reprehensible and an insult to parents," said Bob Burns, the GOP candidate challenging Rep. Annie Kuster, who voted with Pappas to kill the parental notification bill. "Education in New Hampshire is and should remain local, and parents should have oversight into their child's education."
And the National Republican Congressional Committee is calling on Reps. Kuster and Pappas to speak out against Buckley's statement.
"Parents have a right to know what is going on in schools. Chris Pappas and Annie Kuster should denounce Ray Buckley for broadly smearing New Hampshire parents as child beaters," said NRCC Spokeswoman Samantha Bullock.
Education has traditionally been a winning issue for Democrats, but that trend appears to have changed dramatically, particularly in the wake of the COVID-19 classroom lockdowns. Democrats, both in New Hampshire and nationwide, pushed to continue classroom closings over parental objections. Data show these classroom lockdowns were devastating to children and did little to slow the spread of COVID-19.
A recent Gallup poll shows Americans' satisfaction with U.S. education has fallen from 51 percent before the pandemic to 42 percent today. And in Virginia last year, Republican Glenn Youngkin won a stunning victory in blue Virginia in part due to parents angry over school districts dictating policy to parents.
New Hampshire GOP chair Stephen Stepanek released a statement condemning Buckley's remarks.
"Ray Buckley made it clear where the New Hampshire Democratic Party stands on parental involvement in their child's education," Stepanek said. "They believe that parents have zero rights when it comes to knowing what's going on inside the classroom.
"New Hampshire Democrats believe it is their right to raise and indoctrinate the children of our state. New Hampshire Republicans believe it is the God-given right of parents to raise their children, and that right does not stop at the classroom door."