Granite State Democrats are organizing a Tuesday morning protest against GOP-backed legislation "establishing a parents' bill of rights in education." In particular, Democrats support allowing school administrators and staff to keep students' on-campus activities regarding sex and gender secret from their parents.
It is a position New Hampshire's Democratic leadership and its teachers union allies wholeheartedly embrace. However, it is a policy opposed by an overwhelming majority of Granite State voters, including 61 percent of registered Democrats.
In an "action alert" email from the New Hampshire Democratic Party, progressive activists were told "We need all hands on deck" to oppose legislation described as "dangerous and harmful."
Top of the list is the Parents Bill of Rights (HB10/SB272), sponsored by GOP Speaker Sherman Packard and Senate Majority Leader Sharon Carson (R-Londonderry) respectively.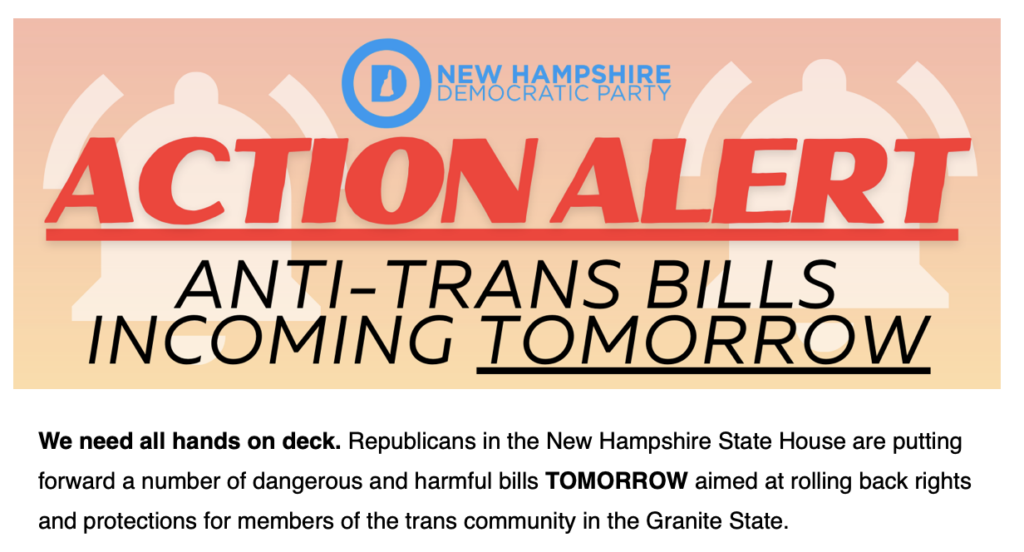 In their alert, Democrats decried the bill for "saying parents have 'the right to know what extracurricular activities, clubs, or organizations their child is participating in.'" They claimed unless the information is kept secret, "trans students who attend clubs may no longer view these places as a safe place to learn freely and equitably."
The argument echoes Democratic Party state chairman Ray Buckley's claim that if parents are informed, "some kids will be beaten to death." 
(Asked to name such an incident ever happening in New Hampshire, Buckley declined to respond.)
Supporting school authority over parental control may be a principled stance for New Hampshire Democrats, but based on recent polling, it is not politically savvy.
In an NHJournal poll of more than 1,000 likely voters taken last month, respondents picked parents over school employees to have the final say over what children are taught by a nearly two to one margin (59-32 percent).
When specifically asked about schools keeping students' behavior regarding sex and gender secret, 78 percent supported a parent's right to know, including 83 percent of independents and 61 percent of Democrats.
Republicans say Democrat-organized protests won't have an impact on their support for parents' rights.
"We have been very clear that one of the top priorities of Senate Republicans will be to always stand up for New Hampshire parents who love their children and must have the ability to know what is happening to their children in school," said Senate President Jeb Bradley (R-Wolfeboro). "Republicans believe parents will make the best decisions for their families."
Speaker Packard said he found the Democrats' opposition puzzling.
"I am having a hard time understanding why any legislator — particularly any parent — would be against this legislation. It ensures parents are responsible for the upbringing of their own children. That's what HB10 does."
Empowering parents vs. the teachers unions has been central to American politics since it swept Republican Glenn Youngkin into the governor's office in the blue state of Virginia in 2021. On Monday, Republicans in Congress released their own Parents Bill of Rights.
"So many times across this nation, we found that parents were attacked and called terrorists because they simply wanted to go to a school board meeting to be heard about what's going on," said Speaker of the House Kevin McCarthy (R-Calif.)
"The right to see the school budgets and how they spend their money, the right to protect your child's privacy and the right to be updated on any violent activity at the school," he said. "We think these are pretty basic things that everybody and every parent should have a right to."